"It's Only Rock 'n' Roll" by Ksfh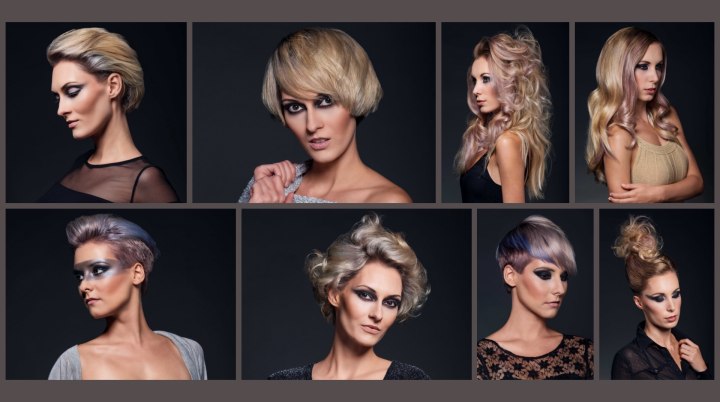 Pastel hair colors have made a very big impression on the social, style, and celebrity crowd the past two years. Lana Del Rey, Cara Delevingne, Pixie Lott, the Kardashians and Nicole Richie are only a handful of the countless beauties who have embraced this fashion craze with open arms.

These colors work best on blondes, but lots of brunettes have tailored the look to suit them as well. Brown/black-to-pastel ombés have been all the rage among the raven haired women, with beauties such as Sky Ferreira, Katie Price and Rihanna to name a few.



In this collection you'll find different hairstyles and pastel colors scattered all across the spectrum; ranging from tame to really wild. Depending on your taste, work and natural hair color, you'll be able to pick the specific style and hair color to suit your own needs. Don't be afraid to mix and match, and to use your own initiative and imagination!


Pastel Pink and Purple Hair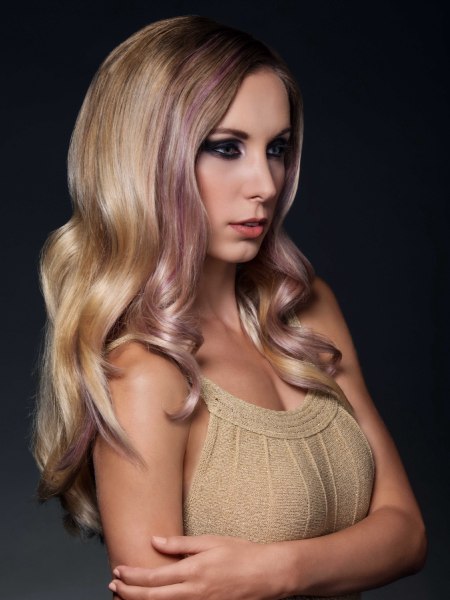 This model's natural light hair has been lifted to a light summer blonde base color. The section around her face has been toned with a pastel ombré that is light purple at the base near the roots; gradually flowing into a light rose-pink pastel.

Stylists normally keep the darker color, (in this case the light purple), at the roots, and the lighter color, (here the rose-pink), at the tips for easy maintenance, as the natural-colored roots are usually darker than the ombré's tips.

The model's nude colored dress exudes a sultry party mood to match the playfulness of her hair color. Her make-up is dark and intense, which works well with this kind of style and her outfit.

The model's long hair has been cut into long, connected layers. Only the tips have been curled with a large-barrel curling tong, to maximize the glamour of the look.

This whole look works very well for when you're ready to hit the town with your friends.


Half Up-style with Pastel Colors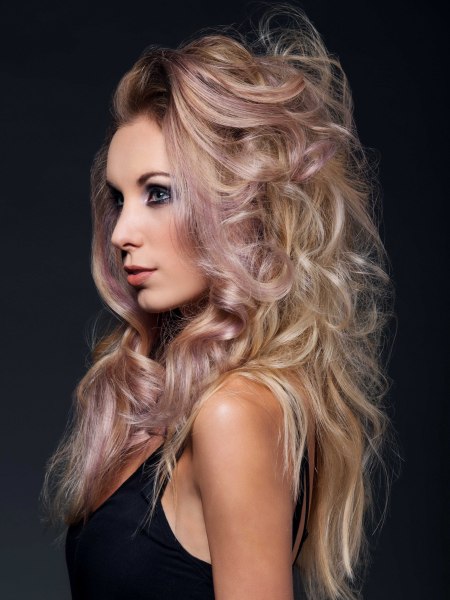 This picture is perfect for showcasing how versatile this style and hair color can be. This is exactly the same model, hairstyle and hair color as the previous photo, yet here the model's hair has been curled from root to tip in its entirety, while the top section has been pinned up into a half up-style.

The black dress also lends a slightly more formal feel in comparison with the sparkly nude number in the previous picture. This look will work really well for when you're counting on turning heads and garnering lots of attention.

The dramatic eye make-up takes center stage on the cosmetics front, while the light rose tinted lips offset the light rose-pink pastel toned hair flawlessly.

Note the huge difference that a small section of pastel-toned hair can make! Even if you work in a semi-corporate environment, you'll be able to hide most of the pastel-colored section when you tie your hair into a French roll.


Updo with Pastel Hair Colors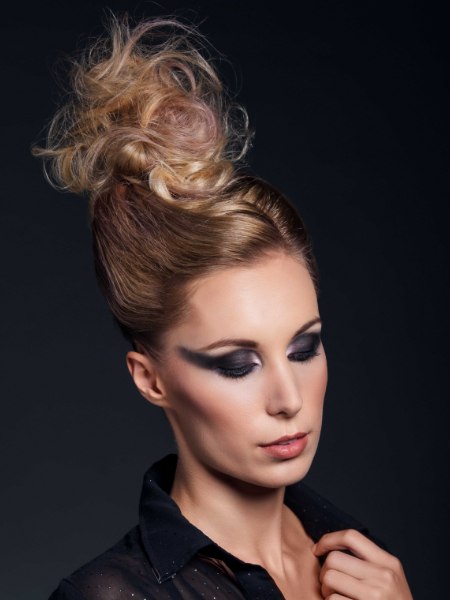 Again, this is a textbook example of how versatile the style and color can be. In this picture we have the same model and hair color as the previous two photos, yet here her hair is styled into a very high tailored French roll that spills over at the top.

Note how well the pastel colored section is hidden, except for the light rose-pink that is displayed in the curls that spill over at the top of the style. This hairstyle is much more demure and structured than the previous two styles, which is why the model is now dressed in a beautiful black translucent blouse with tiny golden dots.

The model's eye make-up is done in a very dark and dramatic, smokey and winged technique to match the black blouse, and also to complement the dramatic hairstyle. The model's rose-pink lips suit the light pastel pink toned tips of her hair very well for a balanced, well-rounded look.


Short Hair with Pastel Hues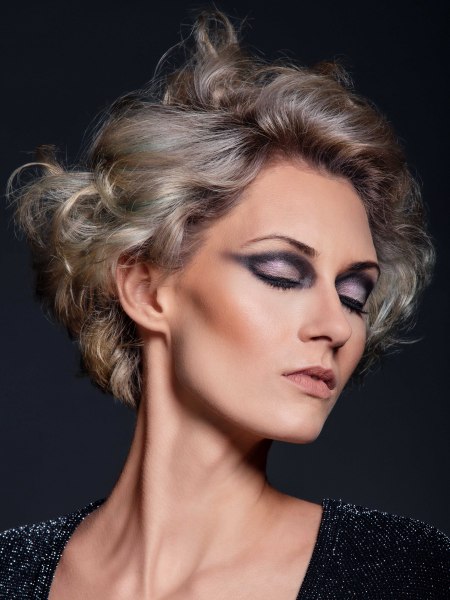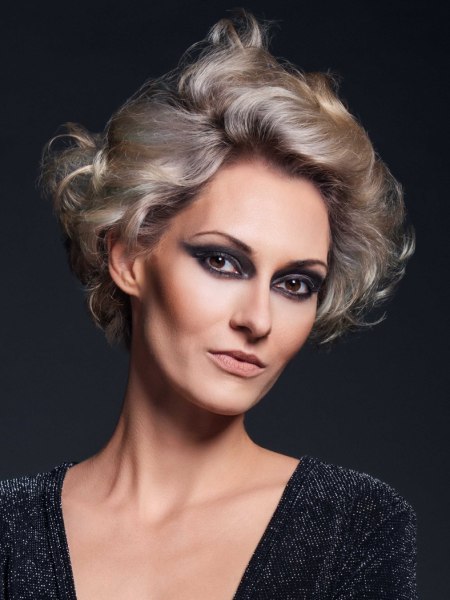 This is an example of a more toned-down pastel hue that will easily fit in even in a strict corporate environment, The model's light blonde hair has been toned to a very cool, ash blonde base color. A few strands of light rose-pink pastel hues have been added right in front of her hairline, as well as to the roots of her hair to add just that touch of dimension and movement.



This color works really well if your hair tends to go brassy or yellow over time. The very cool ash blonde keeps the hair from going brassy, as it acts as a yellow-neutralizer. The light and dark violet eye-makeup complement the pastel hues in her hair very well.

The model's hair is cut into a short, slightly layered bob that's been curled with a small-barreled tong. The curls have been brushed out and fluffed to create this laid back, almost natural curled look.


Short Bob with Violet Hues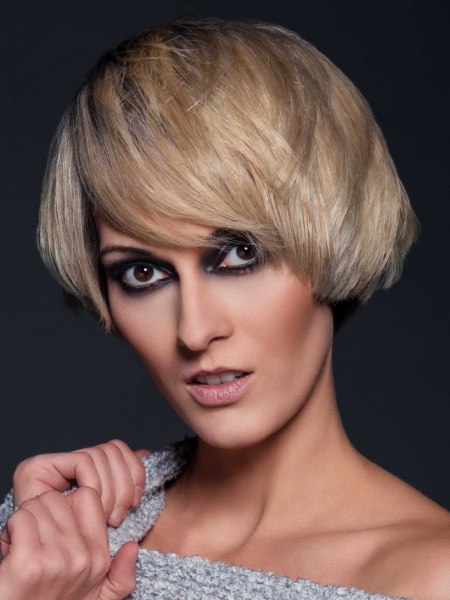 Here we have an artistically blunt and über-modern short bob that is favored by both the L'Oréal and Schwarzkopf color houses. The hairstyle fits this model's slim and striking face like a glove. Her dark roots have been toned with a violet based toner to create a very subtle violet hue which keeps the model's light golden blonde hair from looking brassy.

This is again an awesome trick if you have naturally dark hair, and your blonde tips tend to go yellow over time. By toning your natural dark regrowth with a violet toner, you'll achieve a very subtle pastel hue, but as the violet washes out slightly every time that you shampoo your hair, it washes over the length of the blonde hair, and stains it with very little violet quantities. Violet neutralizes yellow, which means your blonde will look cooler and crisp over the long run.


Modern Hair for Older Women


This is the same model and haircut as the previous picture, but here her hair is blow-dried to the back in a sophisticated and structured style. Here you can see how the violet toned roots have washed over the adjacent sections of hair, toning the hair to a very cool ash blonde. This is a great photo to showcase this particular style's versatility and style appeal.

This overall look works well for anyone, but older women will benefit the most here. The violet-hued roots blend very well with gray hair, especially in between highlight appointments, and the violet toner also has the most beautiful ash blonde effect on most medium to light grays.

The model's translucent black top also displays a more demure and sophisticated look, in contrast to the playful party look of the former pictures. Her eye make-up has been done in varying shades of violet and purple colors to enhance the pastel colors of the hair.


Pixie with Cool Hair Colors


Here we have a short, cropped pixie style with very short and structured sides, while the top section has been left longer and wispy. Note how extremely well the model's striking jawline and arresting facial features works with this very short hairstyle. Pixie styles usually work best with oval or slim faces with intense characteristics such as striking eyes or a beautiful mouth.

But the real showstopper here is of course the color integration. The very short sides and back is the model's own natural light brown hair that's been toned with a medium pastel-rose toner. The light-blonde base of the long top section has been toned with a medium ash-blonde toner, while a stroke of light-blue grazes the side of the hairline in a downwards vertical section. These colors are all cool colors, and work flawlessly with one another, as well as with the hairstyle and overall look.


Pixie Cut with Blue Coloring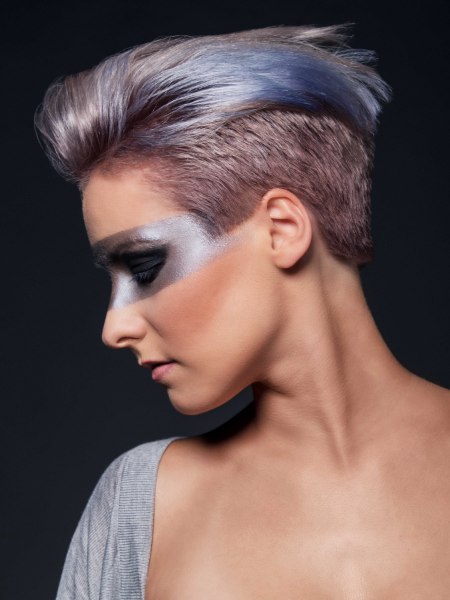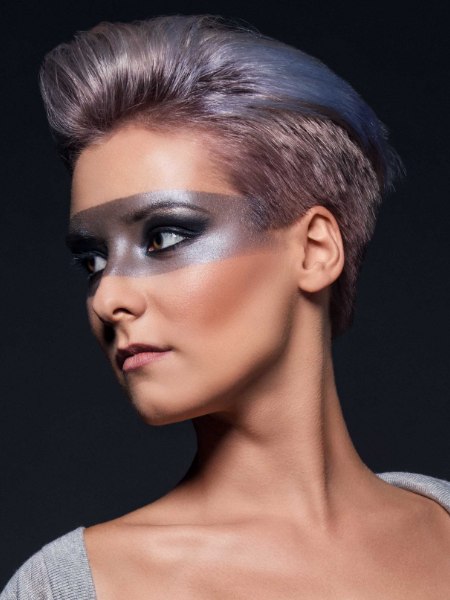 Here we again have the same model and pixie haircut as in the previous picture, except that here her hair has been blow dried into a side-parted and to the back style. Here you can clearly see the flash of light electric blue in clear contrast to the darker medium pastel-rose toner which has been applied over the model's natural light brown hair.

Note how all the colors of this style have the same cool ash undertone, which is the main reason for the perfect resonance of the entire look. Although there are three completely different colors present here, (light ash-blonde, light electric blue and medium pastel rose-brown), the hues are fused together by their collective ashy undertone.

The metallic blocked gray make-up across the eye area creates a flawless visual parallel with the horizontal stacked appearance of the model's hair that's been blow-dried to the back to showcase the progressive color-play of medium pastel rose-brown to light electric blue to very ash blonde.

Hairstyles: Kristijan Petek for Ksfh
Make-up: Marco Zagar
Hair Color: Marco Beltram
Photography: Rok Trzan