Hairstyles Fall-Winter 15-16 by Laetitia Guenaou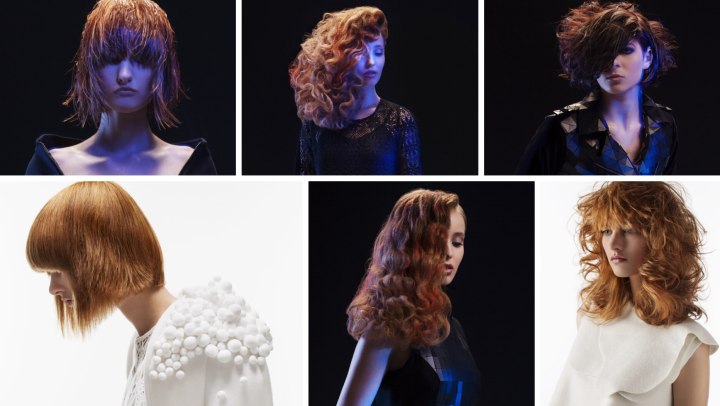 Today's collection is all about throwing caution to the wind, and letting down our hair… Literally. Here you'll find hairstyles that sizzle with energy and sass, heating up the temperature and pushing all the gauges into the red zone.

Perhaps this collection is a fitting tribute to the late David Bowie, who favored his fiery red tresses, eccentric styles and fictional characters that were really based on real characteristics of his greatest fears and tribulations.



These pictures inspire a hairstyle driven world where redheaded villains, vixens and heroes co-exist, and everyone has a unique and gripping appearance that set them worlds apart from the rest.

If you seek out the glitter, glamour and fire in a monotonous world, you need not to look any further, as you're about to open Pandora's Box of flaming styles to put the heat back into your look.


Bed Headed Curls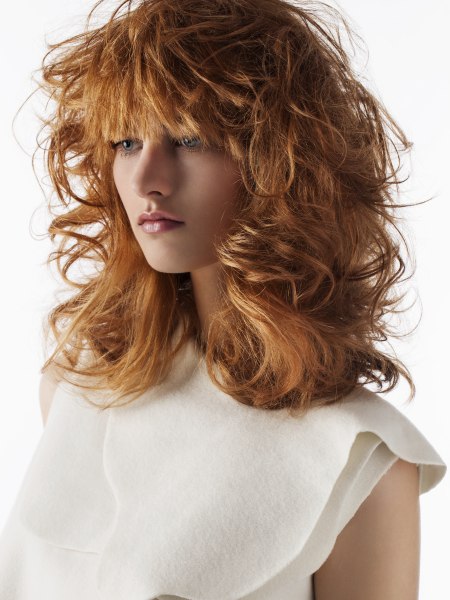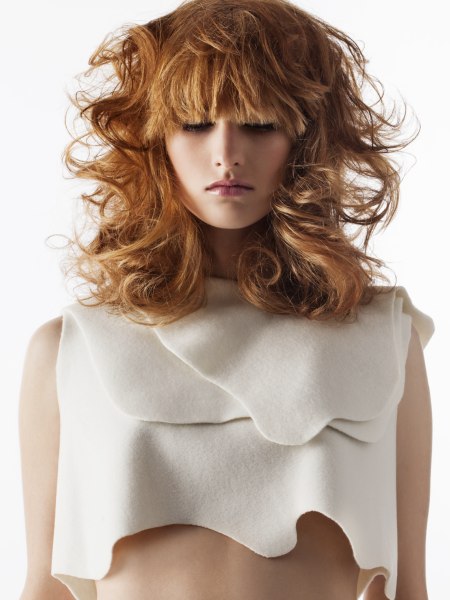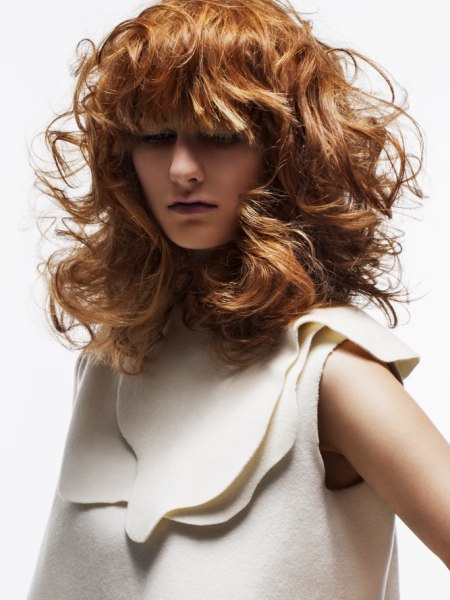 This shaggy hairstyle has a throwback feeling of the throbbing years of the 1970s. It reminds us of style muses such as Stevie Nicks, Farrah Fawcett and even Mick Jagger, all of whom wore their hair this way for many years. It's no secret that the shaggy, bed headed curls are back, and you'll see evidence of this in every magazine and all night clubs around the world, full of sultry looking girls with their hair fashionably disarrayed and full.

The model's medium copper-blonde hair has been curled with a big-barreled curling iron, while the long bangs have been blow-dried and consequently back-combed and sprayed with hairspray to increase the scraggly look. The curls have also been combed out with the stylist's fingers and back-combed for that exaggeratedly full effect.

This is a great look for dress-up occasions, clubbing or any other more laid-back events. It's probably not the best hairstyle for a debutante ball or a wedding though…


Razored Bob Haircut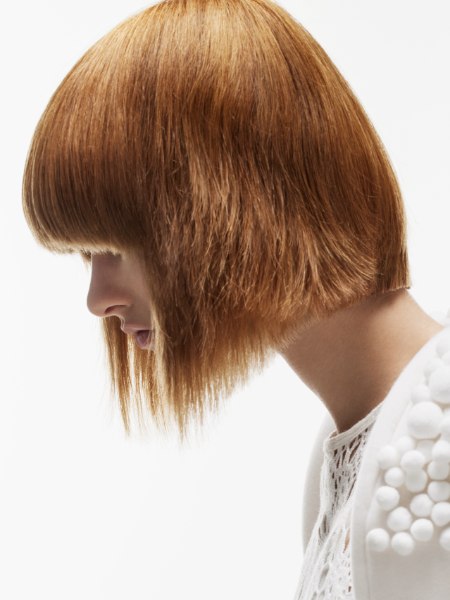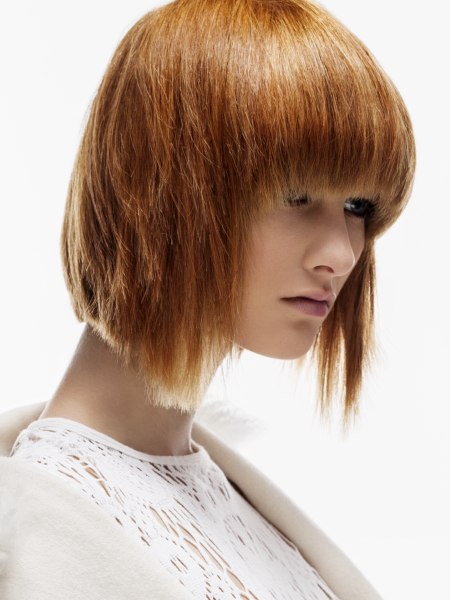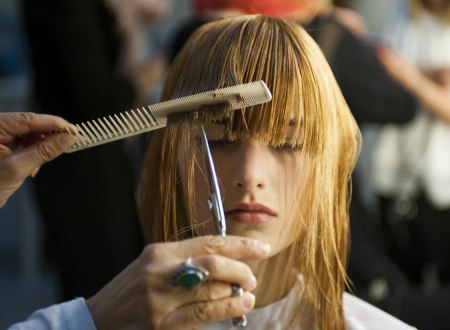 This hairstyle actually looks a lot like the one that Taylor Swift was wearing, although in this particular picture a lot of emphasis has been put on the texturizing of the style.

What makes this style stand out from other bobs, is that the back section is left long and not texturized, while the middle and side have been thinned out and texturized to create feathery spheres that protrude convexly to the front of the style. The frontal "points" of the weight line that frame the cheeks have also been thinned out and razored to emulate a soft, feathery look.

This style works very well with oval and heart shaped faces with delicate features. It is important to style this kind of haircut correctly, otherwise you risk the possibility of having hair that looks frizzy or unkempt. The model's light copper-red hair color works well with her very fair skin tone, while the complicated hairstyle shows off her slim neckline and attractive facial silhouette.


Red Hair with Finger Waves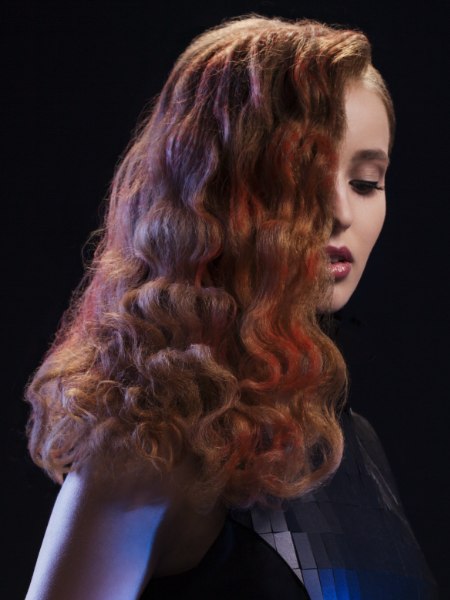 I have to say that this long hairstyle immediately reminds one of Jessica Rabbit, ("Who Framed Roger Rabbit", 1998). The very sultry and fiery red waves cascading down pale and almost fragile skin and the lowered and pouty lips is almost an exact copy of the cartoony vixen character created by Gary K Wolf.

This is the type of hairstyle for women who count on standing out in even huge crowds, often reducing suitors to babbling, loving attention and second glances. A typical alpha female if you will. The model's medium copper-red hair has been combed into finger waves, set with a setting gel, and finally the curls were combed out to form these uniform, yet flat waves.



Finger combing is an art of the past, yet most experienced hairdressers will still be able to perform this service for special occasions. A similar look can be achieved by using the flat iron technique, (ask your stylist about this), yet this last mentioned technique lacks the very structured and uniform look.


Hair with Crimped Curls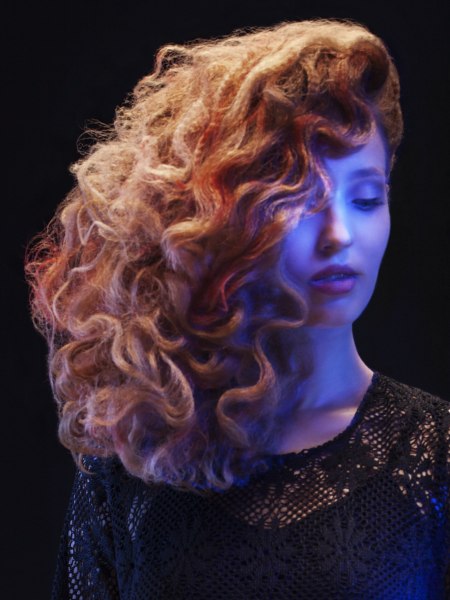 This hairstyle is very similar to the previous one. The difference is that here the flat curls have been combed out with the fingers, and sections of the curls have been crimped with a crimping device. Again, crimping hair is also largely a thing of the past.

If you grew up in the 80s or 90s, you'll remember celebrity heavyweights such as Christina Aguilera, Tyra Banks, Carmen Electra et al wearing their hair like this. It also seems to be gaining popularity again, with models such as Gigi Hadid and the famous "Barefoot Blonde" blogger recently sporting this eclectic style.

The style-phenomenon seems to have spilled onto the runways also, which would explain why there's a resurge in interest in the vulpine style. Again, the long, fiery light-red color works well with this unique style, while the cool blue-light effect of the photographer creates a beautiful contrasting backdrop which plays the hot and cold elements of the picture faultlessly.


Grunge Style Bob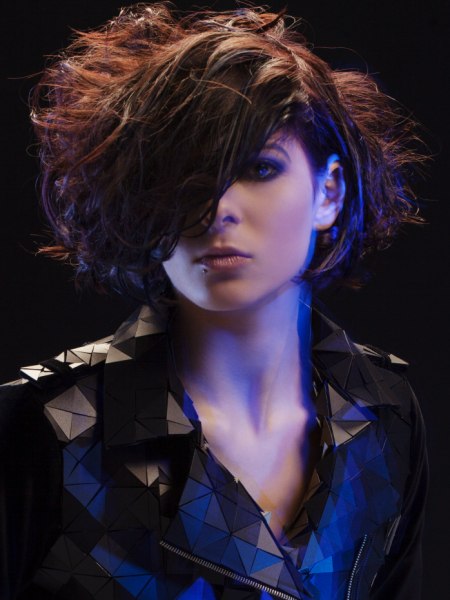 This is an inherently sexy, punk-rocker style pulled off with female flair. The model's medium chocolate-brown hair has been cut into a slightly A-line, short bob. Her hair is fine textured but very dense, thus she pulls this hairstyle off without any qualms.

The back section of the hair has been curled with a medium-barreled curling iron, while the long bangs and sides have been blow-dried with a medium blow-dry brush to create half curls that swirl in a convex fashion in an outward direction.

After the whole style has been ruffled sufficiently by the stylist fingers, a thick, dry wax has been applied to make the hair look almost dirty to achieve the unmistakeable grunge look, while also keeping the style structured and in place.

This is the typical kind of style that you'll find in music videos of emo punk bands such as "Jimmy Eats World," "My Chemical Romance," and "Taking back Sunday" as well as underground punk-rock and grunge clubs.


Wet Look Hair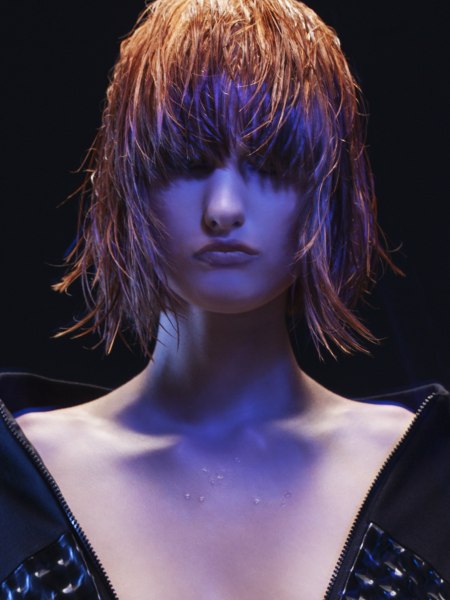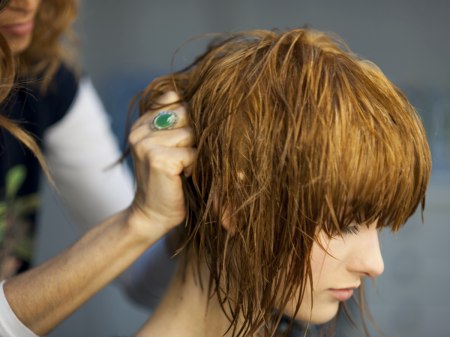 This very interesting hairstyle has a peculiar "Barbie Gone Bad" aura hanging around it. If you're all about pushing the envelope and rocking the boat, then this style will fit you like a flaming red glove.

The model's hair is cut into a medium length, A-line haircut with very long bangs. In practice, you'll have to sweep your fringe to the side to see where you're going, or risk walking into things… But it's all in the name of beauty, yeah?

The model's medium copper red hair has been slicked with mousse before being air-dried to achieve that bedraggled, almost ropey look. A thick, dry-base wax has been applied to the ropey bits to make them more pronounced, as well as to the rest of the hair. A few pieces of hair have also been crimped to increase the already extreme movement and dimension of the hair.

This style is not for the feint-hearted, but if you've got the attitude, it's worth the risk.

Hairstyles: Laetitia Guenaou
Hair: Agata Kociolek, Magdalena Piwowarska, Coraline Gustave, Marine Da Costa
Make-up: Karolina Supernak
Stylist: Weronika Wysoczynska
Photography: Jacek Ura & Szymon Szyndlar