Sparkles by Camille Albane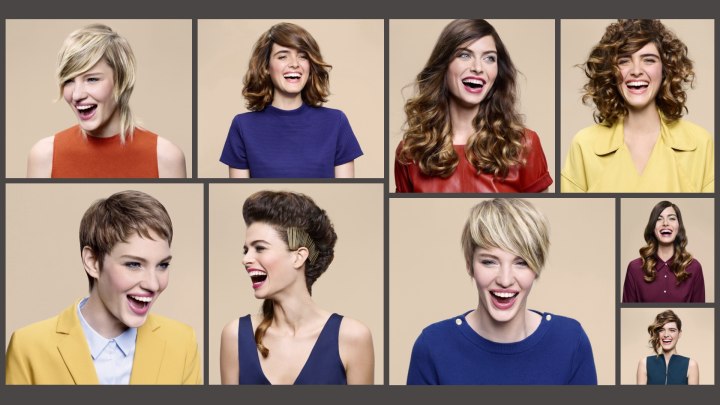 If you're the type of girl that appreciates natural beauty while still turning the sidewalk on your way to work into your very own catwalk, then this collection is tailor-made for you. The hairstyles vary from lusciously long layers to wickedly wispy pixie cuts, while the triple bottom line of the collection consists of class, fun and glamour.

This compilation of hairstyles and mouth-watering hair colors has aptly been named "Sparkles", as it is truly a glittering gem of sparkling hues, splendid wisps and rolling curls and waves.



If you prefer to keep your hairstyle and highlights or ombré coloring in the centre-stage and keep your make-up minimalistic and au naturel, then you're going to experience love at first sight while browsing through these images. Have fun!


Tied in 3D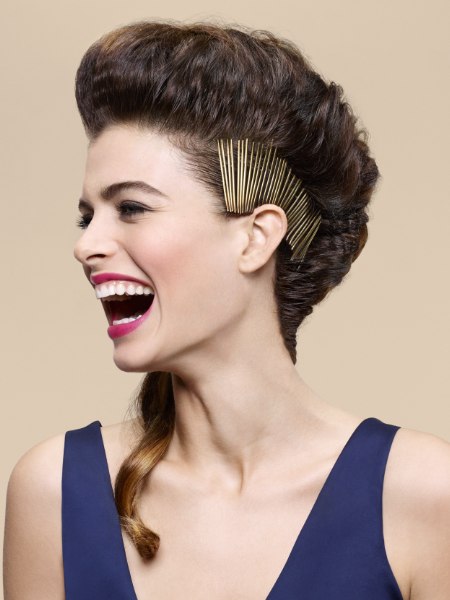 This style reminds one of hip-hop nights and punked-up fun. The model's natural brunette hair is colored with a deeply rich medium brown tint with a golden undertone, which warms her complexion and suits her dark eyebrows. Her naturally curly hair has been braided in a messy French-plait right on top of her head, effectively making it look like a Mohawk style.

Simple golden pins have been inserted in the flat side, just above her ear to make the style seem even more edgy and fun. The fact that the bobby pins are gold makes them stand out on purpose, which makes the impact-value of the style so impressive. The simple, low cut top and stunning pink lipstick only adds to the fun-filled element of the overall picture.


Held-down to Wavy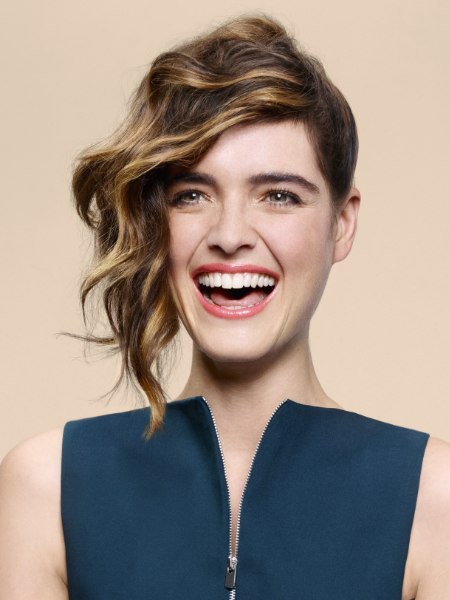 This is truly one of my favorite "funky looks", as it is seriously edgy and versatile, yet super easy. The model has medium-to-long hair, yet she pulls off this fun version of the long-fringed pixie look effortlessly.

Her hair's base-color has been tinted with a rich, medium copper-brown, while the mid-lengths to ends have been worked through with golden-blonde highlights to give an overall lighter and more youthful look.

The hair has been divided into two sections from ear to ear in a slightly diagonal line. The back section has been slicked with gel and wound into a tight bun, while the front bangs have been curled and combed out, styled to the side to mimic the look of a fun, long banged pixie.


Captivating Lengths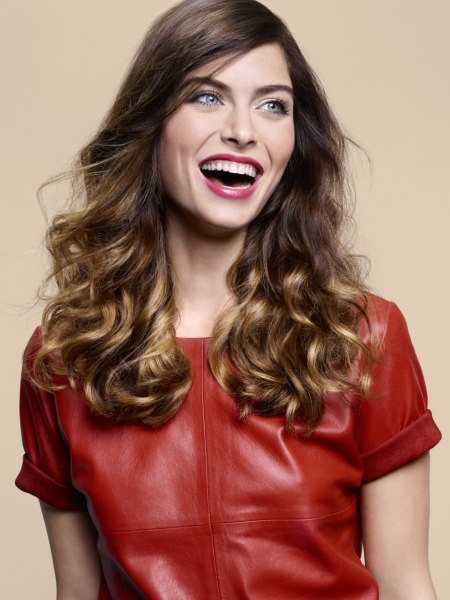 Here we have a long look that is one of those "never say die" hairstyles that will always be fashionable. The model's base color has been colored with a rich, golden-undertone chocolate brown, while the mid-lengths to tips have been lightened to a beautiful golden blonde.

The model's hair is long, thus thanks to the fact that only the ends are highlighted, this style will be super easy to maintain from a color and cut point of view.

The large, informal curls and side-parting only add to the relaxed, laid-back sense of beauty conveyed by the model's very obvious natural good looks.

The model's tined lips mirror her designer red leather top. The natural make-up, spontaneous smile and unassuming body language make this picture a stunner.


Glamorous Lengths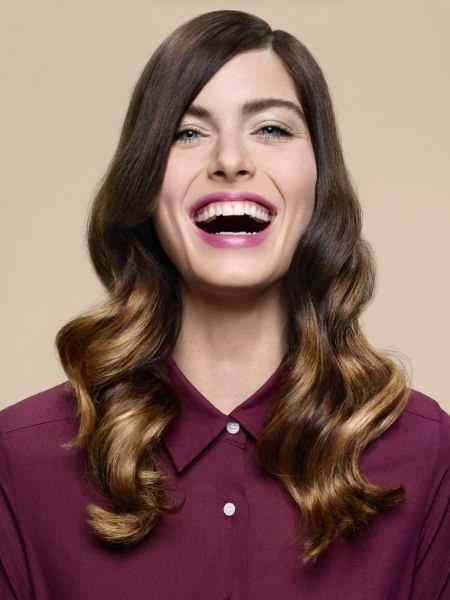 This is a more preppy, prettily conservative version of the previous style. It's the same model, and the same minimalistic, natural-beauty make-up technique that's been used, yet this picture emanates a completely different feel and energy than the previous one.

Her long hair has been curled from mid-length to tips with a large-barreled tong, and meticulously combed out and styled to create these beautifully structured, wavy curls cascading down her shoulders.



The model's plum colored blouse with the crisp buttoned-up collar adds to that preppy image, while the plum-pink lipstick mirrors the rich color of the blouse. The model's scrupulously-maintained brows and peaches-and-cream complexion increases the neat-pressed prettiness of this classic look.


Bubbly Bob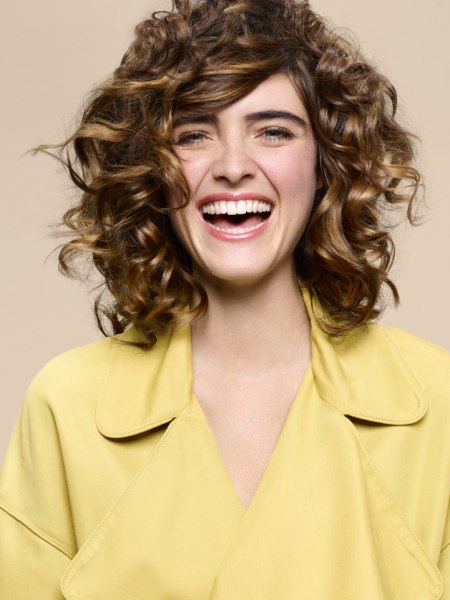 This image overflows with fun and relaxed vibes, and will look equally at home, in a restaurant in the Seychelles as it would in an editor's office of Vogue magazine.

The model's hair is actually quite long, but has been curled into tight curls with a small barreled curling tong, that's been slightly combed through with the stylist's fingertips to give it that almost natural, girl-next-door look.

The model's base color is a very warm-hued medium brown, while the added scattering of golden blonde highlights light up the whole color of the style perfectly.

Note how the sunny-yellow coat maximizes the fun, vibrant look that is exuded by the overall picture, while the model's huge and beautiful smile and the natural make-up only increase the salability of this hairstyle.


New Wob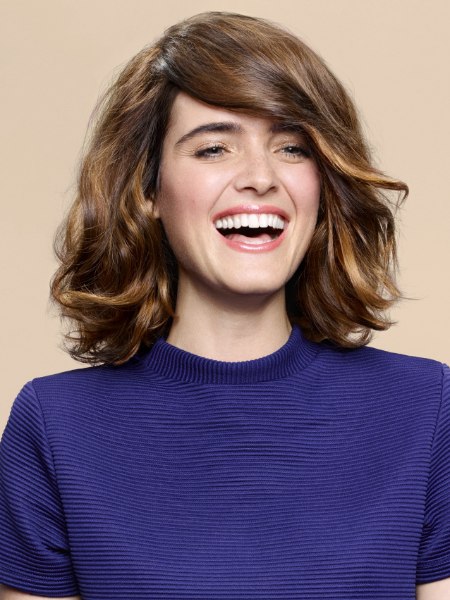 Here we have a look that's been effectively frozen in this generation's frame of mind as Taylor Swift's go-to style. The model's medium-length, layered bob has been curled with a large barreled tong, and subsequently been combed out by the stylist to create the softly wavy, super classic look.

The model's side-part makes her fine-structured hair look thick and vibrant, while the medium colored, warm-hued copper-brown and thin slices of golden-blonde highlights increases the pretty youthfulness and laid-back energy of the overall style.

The model's make-up is exceedingly natural-toned, while the focus has been put on her beautifully luscious wide and thick brows. The high-necked, deep purple top increases the effortlessly cool vibe, while the model's healthy smile and beautiful skin are the final ingredients to cap off this girl-next-door gorgeousness.


Short and Sculpted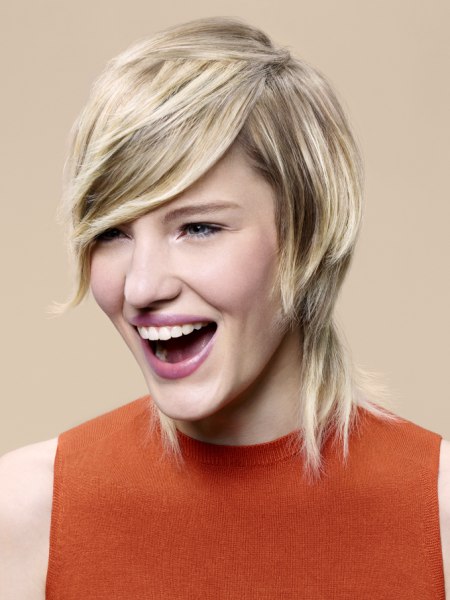 It's interesting to note that the next three pictures are the same model, but with wildly varying hairstyles. This is almost a completely effective, motion-picture example of how efficiently a mere hairstyle change can alter you whole image.

Here the model's naturally blonde hair has been highlighted with frosty and very light blonde highlights that have been toned with a natural-ash undertone to achieve that perfectly blonde color.The light-blonde works well with the model's light eyes and complexion.

Her hair is cut into a neck length, wispily layered style that will work beautifully if you're trying to grow your hair out.

This look is fun, young and vibrant, while her very natural make-up and light pink lips exemplifies a sense of effortless gorgeousness that is usually the aim of varsity students or young professionals.


Short and Layered


Here we have the same base style as the previous layered hairstyle; yet with this style the bottom wisps have been trimmed so that we're left with a long-fringed pixie cut. The bangs have been thinned out and razored to achieve that wispy and feminine hairline, while it is still full and almost feathery.

The model's dark blonde, ash toned hair has been highlighted with light ash blonde highlights, which effectively lights up the whole look, while also making her hair look naturally thicker.

The model's make-up has once again been done in very natural, minimalistic colors and technique, while her round-necked deep-purple top with buttons adds to the laid-back beauty that is exuded by the whole look. A slight flick of very light pink blusher at her cheeks completes the youthful energy typified in the image.


Masculine-feminine Short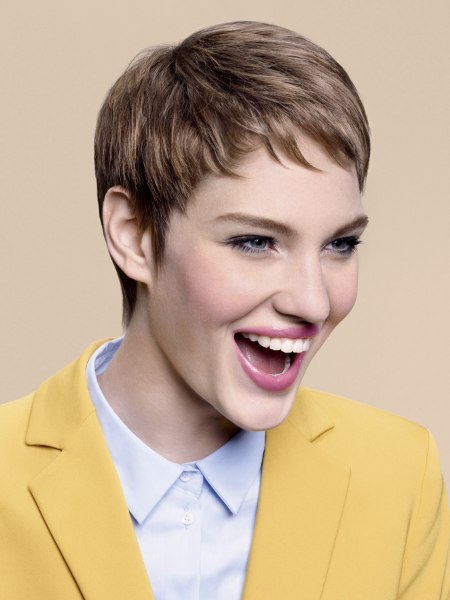 This is a perfect example of how stunningly transformative just a color change can be! Here the model's hair has been cropped into a slickly stylish short pixie cut, and while the cut is beautiful, it's the color change that packs the true punch behind this image makeover.

Her previously light ash, baby blonde hair color has been tinted with a natural light brown hue that adds a sense of dimension to her complexion and eyes. The darker hair changes her pale features to a luscious peaches-and-cream color while she immediately looks more edgy and vibrant.

The androgynous buttoned collar shirt, mustard-yellow structured jacket and stunning hairstyle with short bangs is the perfect look for the self-driven, motivated young professional with a thirst for individualism and success, while effectively balancing the elements of fun and work.

Hairstyles: Camille Albane
Photography: Nicolas Valois