Essensity by KLIPP Frisör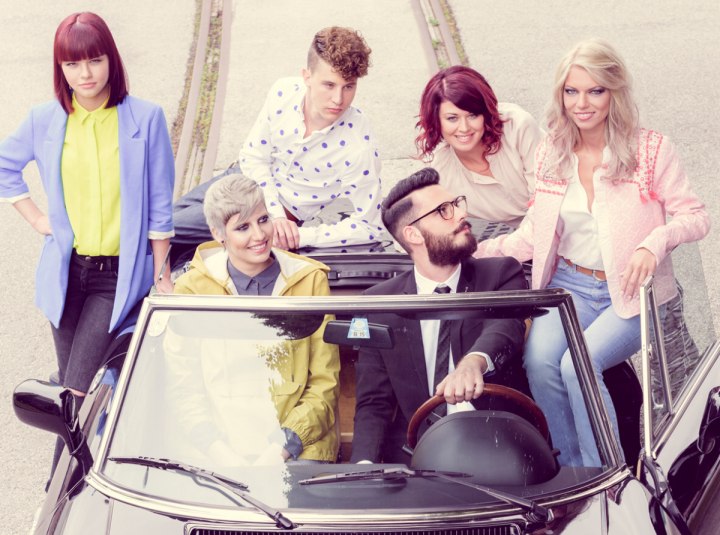 Essensity is a color range created by Schwarzkopf. The Essensity range is designed to utilize the hair's natural color dimension and shade elements to its maximum level when coated and sealed with the premium artificial color pigments.

KLIPP Frisör uses his jaw dropping aptitude for hairstyling genius to craft a whole collection of stunningly beautiful hairstyles. Whether your sense of style is roaring glam or relaxed chic, this collection will undoubtedly get your happy juices flowing.

Click here to watch the video of this collection.


Long Hairstyle with Layers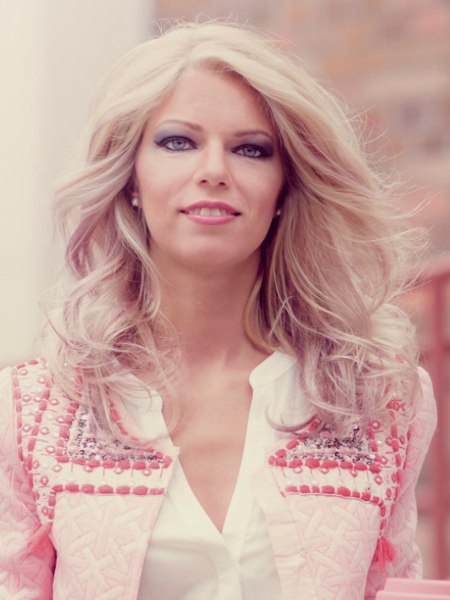 The threshold where fashion meets elegance! Although the "blondes have more fun" slogan is widely debated, it's pretty clear that this beauty is having the time of her life. The shimmery shades of baby-blonde interspersed with slightly darker blond-highlights create a stunning backdrop to showcase her striking face.

The tumbling, layered curls cascading down her shoulders create an aura of elegant individualism, while signifying that she's not afraid to "let her hair down" and kick back to relax. If you're looking for a style that's a perfect fit for both work and play; this is it.


Red Hair with Highlights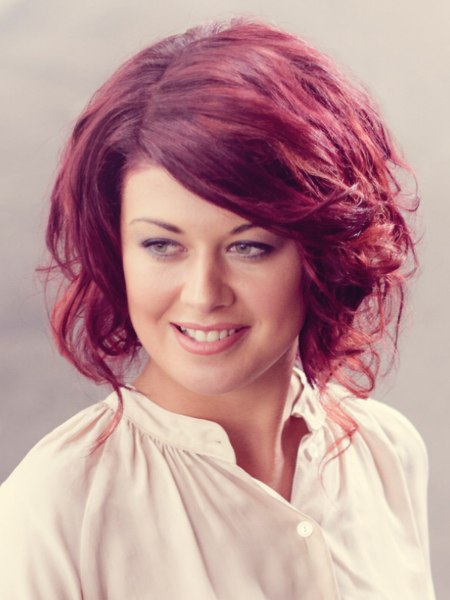 Fire and Ice, and all things nice! The deeply rich red base is lit on fire with intense and vibrant red highlights. The highlights are tightly packed for a seamless transition from a darker red along the roots to the shimmering mid-lengths and tips. This red-hot color combination creates the perfect "hot and cold" contrast between the searing shades of scarlet against her delicately pale skin.

This curled and styled medium length hairstyle works flawlessly as the slight twirls of hair will catch and reflect sparks and glimmers of varying shades of ruby and crimson when illuminated.


Neck Length Bob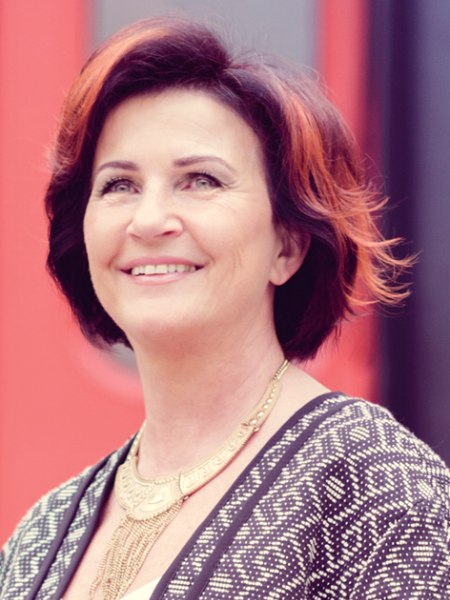 When less is more… Her hair is cut into a supremely flattering neck length and layered bob, with integrated bangs to soften the face while adding volume to the style. This is probably one of the most beautiful styles for mature women, as it crafts a feminine frame around the face while brimming with a sense of grace and poise.

While she seems to simply emanate a sense of timeless elegance that naturally beautiful face seems to demand a splash of striking color and glow! The stylist obeyed by coloring her mid-lengths to tips with a gleaming hue of copper-red streaming out from a dark base-color.


Grey Hair and Undercut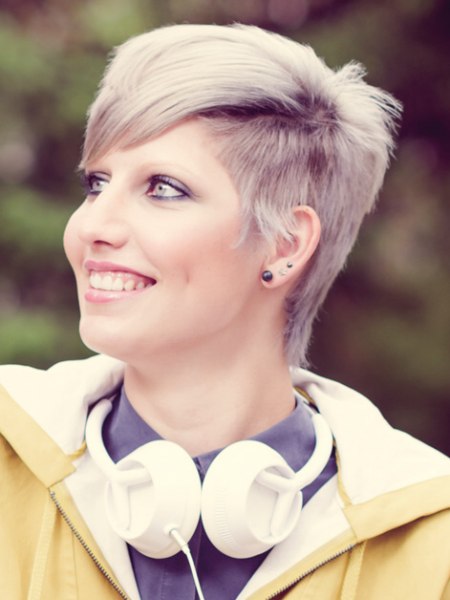 Fifty shades of grey just got a new meaning. Kick those dreadful yellow and brassy tones to the curb by cooling your tresses to sub-zero cool with super-ash toners. As if the color wasn't zany enough to stop traffic and have a few people walking into poles, the haircut is absolutely genius.



The side has been sheared short, while the bangs and back are kept longer and thick. The roots are tinted a darker violet shade, while the rest of the hair has been toned to an ice-cold, super-ash hue that complements the model's pale eyes and skin flawlessly.


Clavicle Length Bob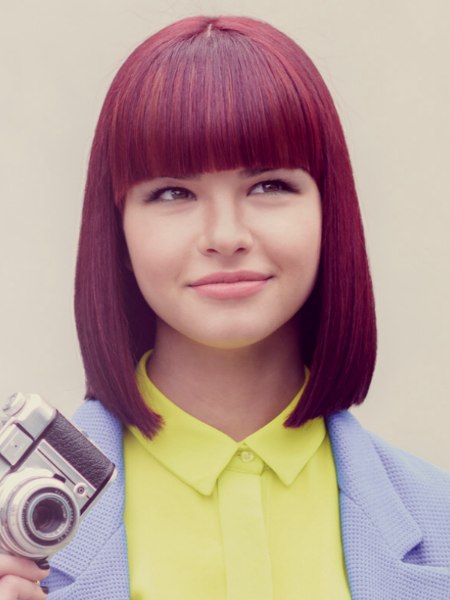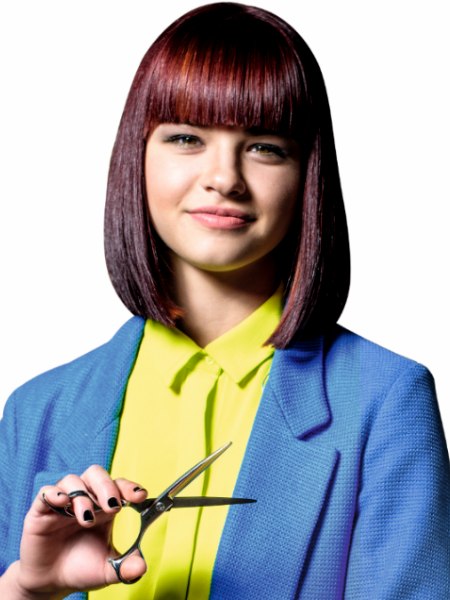 No one ever said that you couldn't make a few interesting twists and turns while walking the path of the straight and narrow! This hairstyle has been beautifully crafted by meticulously fusing lazy curves and faultless straights, and setting the creation alight with radiant shades of red.

The bangs are thick and super straight across her forehead, while sloping down in perfectly silhouetted curves to slant down to the sides, encasing her face in a dramatic frame. Flares of intense red highlights are kept contained by darker lowlights; a color combo that showcases the model's pretty face in sharp relief.


Metro Man Look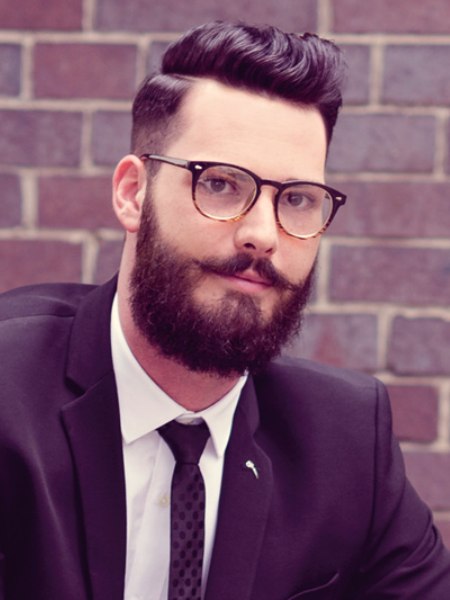 We're putting the "retro" back into Metro Man. This whole look is a gloriously scintillating mix of sharp and smooth that leaves even the most cultured tongue watering. The hair along the lower sides is sheared off short enough that the scalp skin shines through clearly.

The mid height hair along the circumference of our model's head is sheared to a slightly longer length, while the hair on top of his head is left long and thick. The varying lengths of hair are blended flawlessly, while the slightly upwards-twirled moustache, groomed beard, glasses and suit oozes an intelligent and contemporary sense of sexappeal.


Sheared Back and Sides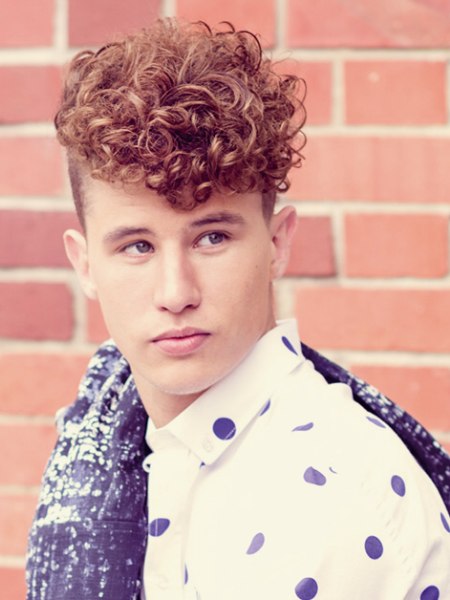 This is what you get when you take a world class stylist with a yen for old school glam, and ask him to recycle his favourite Throwback Thursday look. The hair along the back and sides is sheared off short enough to make a marine corps soldier blush, yet the hair on top is left super curly and thick.

The lush top section is colored with a glowing copper-red shade. Thanks to the tight curls in this region, the copper and red hues will reflect any source of light to create an eye catching show of light play wherever he goes.


Hairstyle for Mature Men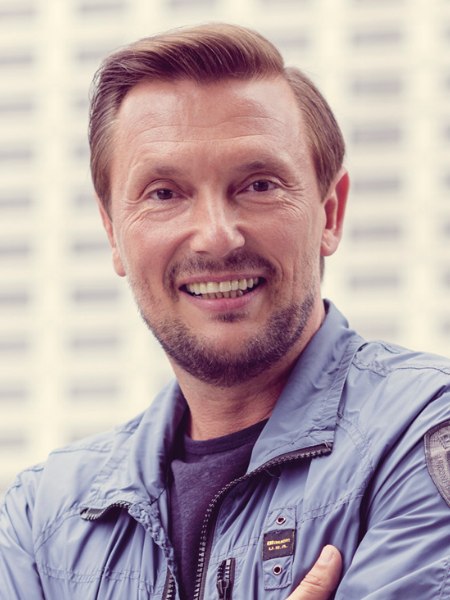 When your inner debonair overruns everything in its path, your best bet is to grant that sense of suave free reigns. Simple hairstyles are often the most attractive, especially when it comes to mature men in their prime.

Our model's hair is cut into a traditional short sides and back style with a groomed hairline, while the hair is combed neatly into a side path that is also combed slightly to the back. The hair color is a natural light brown hue, which suits his attractively tanned skin and brown eyes very well.

Hair: KLIPP Frisör