Trendy Life by Felicitas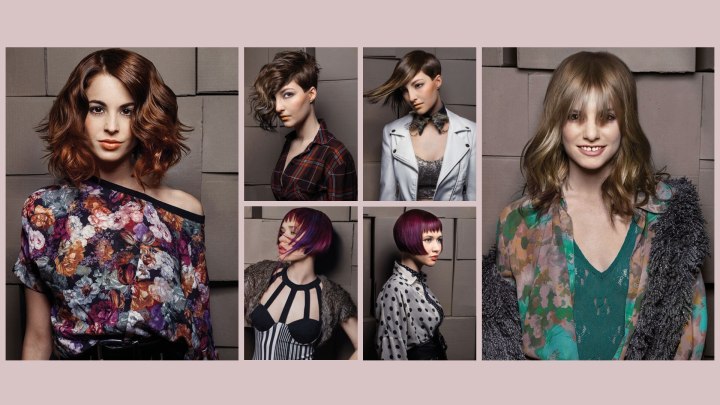 No one said that staying on top of the latest trends needs to look gaudy or kitsch. Here you'll be inspired by haircuts, styles and colors that are perfectly in-step with the current contemporary styles, yet they can also easily double-up for normal and even sophisticated daytime looks.

If you're bored of your current straight-laced look, but can't take the risk to hack off all your hair and color it a vividly-punk or darkly-emo color, then we've got the perfect solution for you. These styles incorporate red-hot colors, the latest trends and even different ways to style much of the same type of haircuts.



If you're ready to shed your tedious "office look", but can't commit to a permanent way-out style, then you've come to the right place. Browse through these pictures for the ultimate inspiration to transform your hair from tiresome to trendy, with a mere trip to your hairstylist with one of these pictures in your hand.


Long On Trend Hairstyle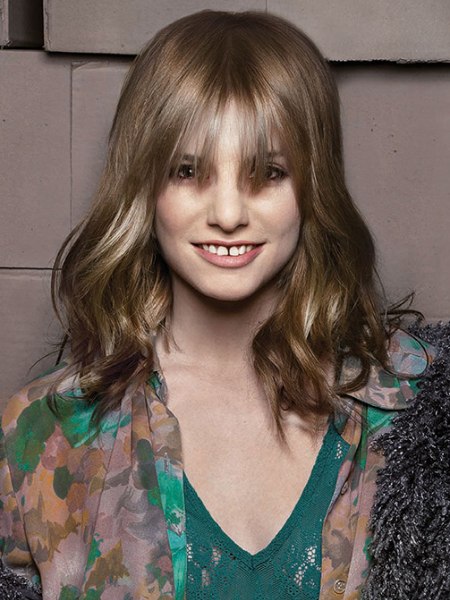 This is the sort of look that you should aim for if you like staying on trend, but hate spending hours and hours on your hair in the morning, not even mentioning loads of money. The long, connected layers and long bangs are super easy to maintain, and never seem to go out of style.

This is the trademark hairstyle of Alexa Chung, and a string of other celebrities and models who like to spend their time by taking the world by storm, instead of sitting in front of the vanity mirror and preening. This is also a great style for women with fine hair with a high density factor per square cm.

This particular color also works wonders with the model's natural hair color and her complexion. The dark ash-blonde base has been lightened very slightly with a few highlights to maximise the color and movement of the hair.


Lob with Large Curls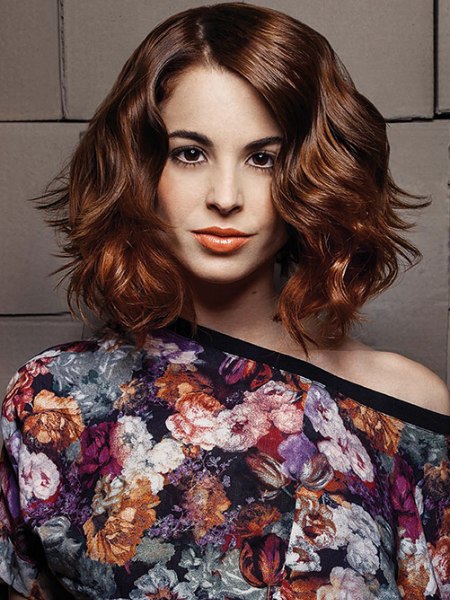 Timeless beauties such as Anne Hathaway and Chloe Moretz are often inspired by this exact hairstyle. The model's hair has been cut into a lob, (long bob), with connected layers, that has been thinned out along the tips for maximum texture. The hair has been styled into large curls that have been combed out with a boar-bristle brush to achieve those gorgeous waves.

This is an awesome hairstyle for someone with naturally wavy or slightly curly hair, especially if you have a lot of it. The model's pale complexion is also played up beautifully by the fiery medium red-copper hair color.

The make-up artist further complemented the hair's color by using a rose-orange colored lipstick on her full lips, and leaving the eyes almost bare, except for the darkened eyebrows. The whole look exudes understated elegance, a woman who knows what she wants and also knows exactly how to get it. Definitely the kind of trendy look you should be aspiring to.


Short Bob with Ragged Bangs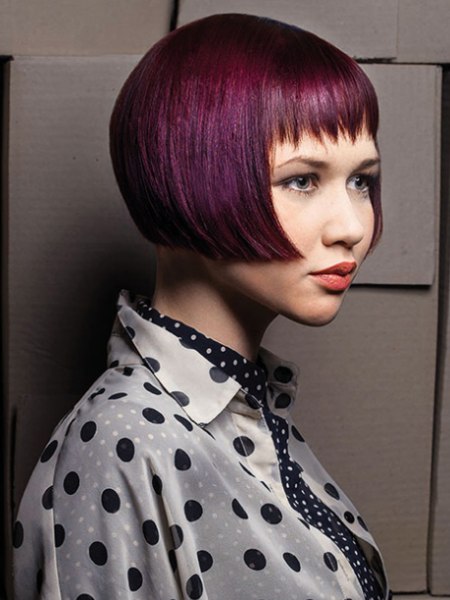 This very edgy look has taken centre stage at huge hairstyling houses such as the L'Oréal and Schwarzkopf giants. The immaculately structured short, slightly A-line bob is showcased flawlessly by the almost iridescent medium plum hair color, which has been highlighted with slices of intense red. This deeply rich color combination stands out in sharp relief against the model's fair complexion, which puts most of the attention on the lines and structure of the haircut.



The razored and almost ragged bangs only intensify the edginess of the style, along with the way that the hair has been styled to flare forward high against the cheekbones. The model's dark green eyes gives the look a slightly feline feel, which works great with the very contemporary design and color of this hairstyle. This works well with diamond, heart and oval shaped faces, and distinctive features such as striking eyes and high cheekbones.


Bob with Colored Extensions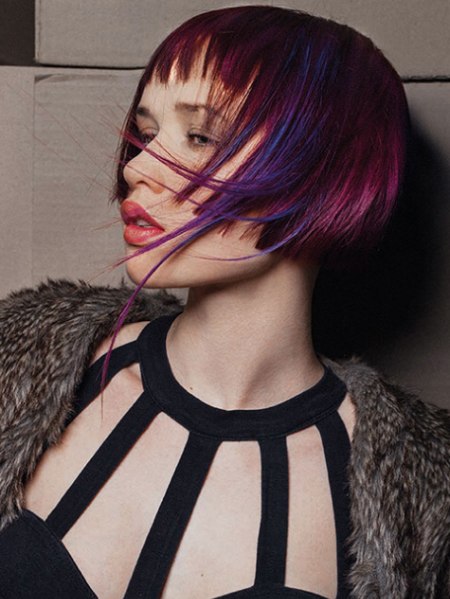 This beautiful look is very much the same as the previous photo, except for the addition of longer, razored vivid-purple pieces in the front of the style. This look has been a favorite style in the kaleidoscopic underground of contemporary art and punk-rock, which has long been the playground of young hairdressers, models and celebrities. Fashion magnates such as House of Holland, Vivienne Westwood and Alexander McQueen all adore this kind of hairstyles, which often spills over onto their catwalks and clothing lines.

You can copy this look at home by adding a few colored hair extensions to your choppy short bob, and razoring the extensions to achieve that ragged, edgy look. The purple extensions works very well with the dark plum and intense red base, but vivid red or even canary-yellow will work just as well. Keep your make-up simple with this kind of hairstyle, as the hair is meant to be the main attraction, and you don't want excessive make-up or gaudy clothes to detract the focus from the hair.


Contemporary Pixie Style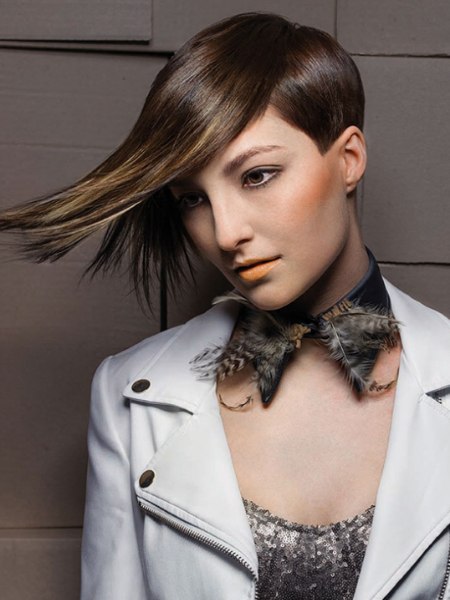 The model's hairstyle is currently enjoying immense attention in the limelight, thanks to its cutting-edge trendiness, versatility and easy maintenance. This short hairstyle exemplifies the fact that an edgy and decidedly contemporary style can also double as looking sophisticated and erudite.

Her hair is cut into a short and neat pixie style, with an exaggerated fringe that is razored diagonally across her face. Note the intrinsically squeaky clean impression of the clean cut hairline around the ear and side of the forehead. Even though this is a potentially risky haircut, you can easily see how it can even have a very "corporate feel" if you style it in this sleek and neat look.

The model's naturally medium brown hair has been colored to a rich nut-brown base with a golden undertone, while the long bangs have been highlighted with light golden blonde slices. The lighter highlights in the fringe give the look a polished and modern edge, while the lighter pieces also have a youthful effect on the model's face.


Edgy Pixie with Curls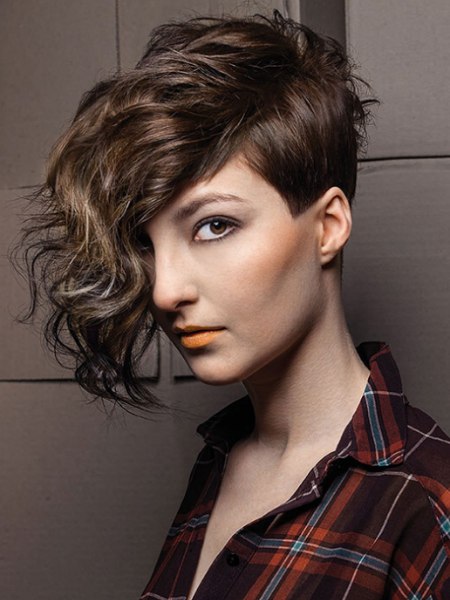 This is really why I am in love with hairdressing. Stylists have the almost magical ability to turn a sophisticated and demure style, (as the previous picture shows), into an intense and edgy style by using only a curling iron and some hairspray. This is the same hairstyle and model as the previous picture, but here she's transformed into a daring and dangerously playful creature of beauty.

The model's short side area has been left neat and structured; the silhouette of the hairline standing out in a solid contrast to the model's peaches-and-cream complexion. The longer top and bangs have been curled with a medium-barrel curling iron to create bouncy waves that caress in a diagonal curve across the model's forehead.

The look feels spirited and almost enigmatic, thanks to the curls that fall mysteriously across the model's right eye while covering most of her face. The peach-colored lipstick and blusher complements the model's naturally beautiful face well, while leaving the hairstyle to conquer centre-stage of the overall picture.

Hairstyles: Felicitas and Team
Make-up: Trini F. Silva
Stylist: Mao Xue
Photography: David Arnal