Athletic Mix by Framesi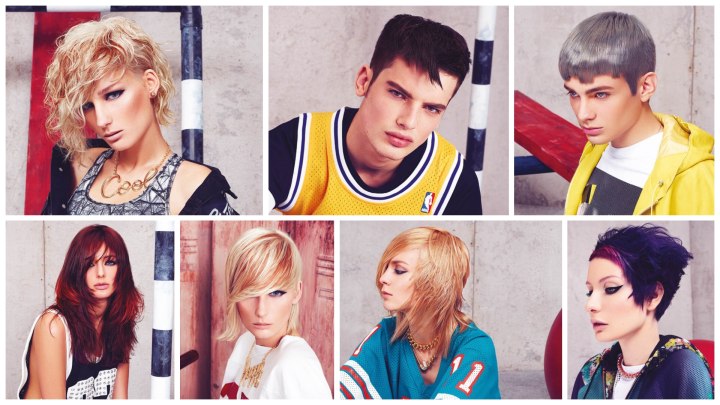 Forget everything about how you imagine an athletic hairstyle to look like. Framesi gives us the Italian interpretation of sportiness and of course that means a lot of style, chic cuts and dramatic colors. The versatile cuts are easy to wear and also to style at home, but they look far from being practical.

Framesi redefines wash and go looks with geometric lines, daring textures and the most delightful colors. These creations are like an energy drink made out of hair. You will feel infused with a new drive and your pulse rate will quicken as soon as you leave the salon.


Curls and Gel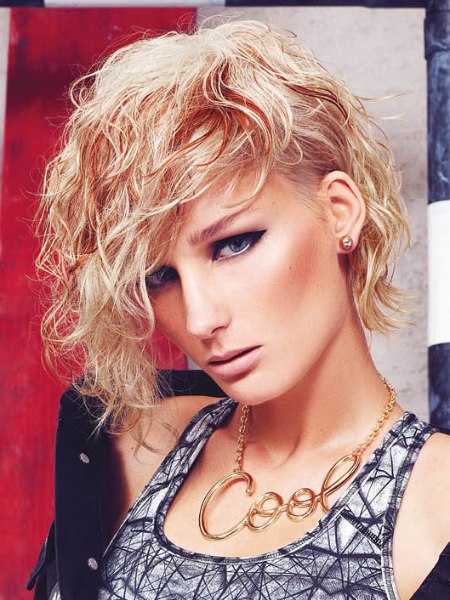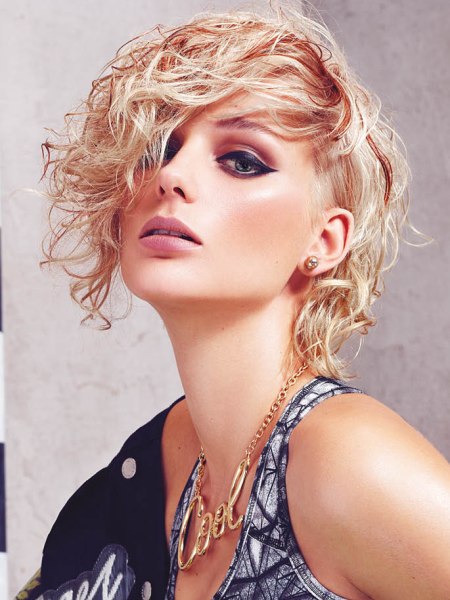 These curls look like they just came out of the shower. Get fresh with a lively layered style cut at mid neck length. A part of the hair was tugged behind one ear and the rest falls forward in a very stylish movement.

Gel helps to stabilize the curls and also to create them by scrunching the damp hair with your fingers until the desired shape is reached. Framesi added a very special color effect with a layer of a reddish, rusty brown nestled between beige blonde. It also comes in a sleek version as you can see in the next image.


Layered Colors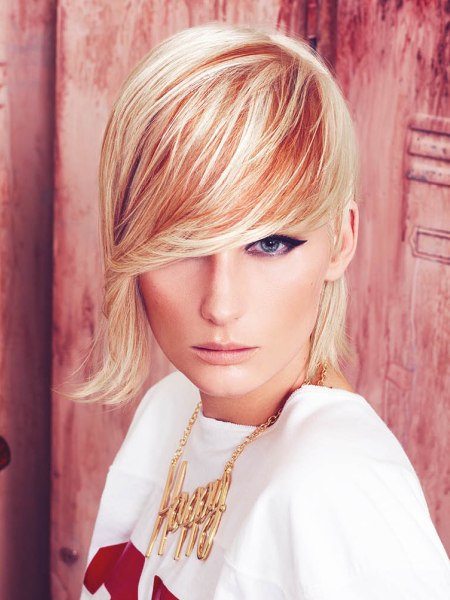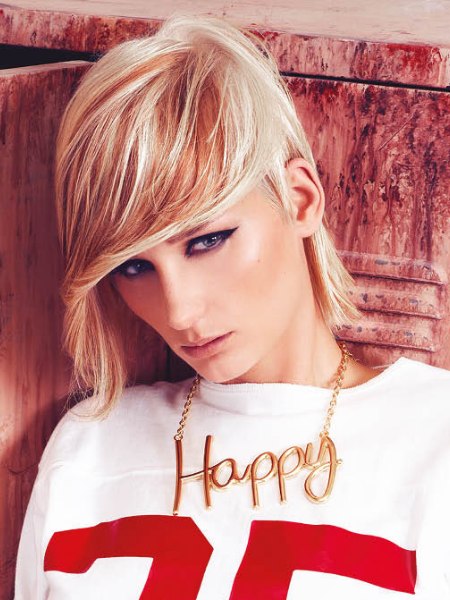 This preppy and sporty short haircut comes with a super long fringe, which is here stylishly draped across her forehead and covers one eye. The mystery increases with the radiant hair colors that were layered and ingeniously blended.

Bright blonde meets a reddish hazel tone and the plays of light resulting from this combination are breathtaking. The hair is styled all sleek but with a few small flips along the edge of the bangs and large outward flips on the sides. This is athletic the cool way.


Flamboyant Hairstyle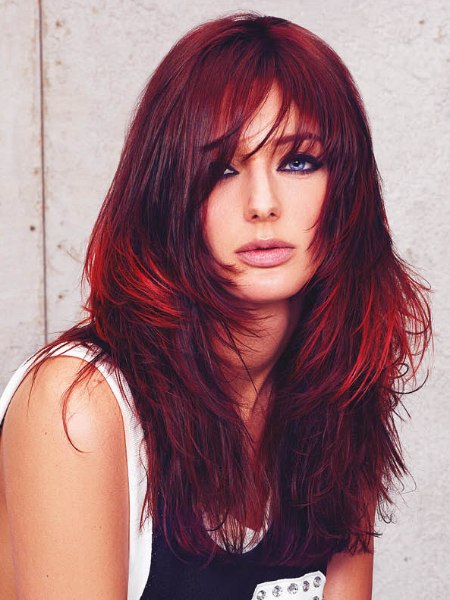 Think your workout makes you feel hot? Try this flamboyant layered hairstyle and see what happens. The hair falls over her well trained shoulders and is styled in a loose open way with pronounced texture.

Strands are separated by using a styling lotion, finger styling and thoroughly shaking the hair through. The curves are created with a round brush and a blow dryer before that.

What makes this look stand out a mile away is the formidable use of hair color. The base is a deep red highlighted with bright flames in the tips. Every move will make sparks fly.


Sleek and Versatile Cut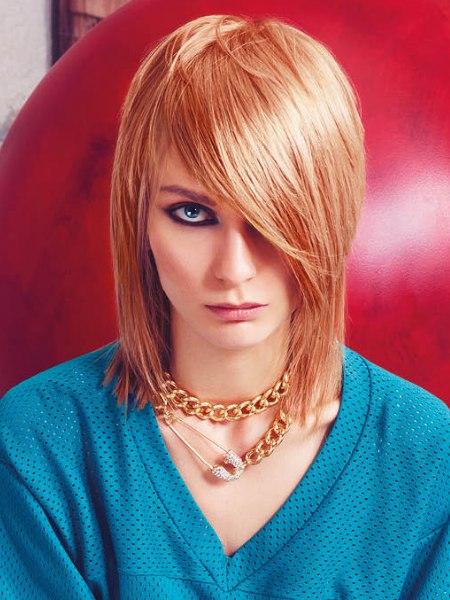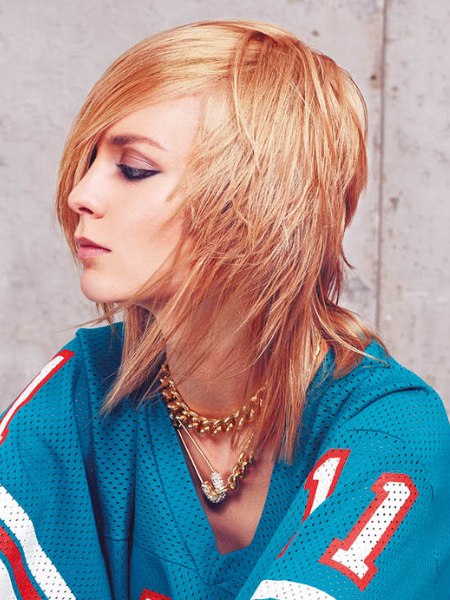 Long fringes are in this season. They bring not only a bit of mystery to your face, but are just fun to play with and they can be styled in so many different ways. Her golden blonde hair was cut with movement and lightness in mind, so layers are the key. The shortest layer is about 3 inches long and the hair almost reaches her collar bone.



The ends of the straight hair are relaxed and only a little twist on the edge of the fringe is carefully placed. The color is a bright, gold and copper mix that corresponds wonderfully with her bold statement necklace and the even bolder eye make-up.


Rough and Scrunched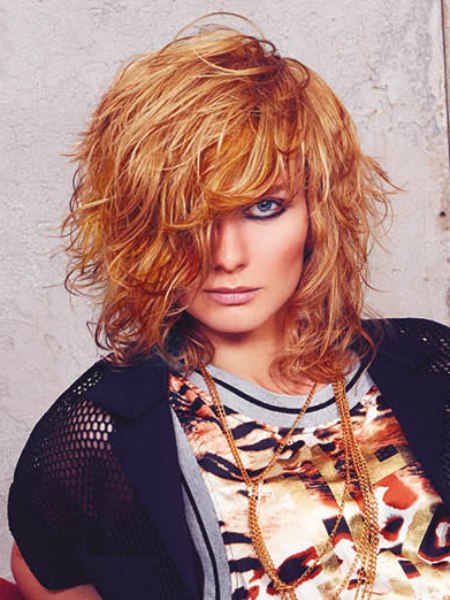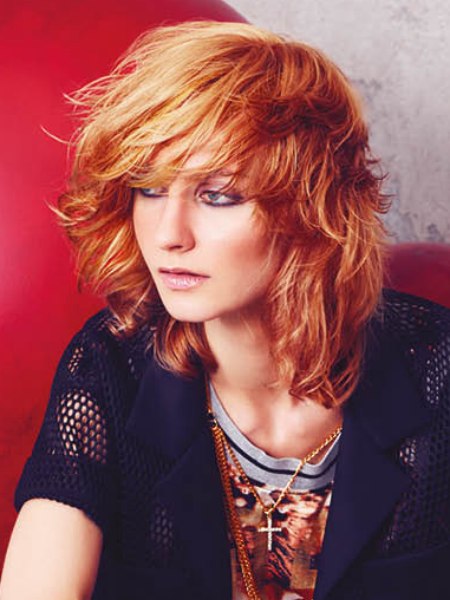 Ruffled chic made by Framesi comes in an array of intense blonde, gold and copper shades. All are infused into this medium long layered cut and styled for action. The hair was dried over the head to generate the flattering volume.

There is no real part, but a central point off to the side around which the separated strands pivot in dynamic motion. Scrunch this glorious mane to add more curves and waves and add a little flip to the fringe with a hot iron.


Blue and Purple Hair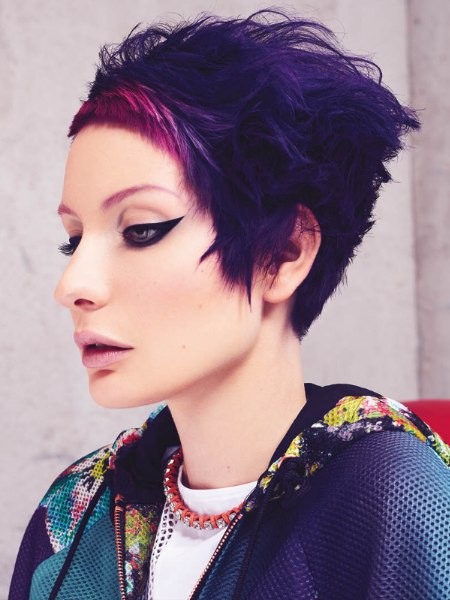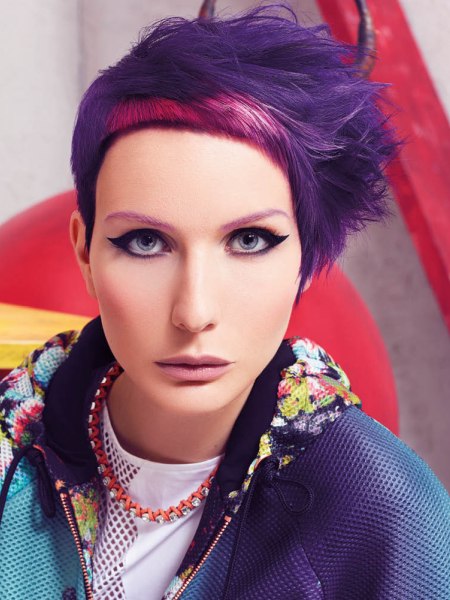 This is the most extravagant look of the entire collection and it shows the great creative minds that where at work here. The hair is cut and styled to a wedge shape with the narrow end in front, defined by a minimal fringe in a cool purple, just to create an exciting edge to the royal blue structure that follows.

It builds up in height and then drops down to the nape in a steep line. The graduated short cut allows the hair to support itself, but of course a few doses of modeling crème and spray are needed to keep it going this strong.


Short Cut for Him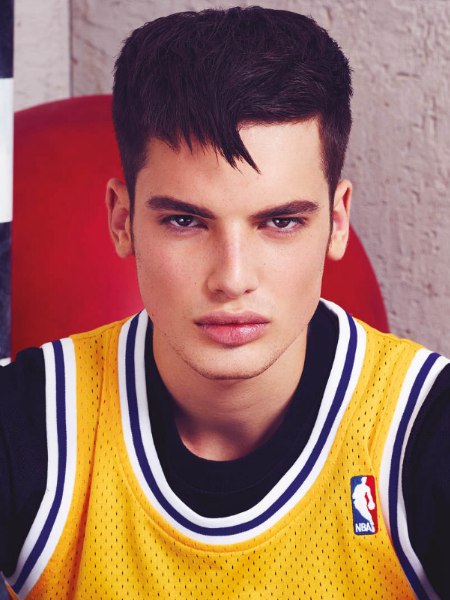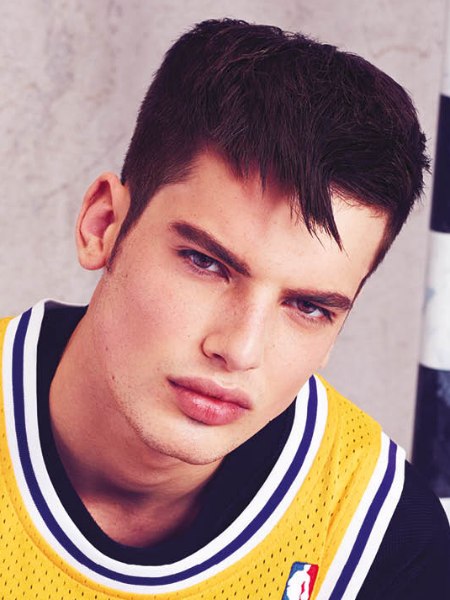 A famous sports brand got famous with their logo showing a simple swoosh. A similar minimalistic idea was incorporated in this cut for men.

The main body of hair is neat, short and has a perfect fit. But the short fringe gives him that winner's look with a row of jagged strands that are pulled into his forehead.


Silver Flash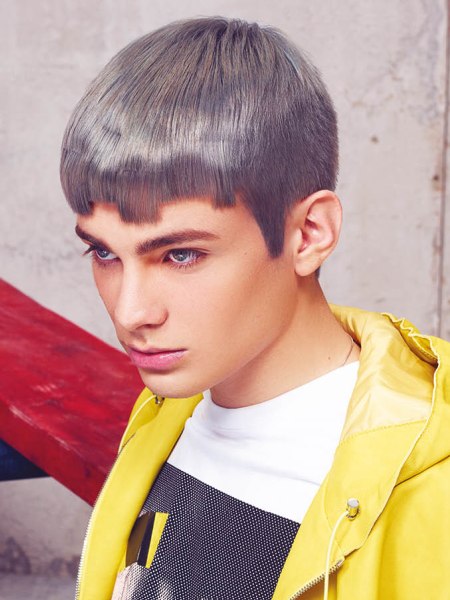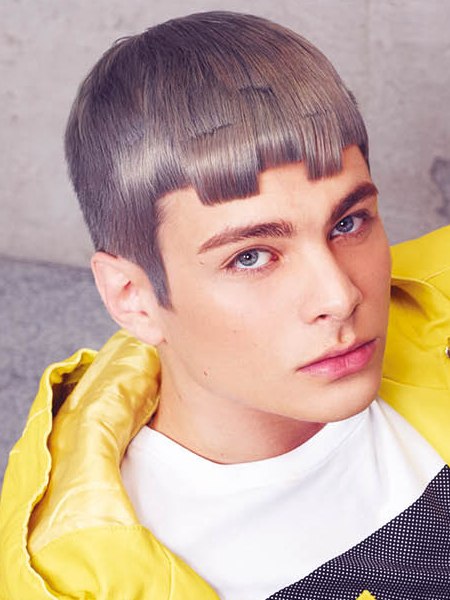 This eccentric style is as far from traditional haircuts for men as possible. The only elements in common with the more conventional styles are the short clipped sides and slightly longer hair on top. His hair color is a shiny, metallic gray or a darkened silver tone which has an iridescent quality and can reflect different subtle shades depending on the surrounding light.

His fringe is cut in a most artistic way with retracted and protruding rectangles along the cutting line. These are empowered by small alternating creases in the smooth hair that is styled forward.

Hair: Framesi