Savannah by Paul Gehring for ALCINA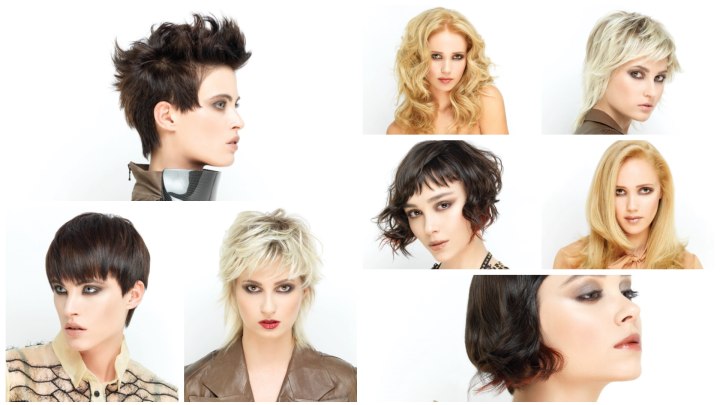 In their latest collection Savannah, Paul Gehring and his team interpret the current hair trends with an exotic and feminine touch. Skilled cutting and daring styling bring the hair to life with rich natural colors and a casual, yet very elegant look.

Long hair comes with much movement, beautiful waves and springy curls. The short looks thrive with their trendy textures and a very easy going finish. Modern elegance that keeps a playful element and expresses a wild inner nature. Freshness and sophistication go hand in hand in this alluring line up.

Click here to watch the video of this collection.


Sweet and Low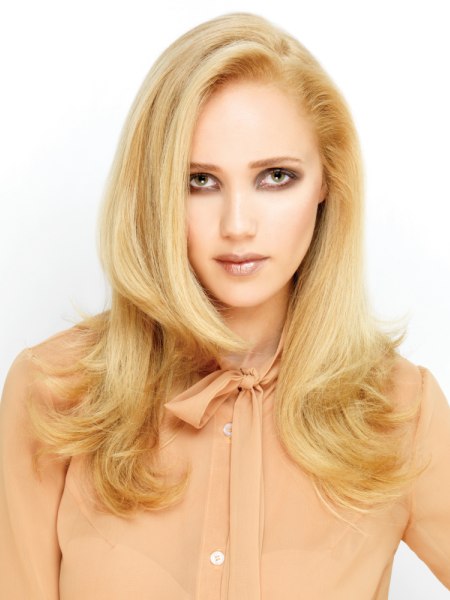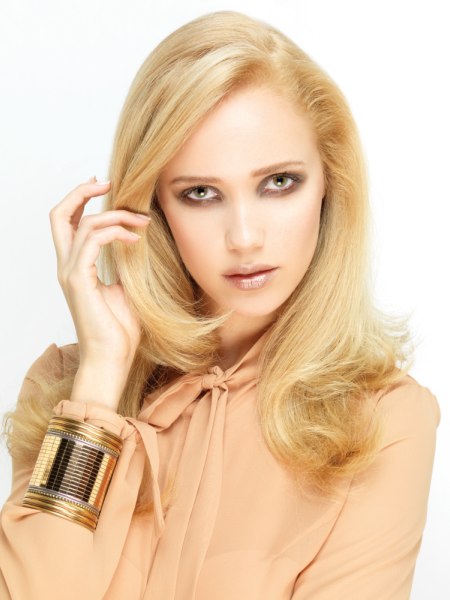 Like a brush stroke from a master's hand. This is how the hair falls and frames her face in a gorgeous curved line with a built in asymmetry resulting from the partition on the side. This elegant, striking long hairstyle could not be more feminine and peaks in the elegance department.

Low flowing layers are flipped up at the ends, creating even more exciting energy. Her color is a desert sand blonde with high and low lights throughout for extra depth and a breathtaking dimension which creates the optical effect of enormous volume.


Untamed Waves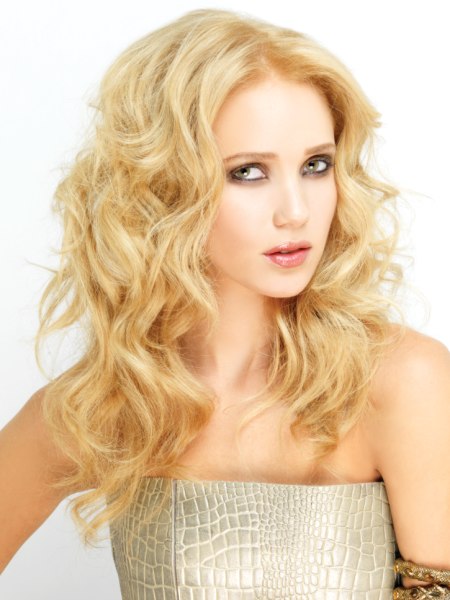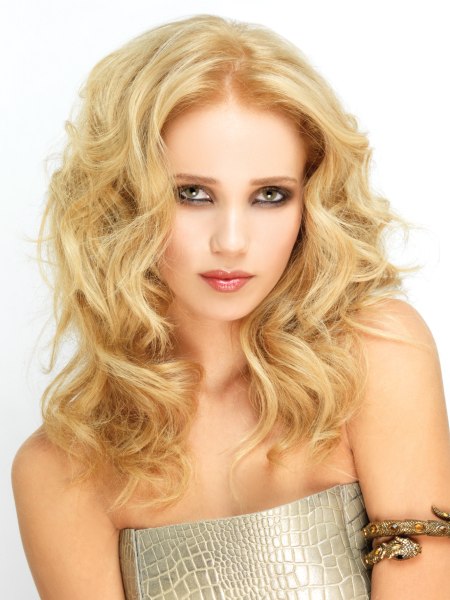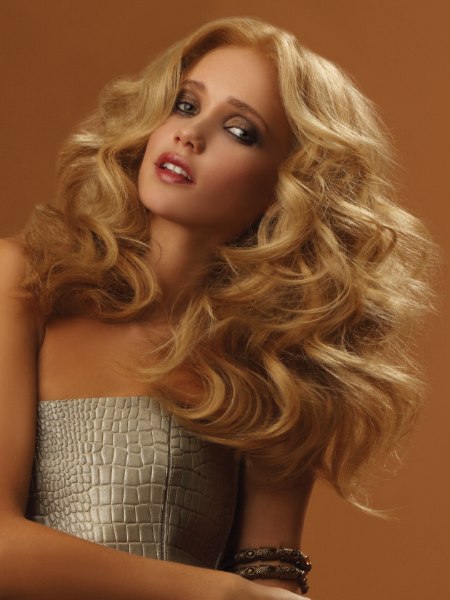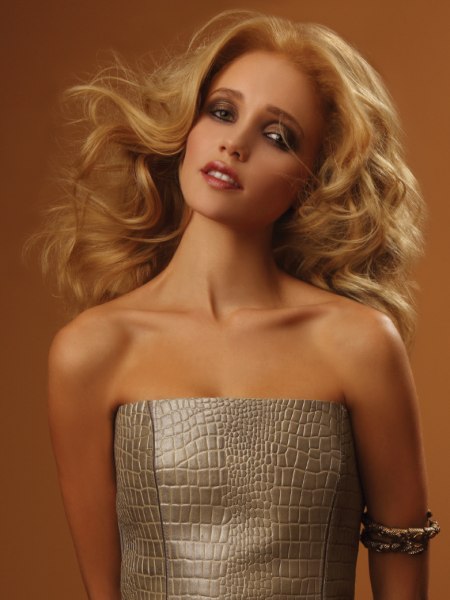 Long wavy hair worn open is a great look for a romantic evening. What could be more alluring than a cascade of blonde layers with this much volume and movement. The distinct waves are artfully disheveled and what may look like a style of effortless coincidences is very much planned and skillfully executed.

Her honey blonde hair color sparkles with light blonde highlights and the hair is parted in the center to allow a balanced weight on both sides.


Short Bob with Spice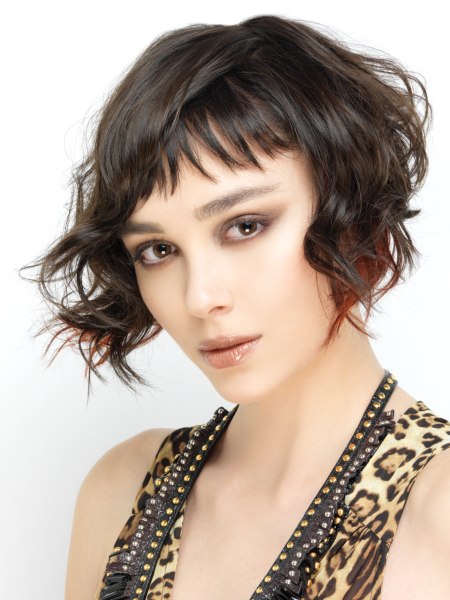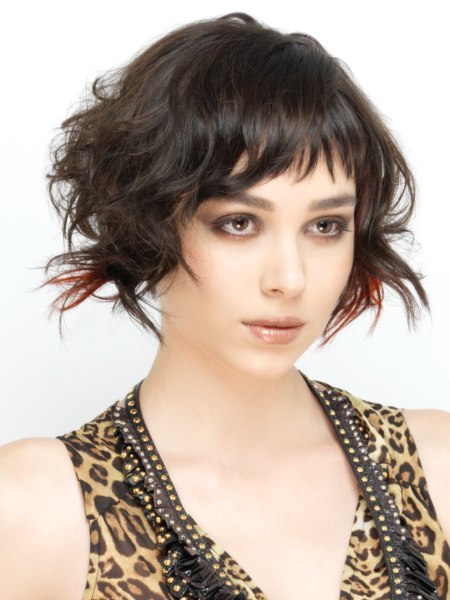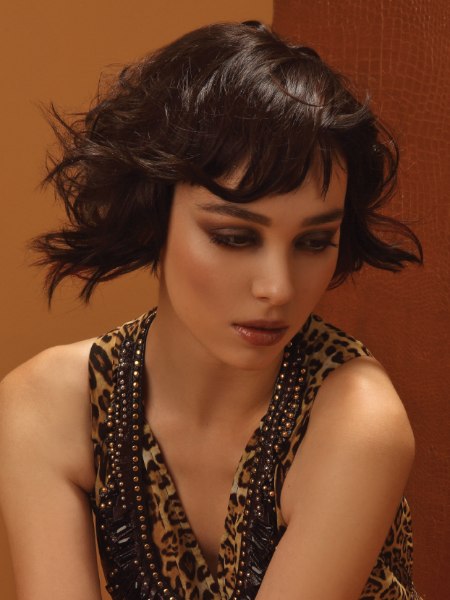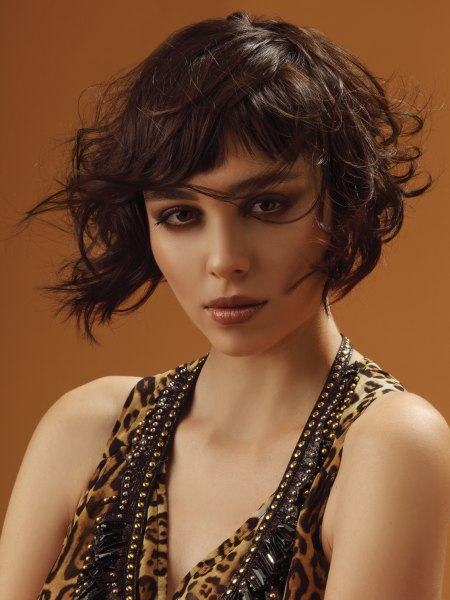 The Savannah bob presents itself in an exotic play of color with dark brown for the main body and a cinnamon, red brown tone peeking through around the lower perimeter. The hair was cut in an A-Line shape with a short neck area and longer tendrils in front. This gives it a very dynamic look.

The fringe is unique with two sections - a very short and textured base, overlapped by longer, smooth hair. All around the fine layers were curled and waved for a playful, wispy texture full of lightness.


Modern Vintage Bob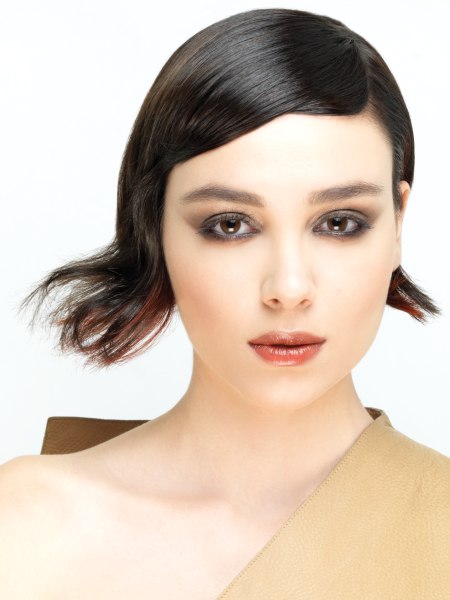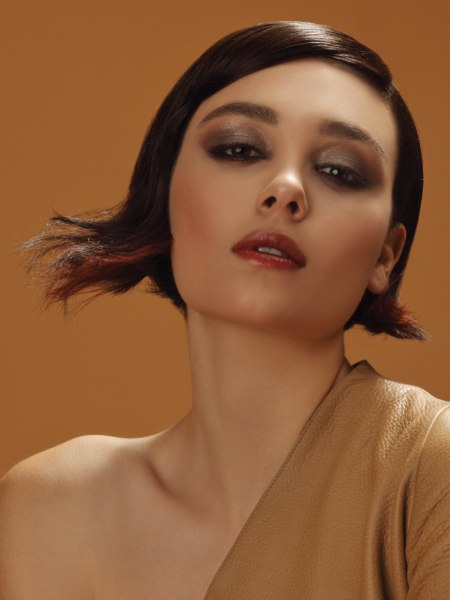 The same cut that was just full of wispy waves now comes in a smooth and very vintage version. The great thing about modern haircuts is their incredible versatility! Go from a chic day look to a ravishing do for a long evening. Pure lines and still a little playfulness soften it all up around the lower edge and make old fans of the bob swoon and new ones run to the salon.



The dark brown hair has to be treated with a smoothing lotion to flow this softly and without any fly-aways. A neat line clings close to her skin from the top and around the cheek. Once again the contrasting hair colors around the bottom comes into play for a beautiful effect.


Short Layers with Volume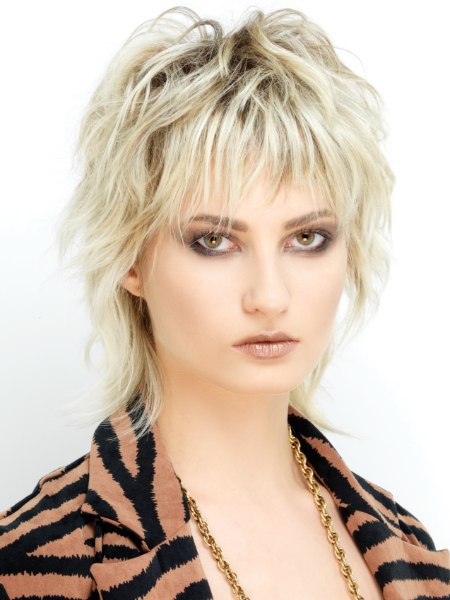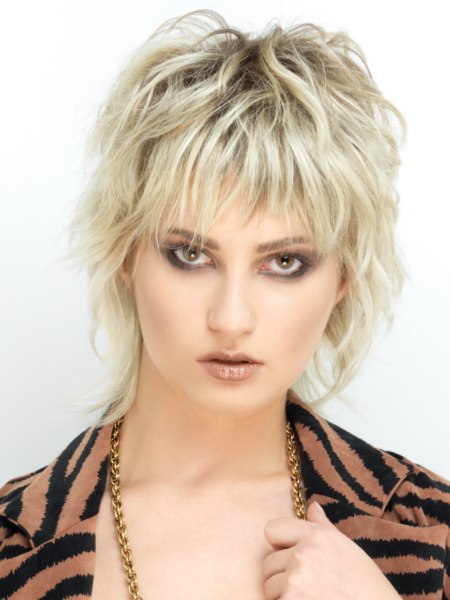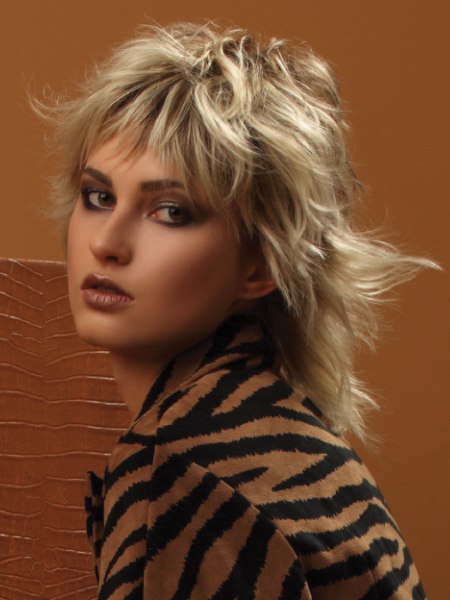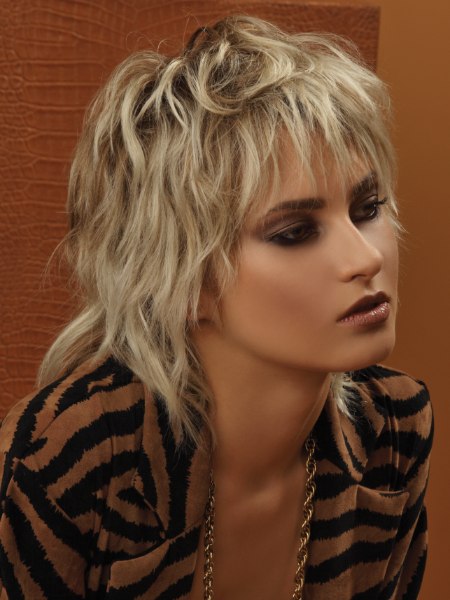 This is one of those magical and indestructible hairstyles, that we all love. Wash it, style a little and shake it more. There you go. The perfect cut allows a perfect fit and it lasts and lasts in all environments and not even the wind can do any harm to it. It actually makes it even better!

Heavy texture throughout with emphasis on the jagged fringe keeps it funky and soft. The darker roots of the platinum blonde hair color give it a very natural feel.


Smooth Styling for Layers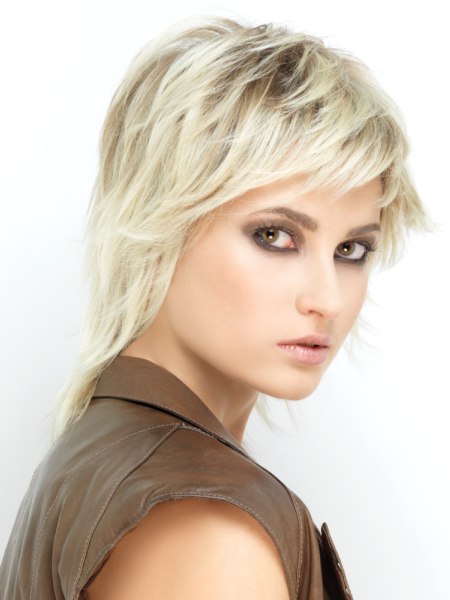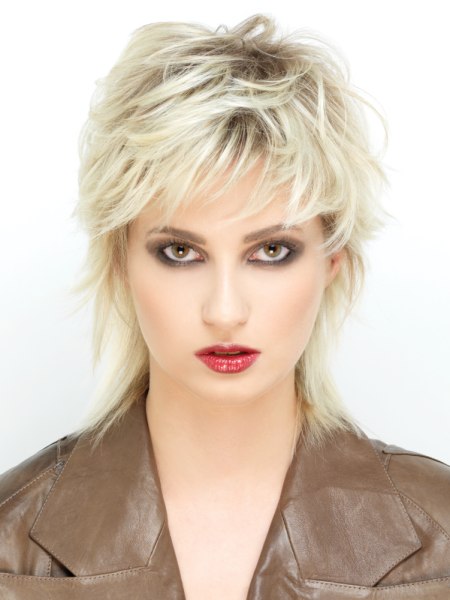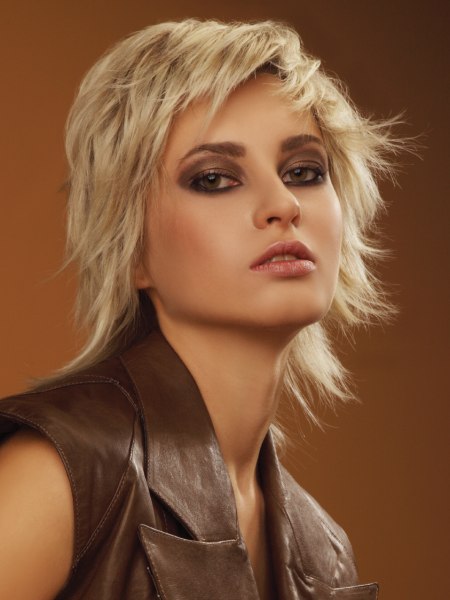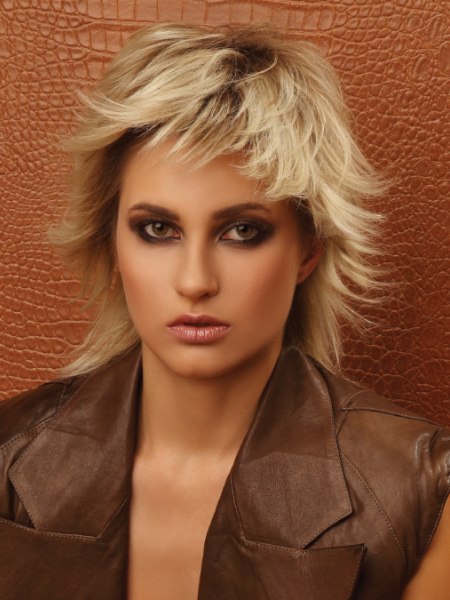 The wild look can be tamed a bit with more focus on the lengths and the shape of the layers. Less tousled, but with good movement all over and some extra lift on the top roots, this alternative styling of the previous look brings much focus to her face and accentuates the shape of her neck with a long line of hair falling down to the level of her shoulders.

The fascinating play of dark and light brings much dimension into the hair and is a great trick for thinner hair to make it look full and voluminous.


Versatile Short Cut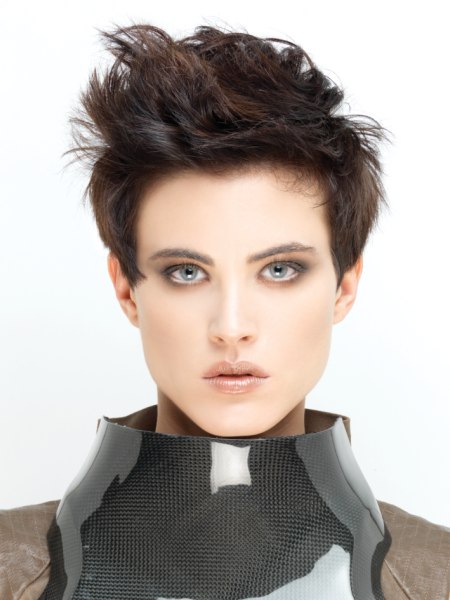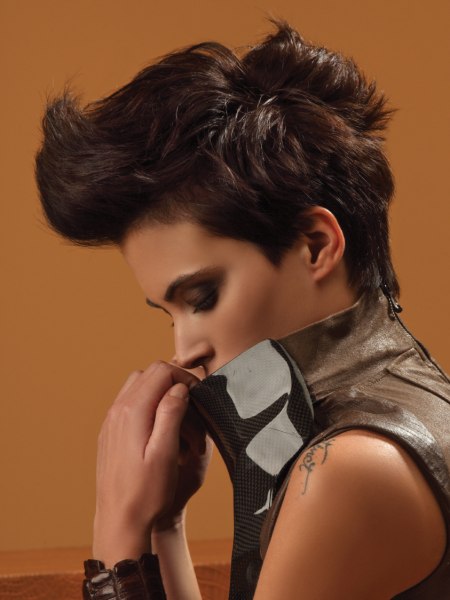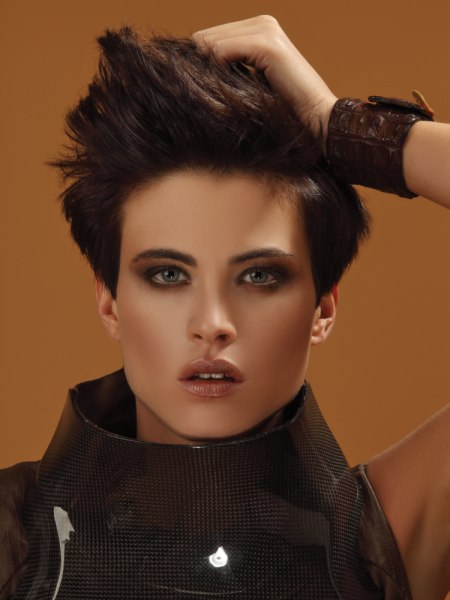 With its punky spirit and futuristic styling this layered short hairdo is just the right look for women who treasure their individuality. It can be worn in many fun ways, two of which you can see here. With the high collar the spiked look really stands out. Styled low around the sides but with full speed upward on top, this sweet short hairstyle makes a statement.

Androgynous, fun and easy to wear, it is a winner! It also shows that highlights don't have to be extreme to have an impact. A slightly lighter brown on the dark base brings about a magical glow.


Modern Pixie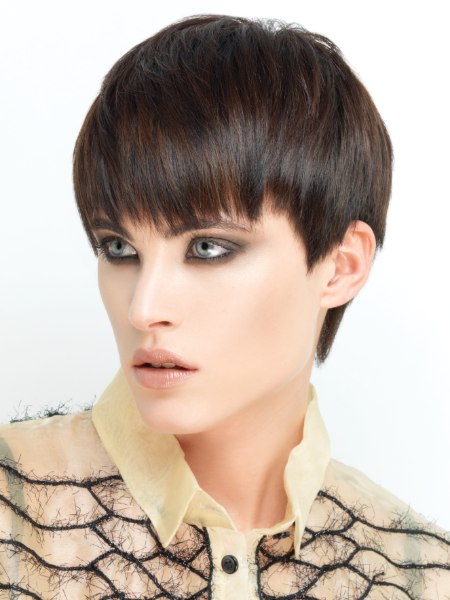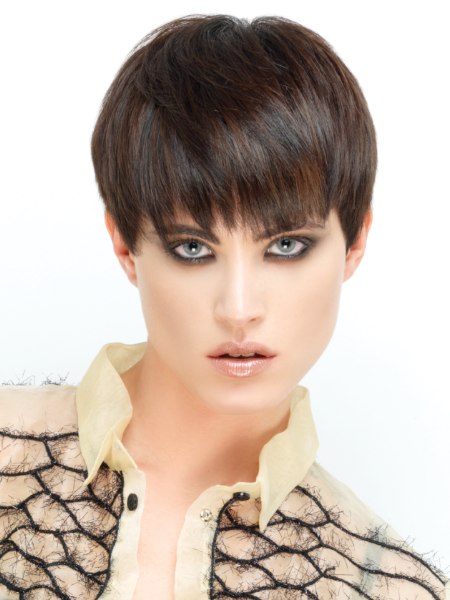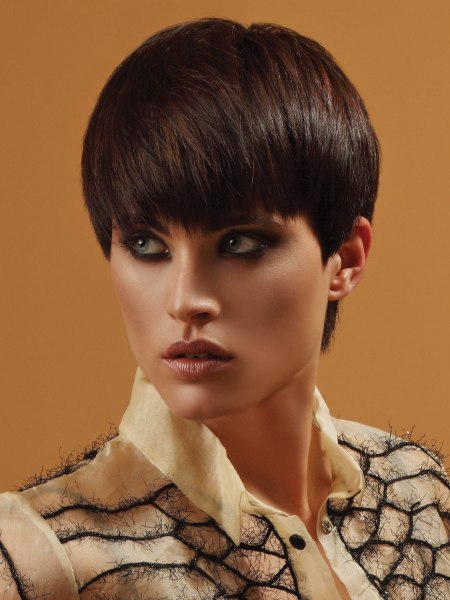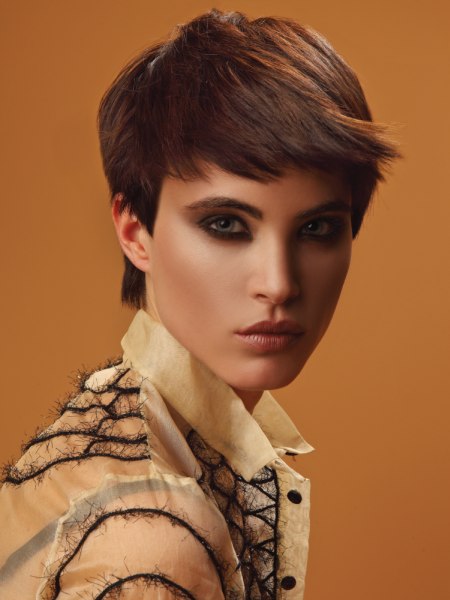 While the color play with its marbled sleek surface is on the subtle side, the cut is everything but. A very unique shape features an elongated neck line, a triangular point in front of the ear and a gently jagged long fringe.

The styling is smooth and just gives a little angle in the direction to the hair. Smoothing serum and a gloss are the ideal finish to boost the shine and to hold it all in its beautiful place.

Hairstyles: Paul Gehring
Photos: ALCINA