Play Ahead by KLIPP Frisör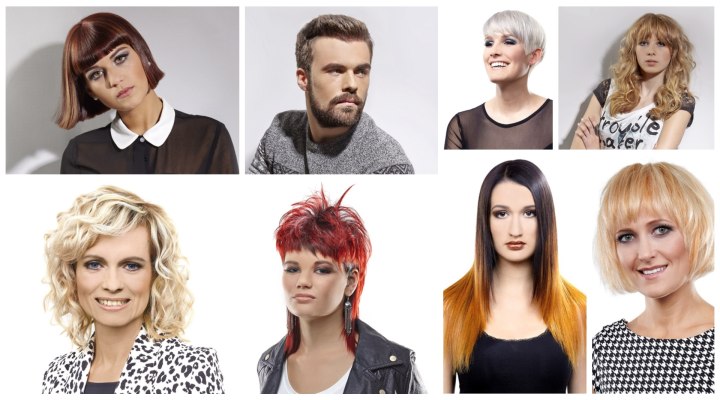 Bangs, beards and even a mullet are part of Austrian KLIPP Frisör's new collection. Classical, jazzy or rocking away, all of the looks have their own rhythm and melody. Each hairstyle captures the individual essence of another personality and was designed to be wearable day and night and in all environments.

These flattering and fun looks can be wild or demure, just the way you like it. Try a new coloring technique on your long hair or play with textures and fringes. Posh or punk? All is just a haircut away!

Click here to watch the video of this collection.


Curls and Bangs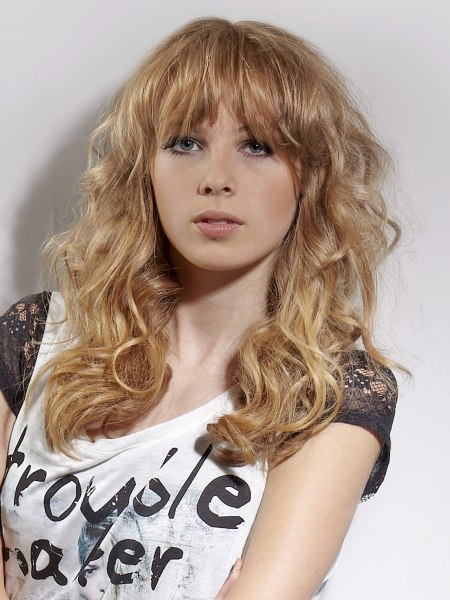 A romantic hairstyle that could be made for a star of country music features over the shoulder long hair, eye brow covering long bangs and the lightest and fluffiest curly waves. Natural and charming in each one of its slightly separated strands, this adorable look frames her face in a golden blonde hue with sparkling highlights throughout.

This girly and playful look is great when left open, but it also looks spectacular when worn in a ponytail or as an up style.


Long Hairstyle with Ombre Color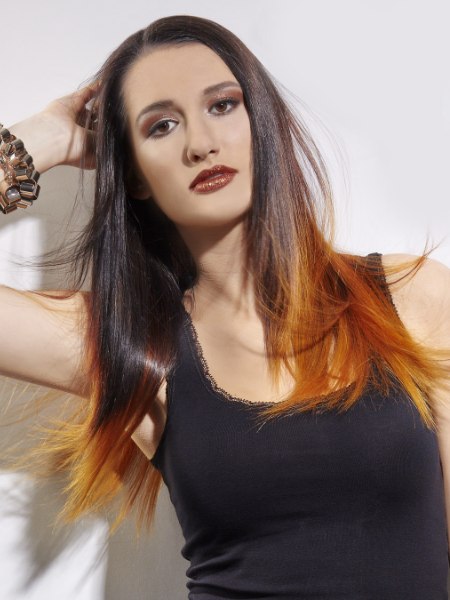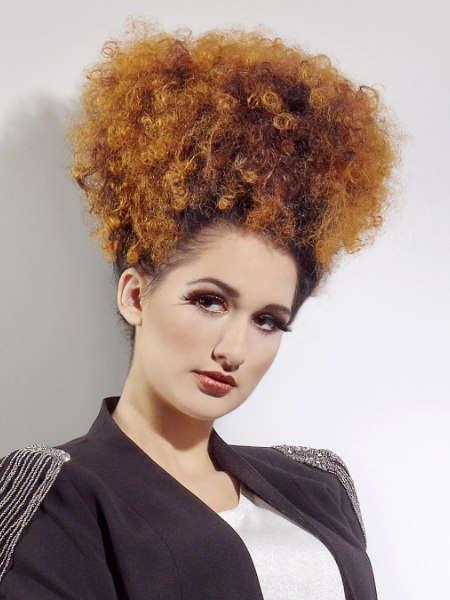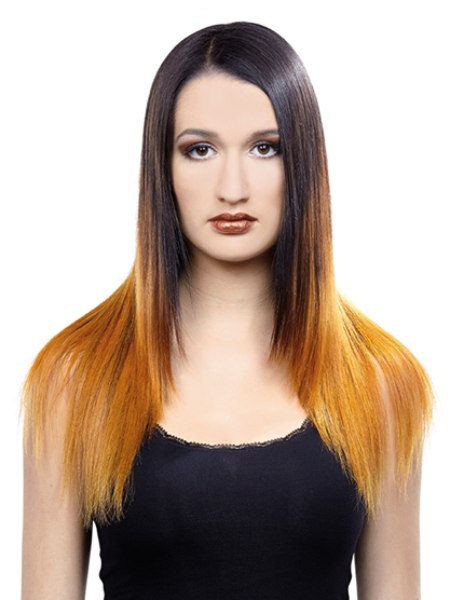 Rock it baby! Long hair will never be the same with the new coloring techniques. The lower part of her dark brown mane was dyed in the new technique, which gets its name from the French word for shadow, ombre. The reddish blonde makes a beautiful contrast to her base color.

The interplay of both tones is smooth with no clear transition line between them. Instead there are long and vibrant strands layered among each other for an ever changing, fiery play of gorgeous effects.

Her hair was parted just a little on the side and brushed out to reveal all of its shine. The long layers are textured in their tips for an edgy effect.


Blonde Waves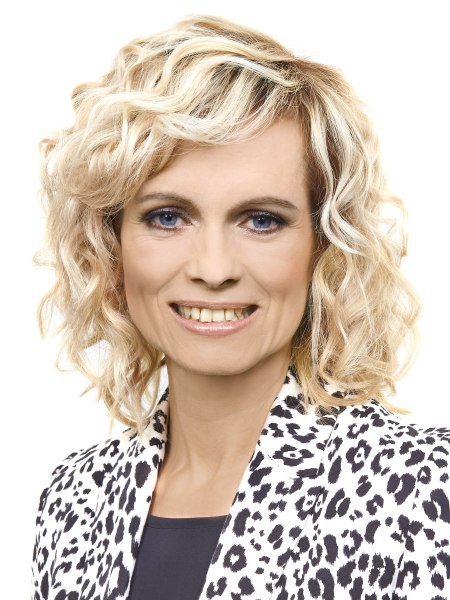 A sweet medium long hairstyle that is not only the perfect match for the shape of her face. It is also super easy to wear and makes styling a breeze. For this look it does help to have a natural curl, ever so lightly in your hair already, but if not, there are always curlers and hot styling irons to help with the structure.

With the low side part her fringe falls diagonally and full. All of that wavy action still keeps the hair out of her face and creates gorgeous volume.


Retro Punk Mullet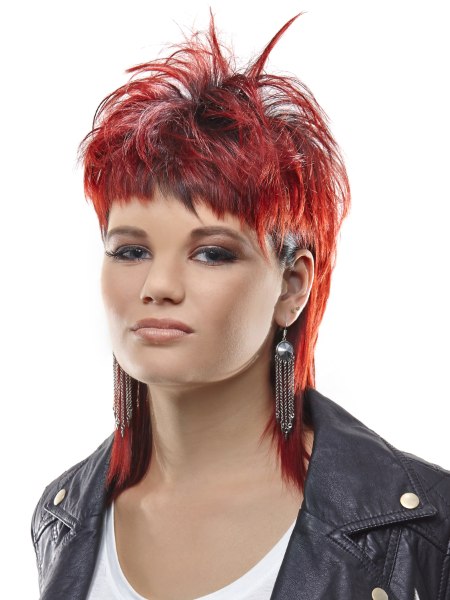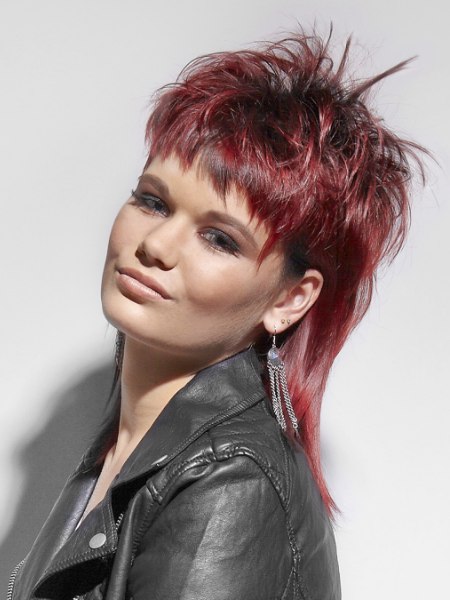 Here they are again, the 80s! Some of the most outstanding elements of 80s style are wrapped into this outrageous hairstyle. Soft spikes, a jagged fringe, bordeaux red hair and, yes your eyes do not betray you, a mullet! The famous cuts whit their short front and the long back have not been seen in a while, but perhaps a come back is overdue.



The combination of lengths is just as exciting as the dark accents of color in the roots and peeking through on the sides. Long earrings and a leather jacket are musts to go along with this hairstyle.


Schoolgirl Bob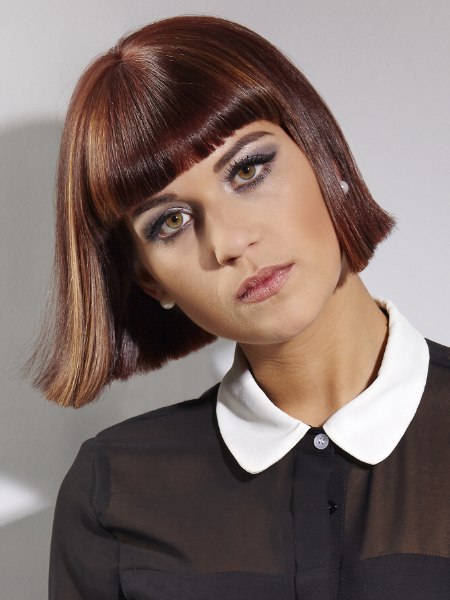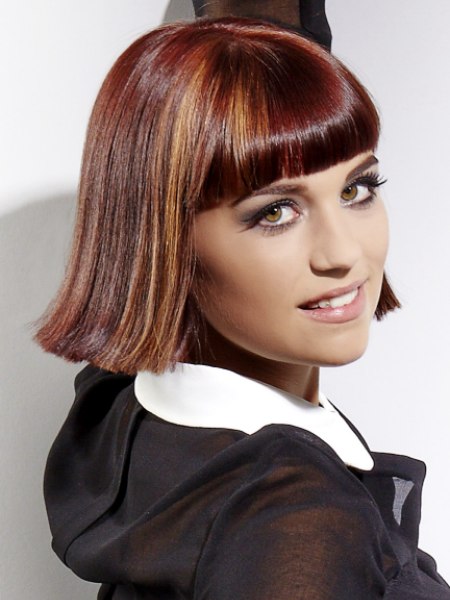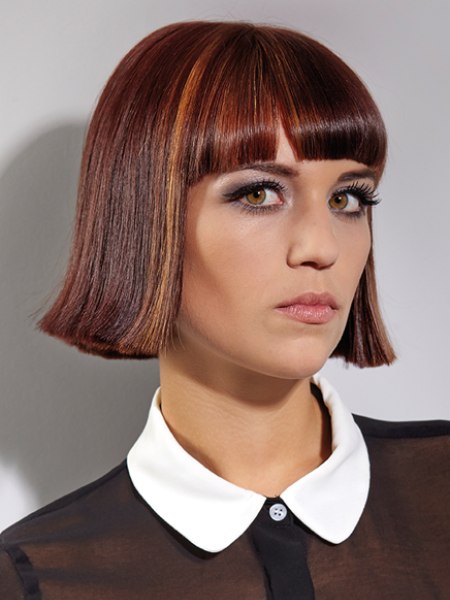 This short Bob is as classic as classic as the music of Chopin. Major sophistication from the smooth surface to the short bangs and the lightly flared out sides. Cool and sleek it goes along so well with her old-time blouse collar and the elegant pearl earrings are a perfect accessory. All in all it is a posh and polished look with a shiny finish.

The edge of the fringe is gently rounded, use a curling iron to get this effect, and it stops to just show a little bit of skin above her eyebrow. This, by the way, is bold and sculpted with a little bit off brow powder to enhance it. Expressive eye makeup completes what the fringe started, that is to bring most attention to her eyes. Her color is a warm brown, highlighted with golden strands.


Flattering Blonde Bob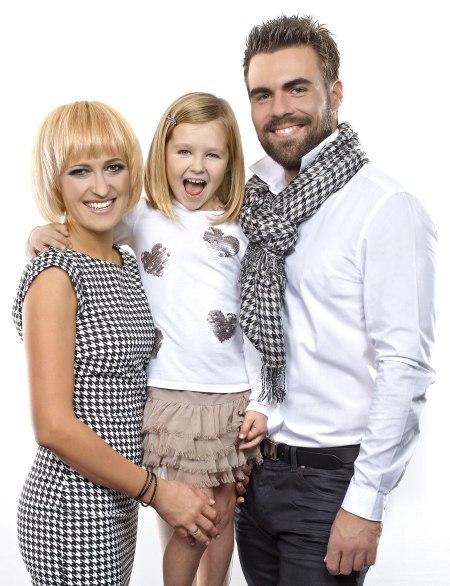 This chin length bob is all about fun and ease of wear. The fluffy volume comes easy with the fine layers that were cut into the hair. Her face is framed by an oval shaped edge of soft texture. It does not get any more flattering than this.

Her beautiful blonde hair color gets a lot of dimension by using two different shades of blonde - a warm gold and a kiss of platinum. Classy with a modern touch.


Geometric Pixie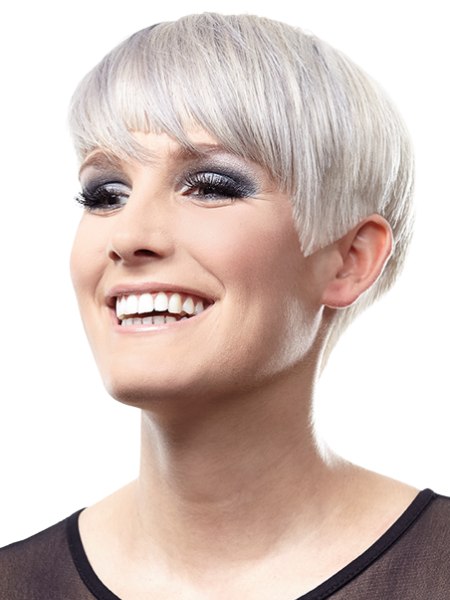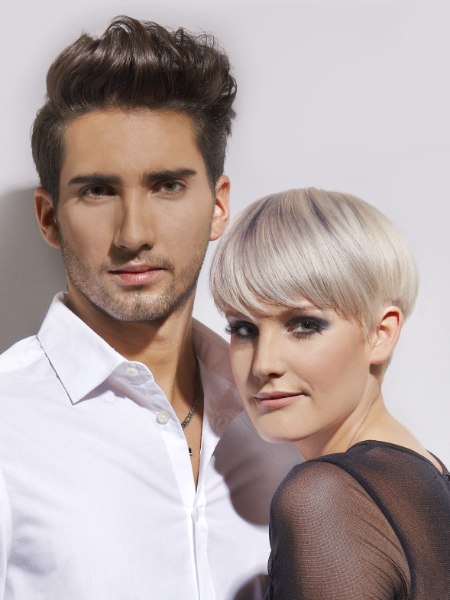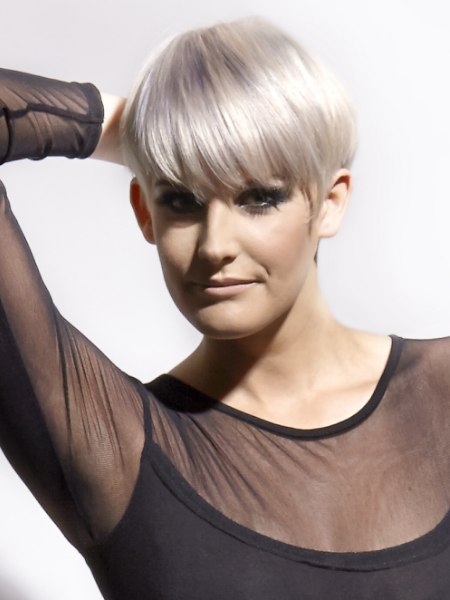 If you like high end design, then this geometric short haircut will make you happy. Clear lines and straight fringe that is blurred by some overhanging accent strands give her a neat and stylish appearance.

The neck is graduated and well defined triangles in front of her ears make it sassy and feminine with finesse. Shades of gray and silver turn this cut into a look for all ages.


Groomed with Beard


Boys get to play too in this colorful and stylish collection. His style is on the classic and very earthy side, made for the outdoorsy type with an affinity for understated fashion.

The top hair is just a little bit longer than the neat sides, which continue into the beard of the same length. Harmony and balance through and through in a haircut that looks as good in the work place as it does on top of a mountain.

Hair: KLIPP Frisör