Histoires D'arts by DESSANGE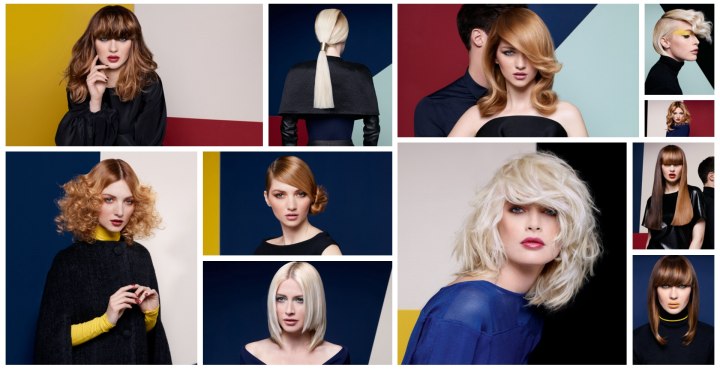 Colors, textures and lines are the ingredients of all art and that includes hairstyles. Fall and winter are the ideal seasons to catch up on some gallery or museum time and what better way to do this than with a brand new artsy hairstyle.

In his new collection Dessange celebrates art and the artist with exquisite skill and much creativity that went into powerful styles. Some bringing back memories and others that are brand new visions come to life.



Two toned hairstyles, contemporary shapes with exciting geometry or layers, waves and curls with movement and luxurious bounce.


Two Shades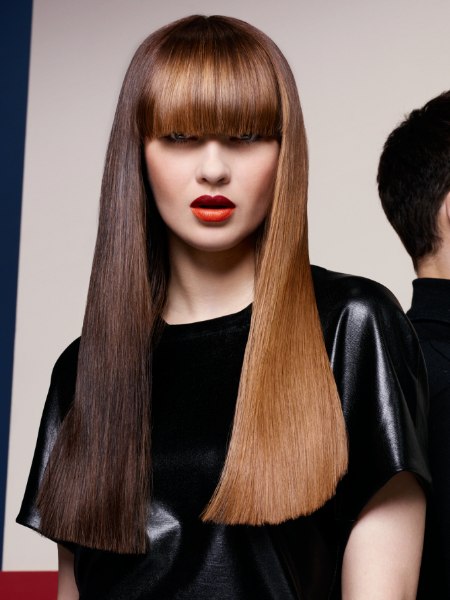 Graphic design was translated into hair by using vertical and horizontal lines in cut as well as in color. We have seen many techniques in hair dying from streaks to dips to tie dye. None of them matches the bold clarity and simplicity that makes this color blocked hairstyle so unique and beautiful.

The hair was parted in the center. One side features a cool, dark brown color and the opposite side, including the long and straight cut fringe, shimmers with golden brown delight. Both shades are natural and only differ in their value. Great harmony with a cubist touch!


Muse with Bangs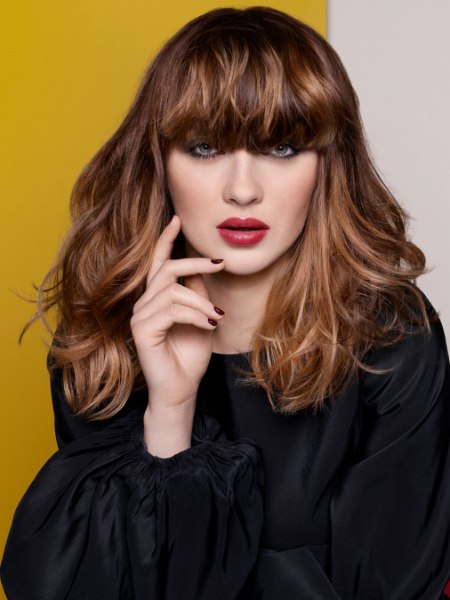 The tension between the design of the straight and simple fringe to the layered and waved lengths increases the effect of the volumized movement. A long bob is one of the most versatile of cuts and after undergoing the Dessange treatment it turned into an inspiriting creation of high artistic value.

The entire body of hair is illuminated by soft highlights in a warm blonde tone against the brown base color. The bangs are long enough to cover the eyebrows and to allow her gaze to have this mysterious quality that muses are made of.


Portrait of a Bob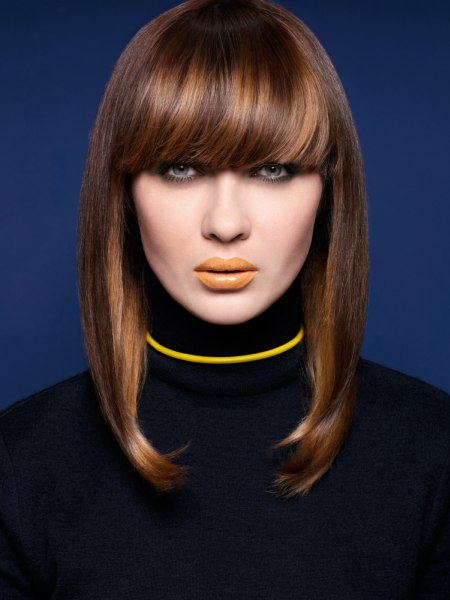 A picture of a hairstyle done in shades of brown and clearly structured lines. Soft and smooth from crown to the tips, this look exudes pure elegance. Highlights in a warm golden tone sit upon a cool brown as if done with a precious brush and paint on a canvas.

The length of the bob reaches past her collar bone with tips that are curved inward. To add a little more movement to the straightness of it all, the fringe was given a gentle curve to the side.


Light and Movement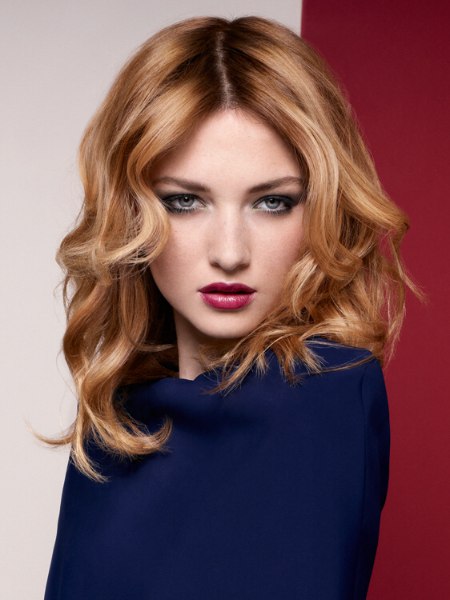 Leisurely lengths are layered in long strides with a sexy tapering to frame her face.

The center part keeps the masses on both sides equal and brings another element of balance into the composition. Large waves express glamour and heightened senses. Golden blonde with light blonde highlights in wider and thinner streaks gives the hair a cosmic and timeless radiance.


Curled Inspiration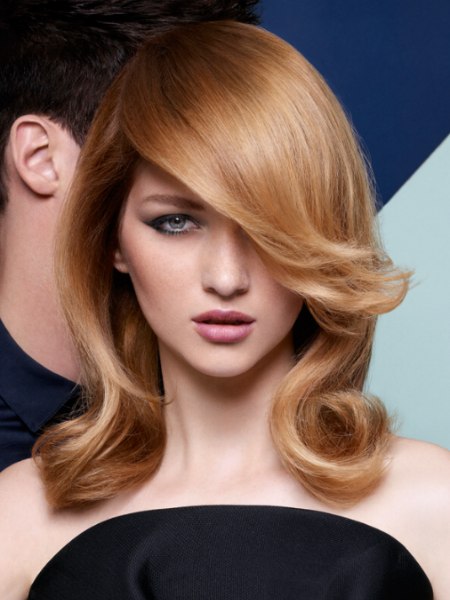 The color of crème caramel brings a wonderful flavor to the elegantly styled long haircut. The long bangs are cut in an angle and flare out with vigor, sides keep it low and smooth with a silken, heavy fall that turns into large barrel curls right on her shoulders.



All of the hair is full of controlled movement, brought in with a wide round brush and a curling iron. Check out the next look for some inspiration of alternative stylings.


Chignon on the Side


A chignon does not always have to be in the back. See what an intriguing effect it has when it is rolled up and attached to one side! The hair was parted off center and pulled over to the wider section where it was twisted and then rolled around itself before it was fastened with hairpins.

It is important to keep the hair smooth around the head with the help of anti frizz and smoothing serum. Allow a few strands to peek out of the chignon to balance out the strict composure of the style.


Composition with Spirals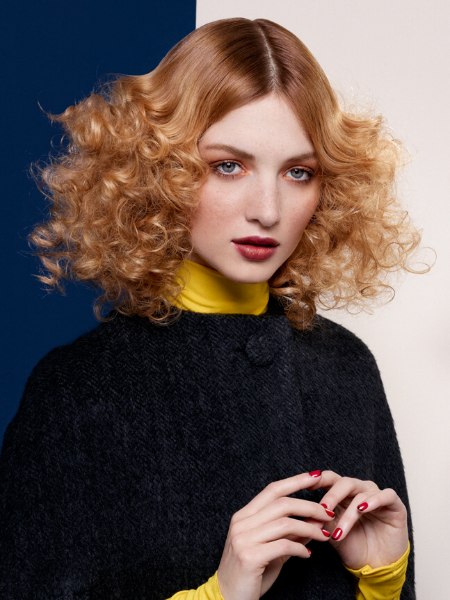 What starts with a sleek few inches left and right of the center part, quickly turns into a frolicking, beautiful wreath of curls that wraps around her head and reaches almost to her shoulders. The curls are fine spirals invigorated by a few well places layers.

This hairstyle is very symmetrical and has all of the fun and excitement in its effervescent texture. A timeless adventure with endless flair. Spun gold is a color just made for this angelic look.


Folded Geometry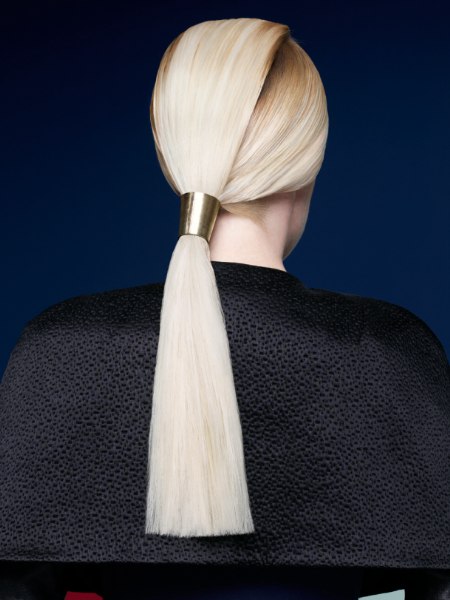 Go cubist with a novel fold in your hair! A very geometric ponytail design comes with a wide metal hair clasp and a smooth styling of the extremely straight hair all around. Serum will be your best friend to create this amazing and very artsy style.

The length of this hair is impressive, but even for shorter tails it is still a stunning effect. The ends are cut straight and very blunt. No extra curve or flirtatious curl disrupts the clean design of this style. Her hair color is a light beige blonde with very subtle high and low notes.


Bob with an Edge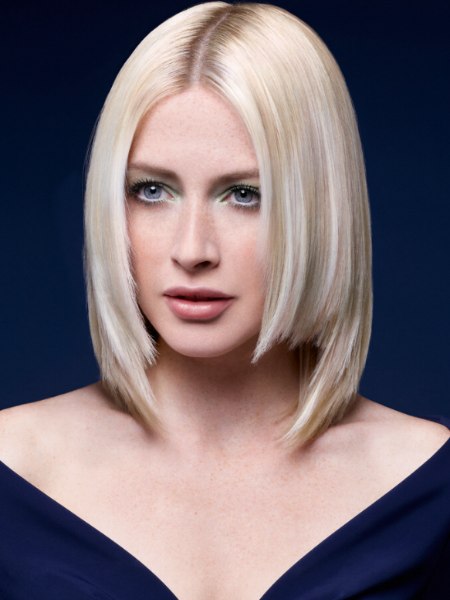 Classic and modern brought together with such skill and a design that appears at once effortless but also refined to the max. The jagged edge of her medium long bob looks as if it was made of hand-torn watercolor paper. It has the same fine texture and exquisite color. This effect runs from the fine tip at her chin all the way to her collar bone.

The hair color is a classic platinum blonde, but infused with highlights and soft shadows in thin strands. This is artistic finesse at its best!


Wild in White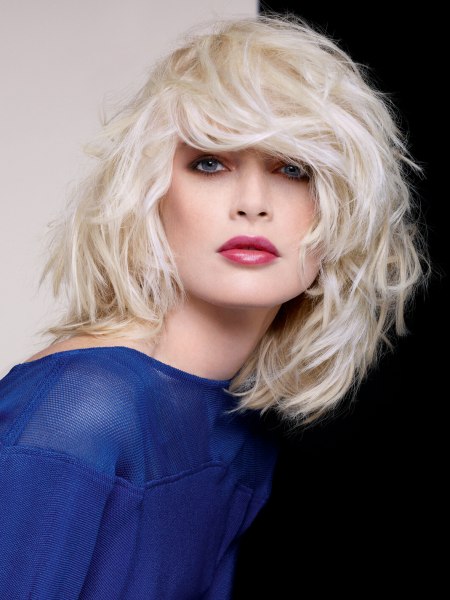 A very pop art look with a strong retro approach but also a new found freshness through enormous lightness in texture and a curvy styling with much motion. The color is so brightly platinum that sunglasses might be a good idea to behold this beauty.

Styled for volume, the hair was dried over the head to lift the roots, then moved forward and around the face in a slow S curve. All throughout there is much ruffling action for this famous elegant bed-head effect.


Wavy Bangs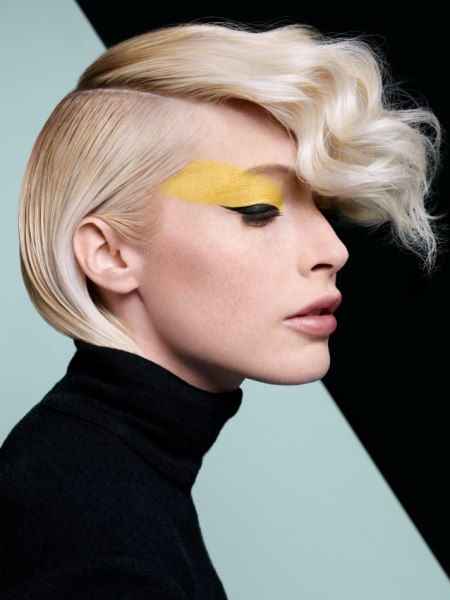 The yellow block of eyeshadow might be your first clue that you are looking at a very progressive hair design, but you'll never guess the real surprise and novel idea. We'll get to that in a moment. First the long fringe wants to be admired in its forward movement that begins way in the back and turns from sleek to wavy like in a captivating frequency.

The rest of the hair, cleanly separated and treated with a good amount of a modeling product is not only combed to follow the shape of her head, it is actually tugged into the collar of her turtleneck sweater!

Hair: DESSANGE
Photography: Nicolas Valois