Get Arty by Eric Zemmour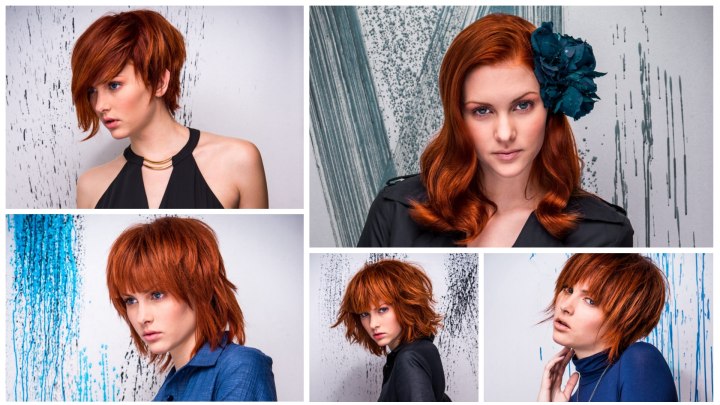 From the city of Nice to the rest of the world! A line of red styles is ready to bring some heat into the fall-winter fashion season. Six hairstyles with much personality are designed to stop traffic, but not just because of the high intensity of their color, which is not just one shade of red, but several unforgettable hues.

The cuts themselves are rather breathtaking and can stand on their own. Disheveled, disconnected, styled for texture and movement, they all come with an empowering and very feminine essence.



The beautiful shades of red range from a warm caramel, to mysterious auburn, a touch of Irish red and copper all with subtle notes from orange to cherry. Dreams can be made out of hair color!


Long Waves with Flower


The longest style of the collection comes in sumptuous waves and a bright red hair color. There is no better contrasting color than the deep, dark blue of her trenchcoat and the magnificent flower in her hair.

Floral hair accessories are big once again, in a very literal way and when monochromatic they are less threatening to wear. Her hair comes with a strong touch of old Hollywood and all of its glamour. A side part and slick waves, which frame her face and fall down to her shoulders, are the key elements that will make hearts pound.


Mid-Length Bob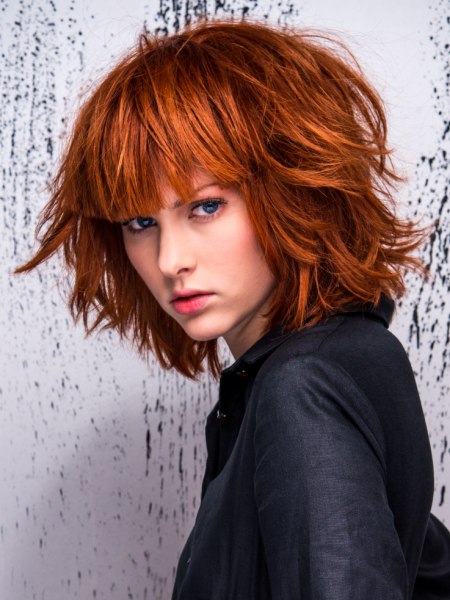 One straight line designed with purpose and the rest of the hair can be disheveled as much as you like and it still looks chic. Here it is the straight edge of the long fringe, that balances all of the ruffled fun in the medium long, layered bob.

It has a feisty spirit and all that volume is invigorating. Red hair with lighter and darker nuances makes her blue eyes sparkle.


Textured Bob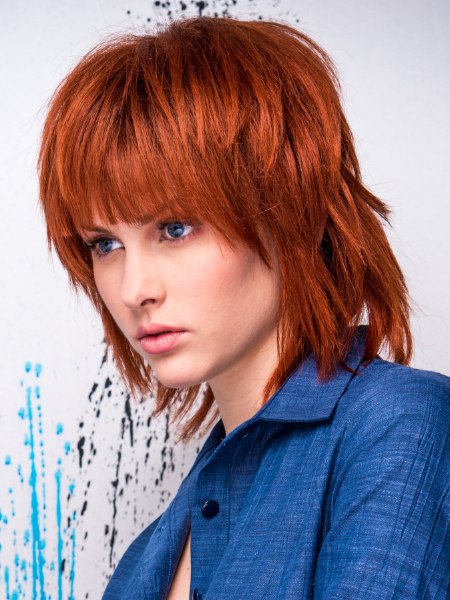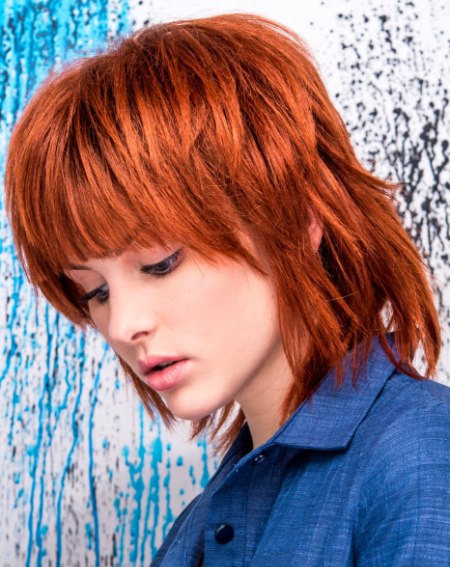 This bob is all about texture. Make that a capital T as there is so much of it! Jagged cutting lines and rough layers won't let any boredom arise. Ever. It is styled with focus on top volume and a face framing fit. The sides and the back are straight and close to the head.



Her make-up is a great example that other colors need to be kept low key with red hair. Hold back on the lipstick and accentuate your eyes with the thought of less is more.


Asymmetrical Fringe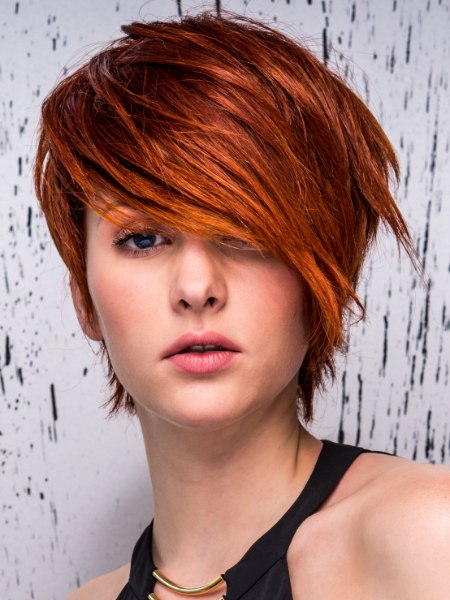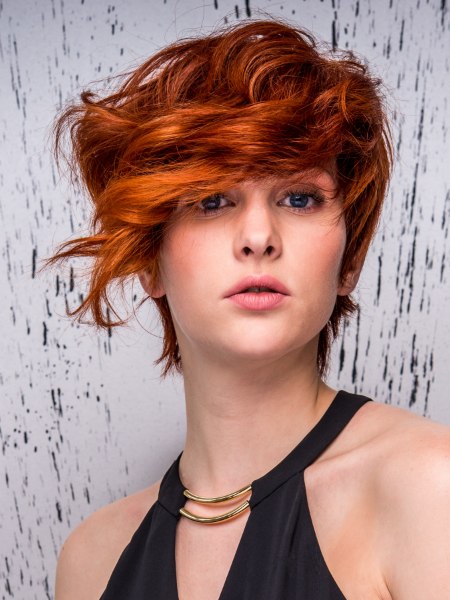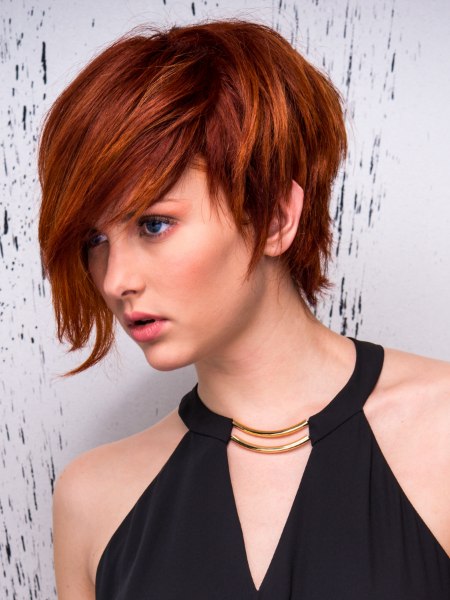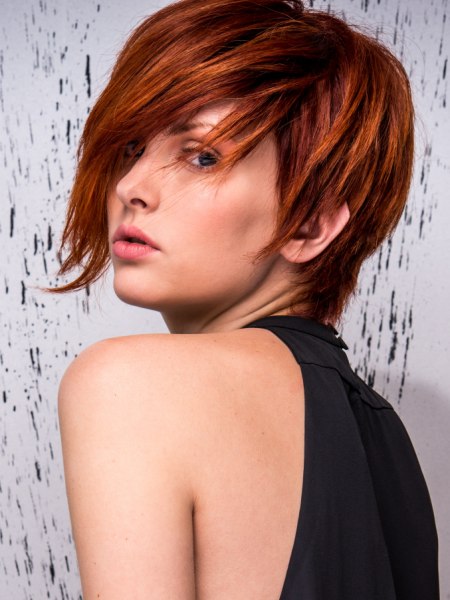 A boyish short cut with a long and asymmetrical fringe is a wonderful counterpoint to the elegant black dress she is wearing. All of the texture underlines the contrast.

With a short neck and tailored sides, the bangs are the center of all attention. They were vigorously styled to one side with some open and rugged ends spicing up the style.


Straight, Rough and Round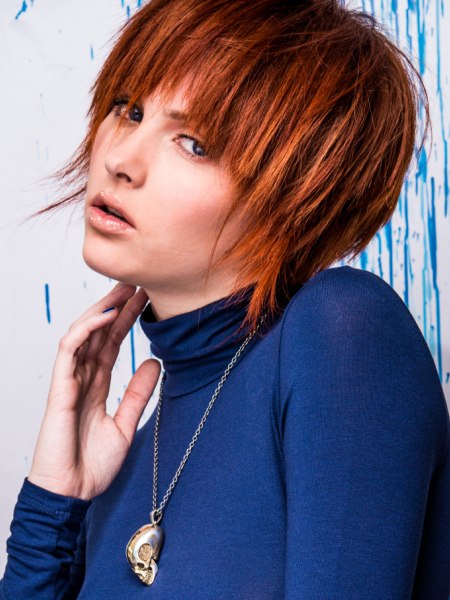 This play on the famous bowl or mushroom cut also features beautifully jagged lines and a rough texture. All of this excitement was cut into a round shape, which is accentuated through the styling.

Only the edges dance outside of the conventional lines, the top is neat and smooth. Individual strands of varying length are the expression of artistic liberty and inspire to explore more.


Short and Sexy Red Hair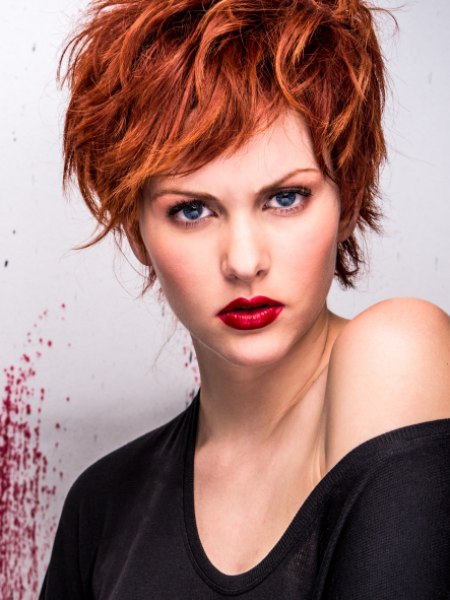 Touches of orange make the short waves and half curls pop with artistic reflects. Her short layers are gently moussed and ruffled for this sensuous and glamorous effect. Now a dark red lipstick works and ups the drama. This is a great hairstyle for evenings, parties or even formal events.

Hair: Eric Zemmour
Hair Coloring: Laura Manaira & Laetitia Immordino
Make-up: Justine Lancelle
Styling: Louis Bohème
Photography: Gérard Taride