Free Spirits by J.7 artistic team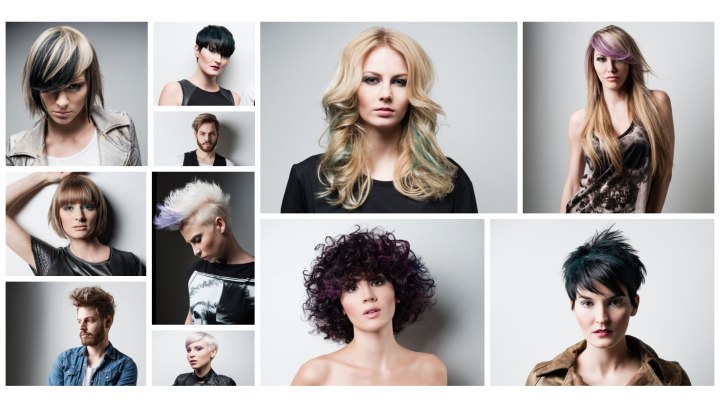 Free your mind and the rest will follow... This old song reflects the spirit of the latest hairstyles collection by the J.7 artistic team which is all about freedom. Be yourself is the message in these 10 hairstyles, which do not follow a specific current trend, but allow each individual to express themselves and let their own vibe shine.

A unique hair coloring technique allows a range of effects with changing stylings. Flexibility is a bit part in the design of these very wearable cuts, each infused with a high dose of that glam factor that we all crave. Goodbye monotony and hello Free Spirits!


Long Fringe to the Side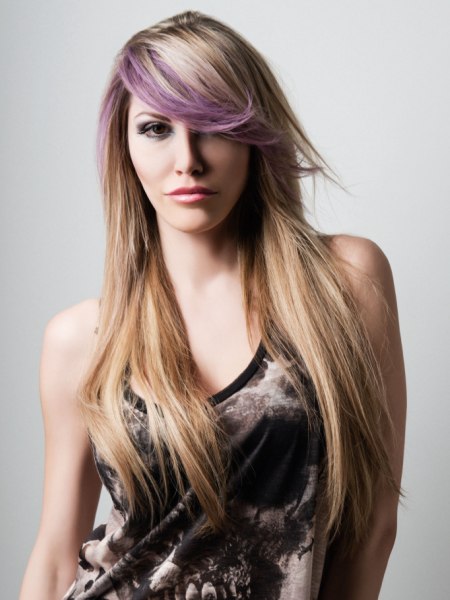 Long hair with a sweeping fringe to the side. It does not get any more glamorous than that. Actually it does! It is the thick streak of purple in the fringe that sets this look apart and gives it a very unique, modern touch. What is your favorite color?

The lengths are sleek and just a little layering around the head creates wonderful texture and movement. Light and dark blonde hair colors are set side by side for an enhanced play of light and shadow.


Get Wavy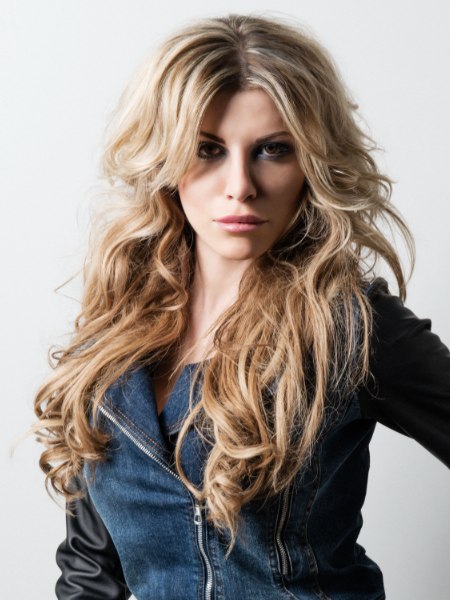 Luxury and wildness all in one hairstyle. Add some spice to your long hair with large waves and a lot of messy texture. The balancing element is the center part and a sleek, yet voluminous top. Around the face the hair falls in even, sweeping lines that continue to the mid-back tips.

Her hair color is a delightful mix if dark blonde, golden blonde and light blonde. This alternating of light and darker tones provides an eye-candy effect with much dimension and it increases the voluminous effect. Untamed luxury par excellence!


Emerald Green Effects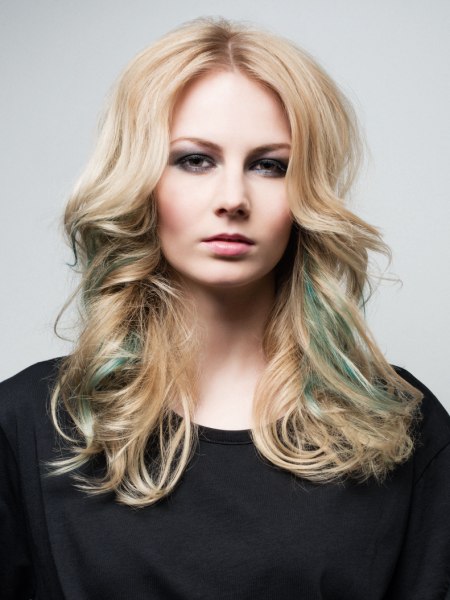 Her hairstyle is fabulous even without any drama, but a little color effect takes it to a whole new level. Long layers in blonde feature swirls of a deep emerald green color, partially hidden in the messy curls. Subtle, but then again not. It is the color of a still water that may be very deep.

A center part allows the hair to flow freely and evenly to both sides where it waves and curls increasingly towards the ends, which are about a hand width below the shoulders. For a quick change use non permanent hair colors or hair chalks.


Round Bob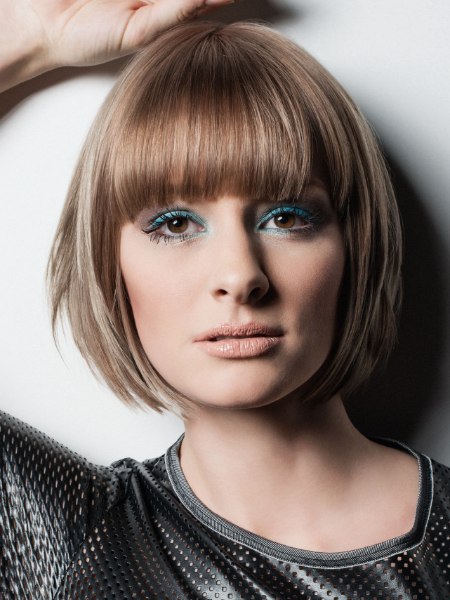 Make it yours! The bob is the undefeated classic of all classics and can be personalized with just a few touches. To make it fit her face shape, the sides were slightly layered to gently curve in and hug her features all the way down to her chin.

It is the play of hair color that puts a very individual spin on this great look. The bangs are a wee bit darker than the rest and the same dark blonde color is intermixed with light streaks on the sides, which give the cut a very light filled, feathery look.


Intense Streaks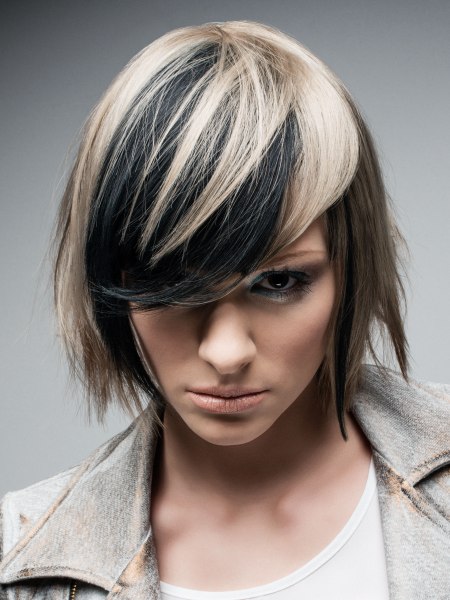 Fierce without holding back. Intense layers of blonde, black and dark brown hair form an ever changing pattern in her chin long bob. To increase the effect the hair was styled from the back to the front, where it comes together in a thick and curved fringe.



Blonde streaks stand out against the dark background and with every shake of her head the pattern will form anew. Never ending surprises and cutting edge design define this fabulous creation of self expression and a free mind.


Black Curls and Accent Colors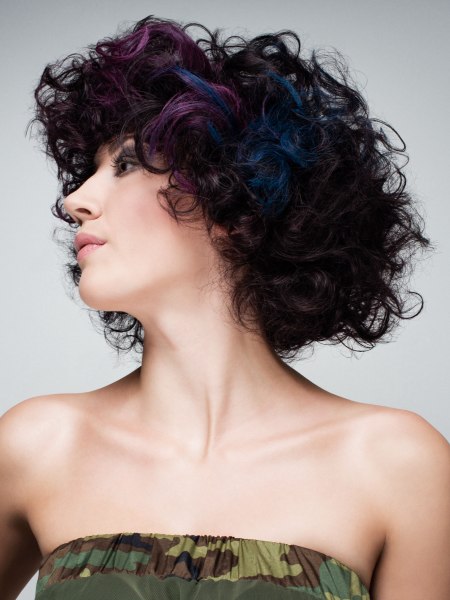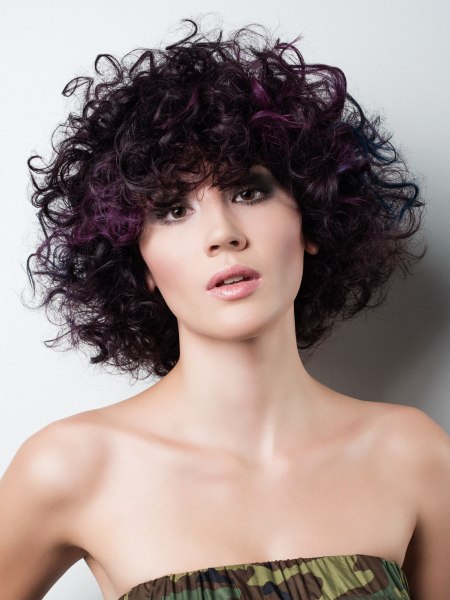 This puts a new image to black, purple and blue. Opulence and glamour are expressed in ravishing curls, all well defined and messed up just enough to be wild. Great layers provide a beautiful round shape, fullness and chic from the deep bangs to the short neckline.

This look is as dramatic as it is playful and seriously sexy. Tune it to your inner self with a splash of colors. Our model wears streaks in purple and an electrifying blue.


Modern Geometry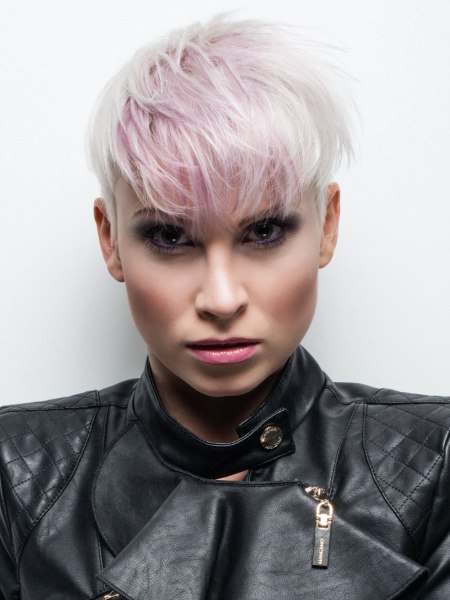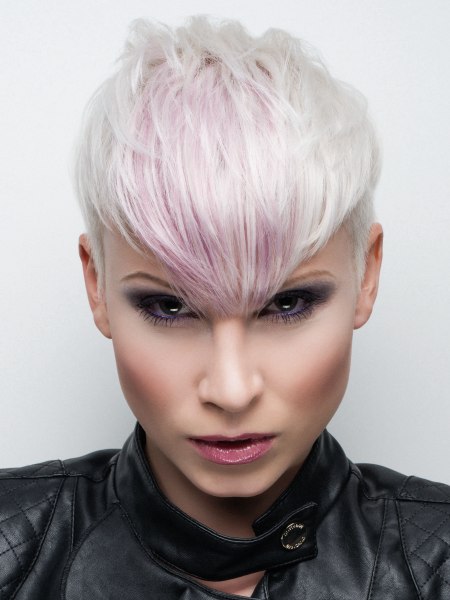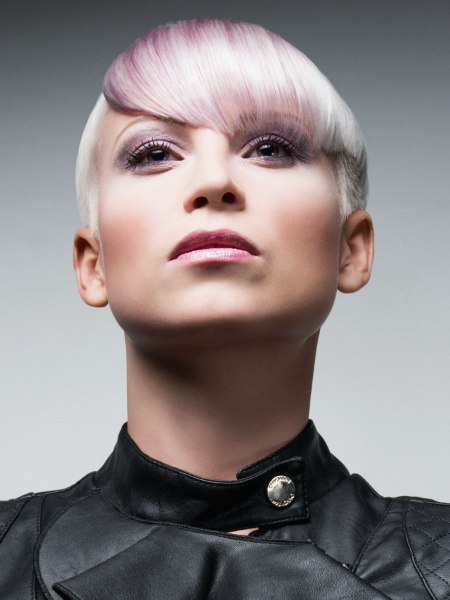 Pure in color and in shape, this is a fine tuned haircut performed with laser precision. It is cool in all of its aspects. Platinum blonde hair comes in an iridescent shine and has a touch of pink in the petal shaped fringe.

The sides are super short and sit above an even shorter undercut. All lines are direct and clear. It is the play of textures that makes this short hairstyle so irresistible.


Mohawk for Girls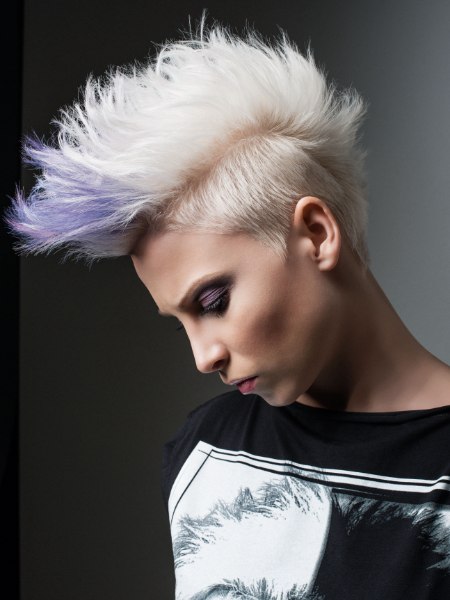 Mohawks always make a statement. For the daring here is a beautiful version with a romantic periwinkle front and lightning platinum after. "The Girl who Played with Fire" brought the look back on the scene and J.7 now turned it into a creation of high artistry.

From the neck to the front the hair gradually lengthens and the tips are textured for the soft and yet rebellious edge. Sides are not shaven, but deliciously short. A flamboyant way to show of a nice neckline and an expressive face.


Black Pixie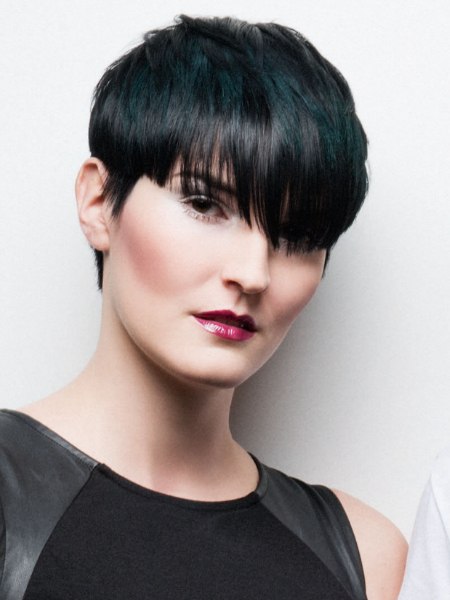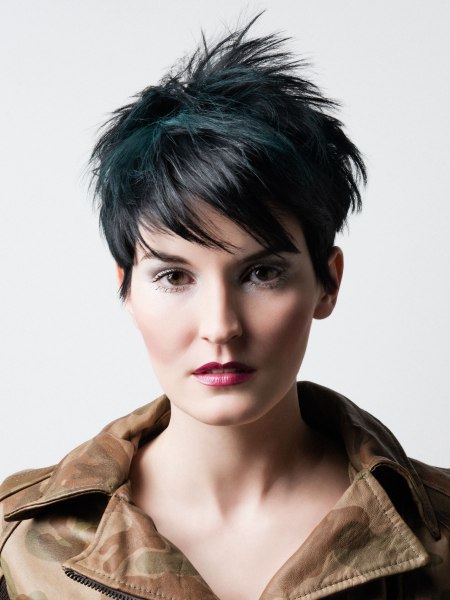 A color with a mission. Cut to perfection with fine corners and a sublime, held back geometry, softened by the sharp tip of the scissors. Her deep bangs are cut in an elegant, one eye covering curve. Sides and neck are liberating and short.

This pixiecut oozes subtlety and a new kind of sophistication. Wear it minimalist style for full impact or add some fancy earrings to it.


Ruffled Quiff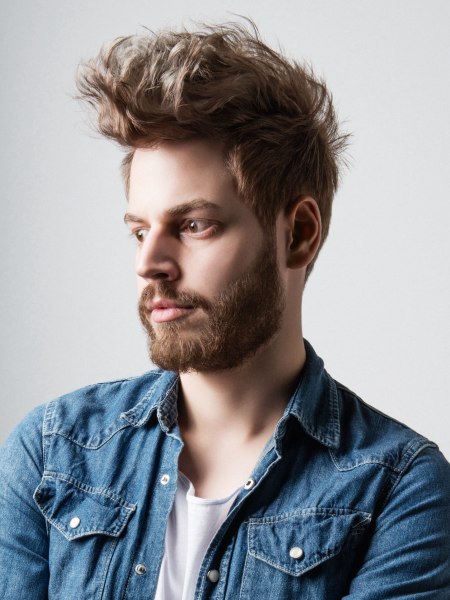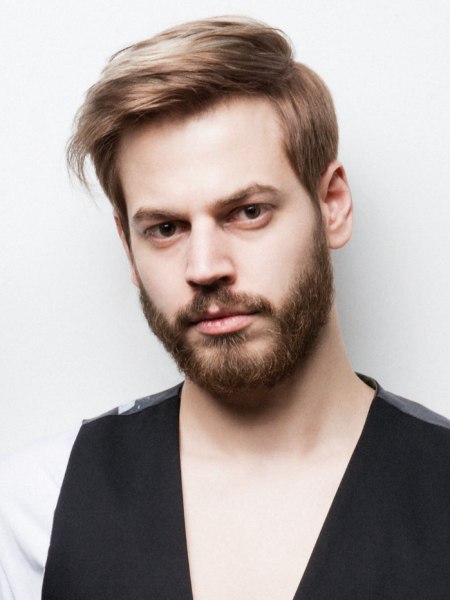 He likes to express his free spirit with a high quiff full of tousles and momentous texture. The short sides lead the gaze up to the longer top hair, which appears untamed and wild, but not without a good design. A full beard is a nice counterpoint to all that activity on his crown.

Hair: J.7 artistic team
Make-up: J.7 artistic team
Styling: Nicole Czapalla
Photography: Vlado Golub