Corporate Coifs
Clive and Co. Artistic Team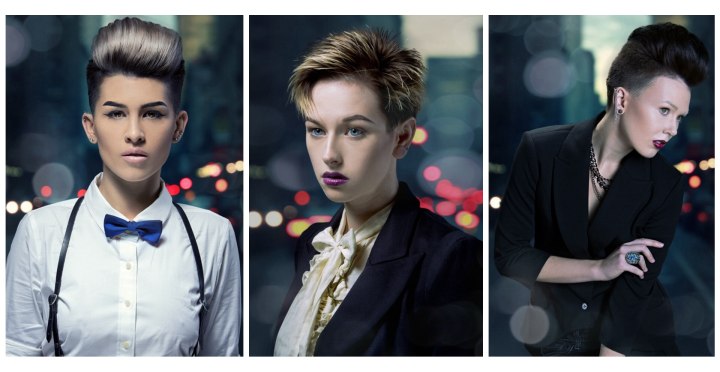 The corporate world has its own rules even when it comes to hairstyles. Clive Lamb with his Artistic Team shares his own vision of corporate styles in his latest collection. The three very short hairstyles are feminine, but lean towards the androgynous in combination with their styling and the accessories.

Stylish to the max and always professional they breath new life into office fashion. In Lamb's own words his looks are "disconnected cuts that cross corporate lines." Be one of the first to wear them!


High Roller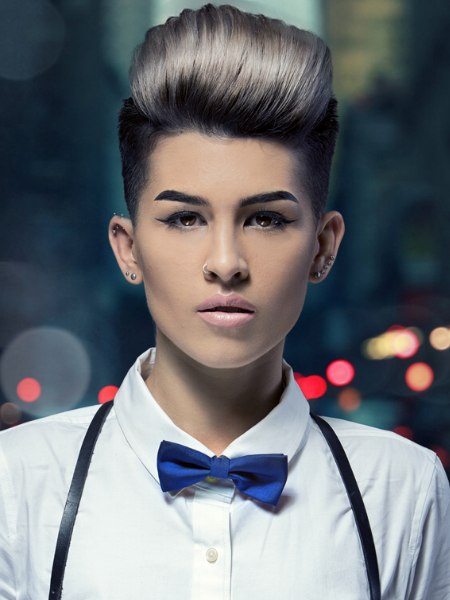 This may appear to be a classy updo at first glance, but it is an ingeniously styled short cut. With very short sides the long hair on top seems to be even longer. It was shaped to a huge roll of hair above her forehead and taken to the back in a smooth line. A contrast of color, black and silver, accentuate the shape and add another layer of spectacular to this look.

It is a perfect combination of a traditional cut for men and a flamboyant feminine style. Androgynous at its best. Power eyebrows and a dainty bow tie complete the picture. Ruffle it up for an alternate styling, as can be seen below in the smaller photo.


Pixie with Needle Texture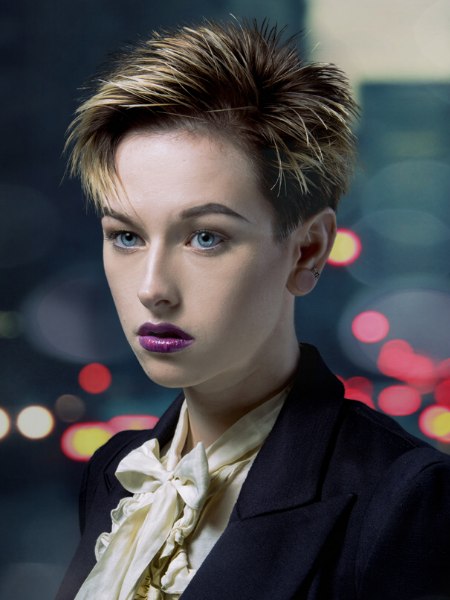 The small curl into her forehead is a charming accessory to this very short hairstyle. It displays its feisty and no nonsense spirit with strong texture and a spiky styling. The cut itself is masculine, yet the finish is very much about female power.

Fine highlights let the needle thin spikes look even sharper. She wears it well with her business jacket and the playful bow on her silk blouse.


Very Short Hair with Retro Flair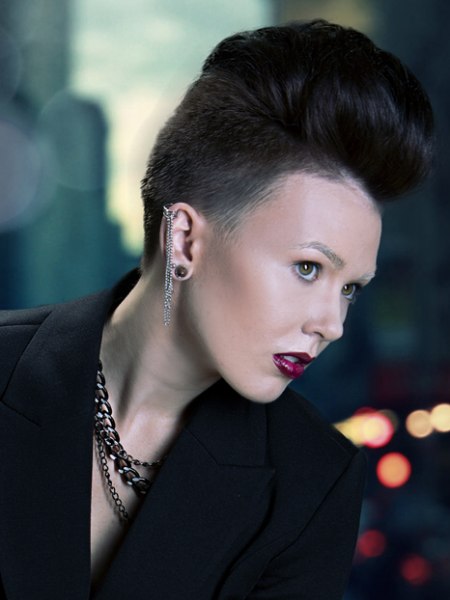 High hair was famous in the 50s and since the television show Mad Men it has come more into focus again. This dramatic look introduces nostalgic elements of small sides and a high, voluminous top and works them into a modern short cut.

The sides and the back are clipper cut to just a few millimeters in length. In comes the long top hair which was curled and arranged to shape a gorgeous bouffant. Some teasing and a good amount of hairspray are needed in the creation of this ultimate career look.

Hair: Clive and Co. Artistic Team
Make-up: Walter Fuentes
Photography: Phoenix Taylor