Cocktail by Mod's Hair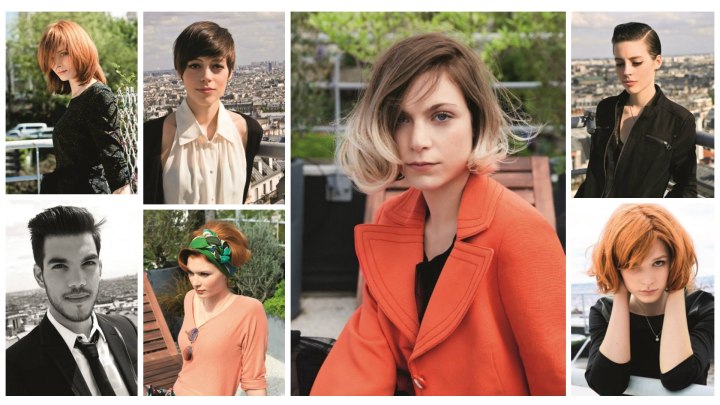 Feel invited to a cocktail like you never had it before! The shaker is full with new haircuts in delightful colors that create a cheerful and relaxed mood on the very stylish side. Retro influences and a clever tie & dye technique for highlights up the ante for happy hour.

Hair is accessorized with colorful headbands or slicked back with gel for a cool and classic wet look. The key is to be playful and not to take it all to serious. Keep it flowing, natural and full of volume with a smile. These make great looks for a date too, by the way.


Layered Copper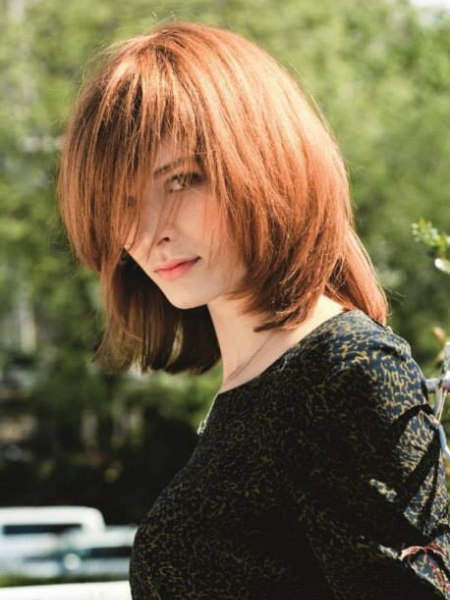 The long, straight cut side fringe is overlapped by a few longer strands, which emphasize the playful and romantic vibe of this shoulder length, layered hairstyle. The rich color and joyful movement of the hair make it a perfect style for a casual afternoon that will not be overlooked.

Add some volume during styling by using a round brush at the onset of the hair, at the root base. This will lift up the hair and make it light and feathery. Fine highlights make individual sections shimmer especially beautiful.


Full Volume Bob in Copper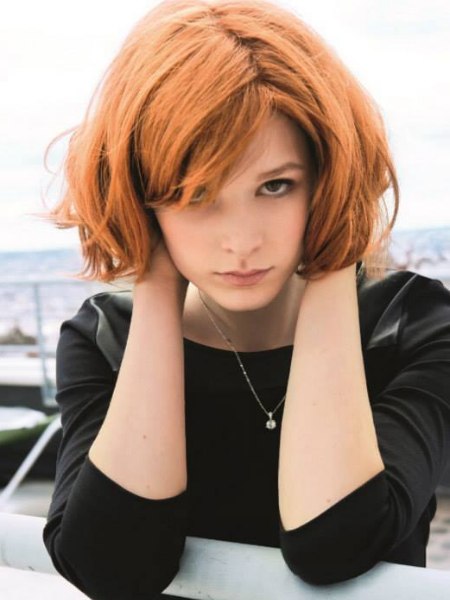 The bob is here to stay. This gorgeous short hairstyle once again establishes the famous classic as an ongoing force to be reckoned with. The strict lines of the past however are now softer and very feminine with a playful tousled effect. Added layers keep the hair light and allow it to move about in beautiful volume with or without waves.

Put a handful of mousse into the damp hair and dry it over a thick round brush to help the volume reach its full potential. The warm glow of the copper hair color is one of the most exciting trend colors of the season.


Head Scarf in Retro Style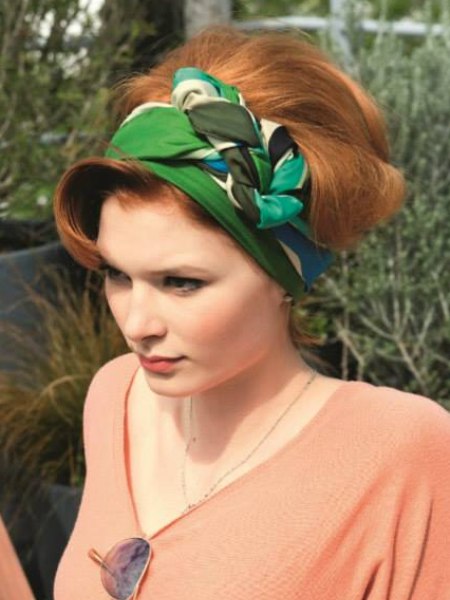 There is no need to be humble when it comes to hair bands. The bigger and the more colorful, the better it is. Turn up the retro glam and don a brightly patterned scarf in your hair. The bangs peek out in front and the back side was teased to lofty perfection for a genuine vintage effect.

Use some bold knots to make it dramatic. A few pins in the nape and in front can be attached without being seen and will hold the scarf in place.


Pixie with Layers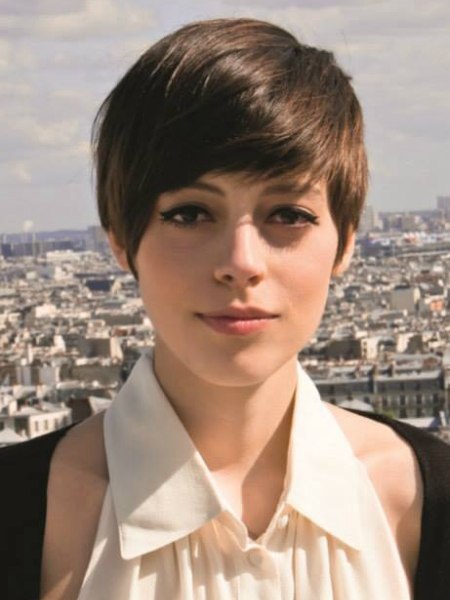 Short and adorable. This slightly androgynous look comes with a very short neck for a good air circulation on hot days and a fringe, cut in an asymmetrical shape. The ends are finely textured and layers throughout guarantee a close and perfect fit.



Just a few targeted highlights in a warm blonde upon the dark brown base color create sparks and lead the attention to her eyes which were accentuated in a perfect retro fashion with a broad and distinct, not smudged, eye liner. This short haircut also has a different side, that you can see in the next image.


Gel Look for Short Hair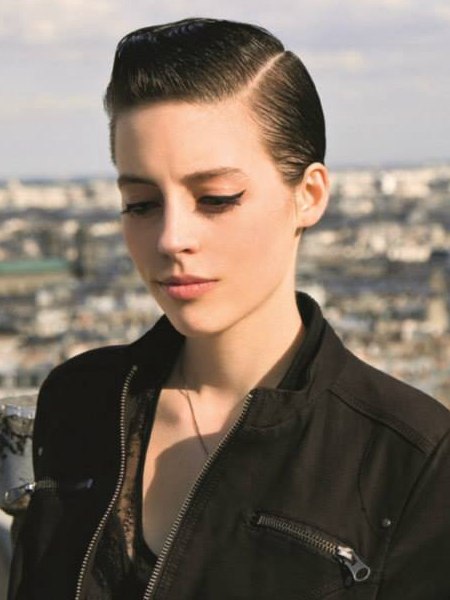 Wet look hair is back and hopefully for good. There is just something special about these slicked back dos that look great on women and men alike. It is neat, adventurous, playful and comes with the rhythm of an old but still catchy melody.

Put on your dancing shoes and use a good tablespoon full of gel to quickly get your short garçon cut into party mode. A clean part and a little combed in movement on top make this hairstyle outstanding.


Tie Dye Effect in Curled Bob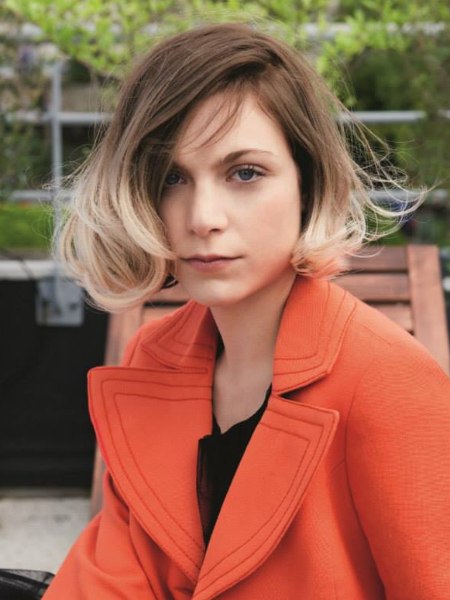 The glamour is in the shape with its chin length lines and the large curls in the ends, which swing and bounce along with every step. The onset of the hair is a medium brown and it transitions at about half of the length into a summer beige blonde. This hair color effect is achieved with a tie dye technique that you should ask your stylist about.

Wear it straight or with a little luxury created by thick rollers or the curling iron. The hair is brushed out once the curls have set to make it look this soft and natural.


Retro Cut for Him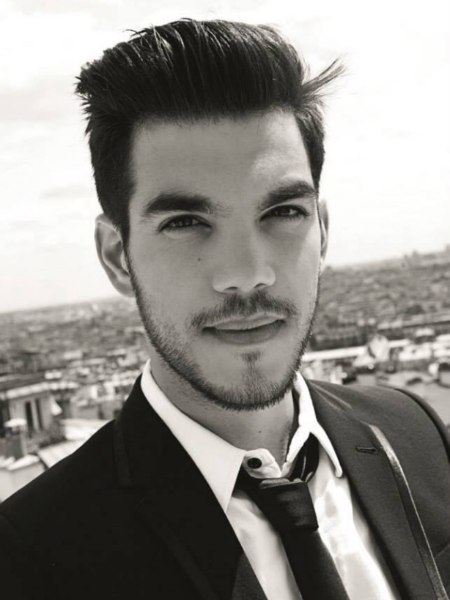 This hairstyle is based on the same cut as the earlier androgynous cut, but in combination with shorter sides and the light beard, it becomes entirely masculine. The top hair is longer and styled high with good hold from a strong styling product.

Hairstyles: Mod's Hair
Artistic Director: Olivier de Vriendt
Make-up: Josephine Bouchereau
Fashion: Kiliwatch