Wet Look for Short Hair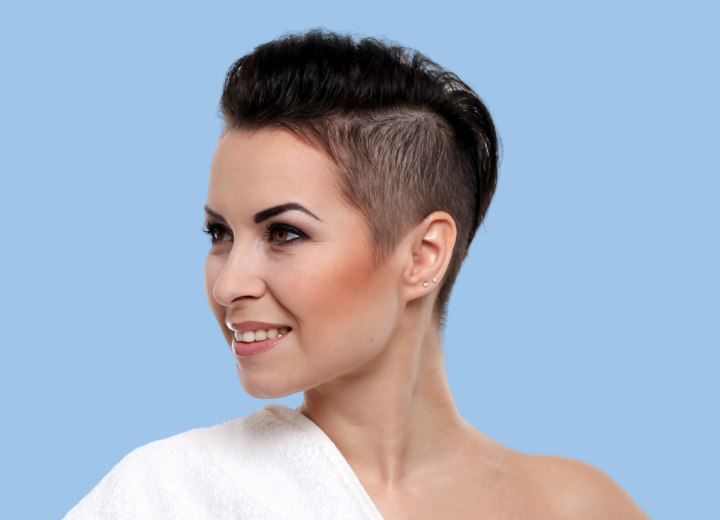 Q: How can I achieve the "wet look" for my short hair?



A: This is a simple question with a simple answer. For a wet look on any length of hair the key is to keep from breaking up the styling product used to achieve the style.

Depending on the amount of hold you need, and the texture of your hair, apply a liberal amount of a styling mousse or hair gel to your damp hair and style it as you desire. Then simply allow the hair to air dry or sit under a bonnet-style hair-dryer until the hair is dried. The mousse or gel will bind the individual strands of hair together in whatever style you've created and keep the hair looking wet (as wet strands of hair do cling to one another).

If you are going to be wearing this wet look as an all-day style, you may want to keep a small sprayer bottle of water on hand to re-stick any hairs that break free from the styling product, or should your wet look get tousled by wind or otherwise have the products bond broken.

Some women like the wet look, but find that once the product has dried it isn't as shiny as when it was wet. If you want an especially shiny wet look, consider using a spray laminator, or shine spray to give extra glisten to the style.

For some women with very curly hair that is hard to hold, or who want a flawlessly smooth look, they find that the styling gel alone doesn't last as long as they would like. For them, I recommend using styling pomade. This is a wax-based styling product that is excellent for adding definition to curl and controlling fly-away strands.

©Hairfinder.com
Photo: Y Photo Studio/Shutterstock

See also:

How to use hair gel

What product should I use for a towel dry look?

Can you use a hair conditioner as a gel after drying?