Best Ager Collection "Vibrantly"
Hair Arena Intercoiffure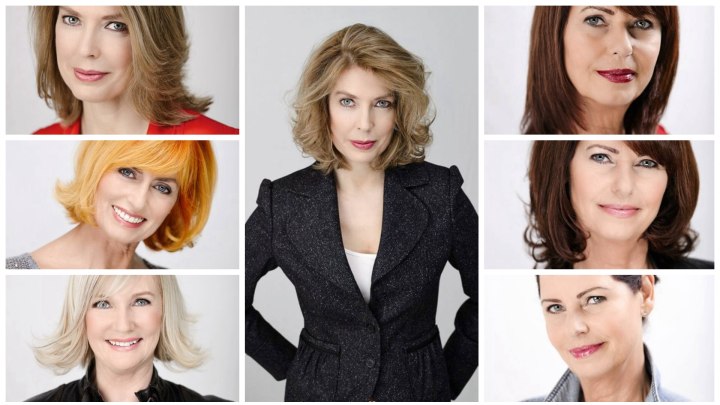 A great hairstyle is one of the best beauty and anti aging treats we can get. Gone are the days with strange rules for "hair over 40" and the question whether it should be short or if long was acceptable. Flattering and fun is the key to hair for all ages.

The most becoming hairstyles for mature women have certain traits in common. Layers and smooth movement. These help to diminish the effect of fine lines and wrinkles and soften the features in a very attractive and instant way. Take off ten years even without surgery!

The colors in The Best Ager Kollektion mostly stick with natural tones that have highlights and deeper, shadowy tones to accentuate the volume and to create luminosity. Bright shades like the intense copper gold seen in the last three looks are just on the verge of extravagant and very wearable as long as they match the skin tone. Never be afraid of color and show the world who you are!





With variable styling options the collection also shows how flexible the cuts are in this collection which should actually be called the "Un-Ager Kollektion".


Outward Swing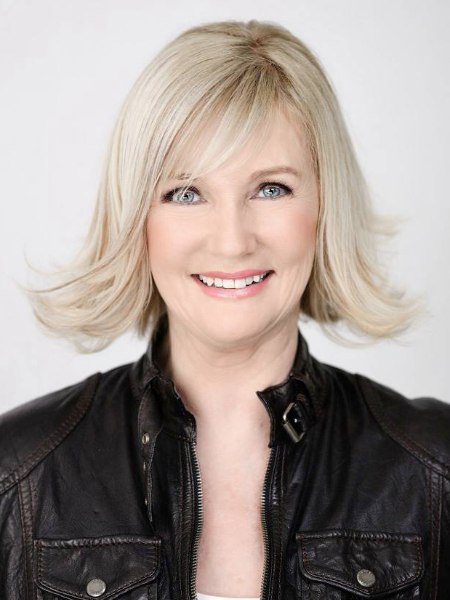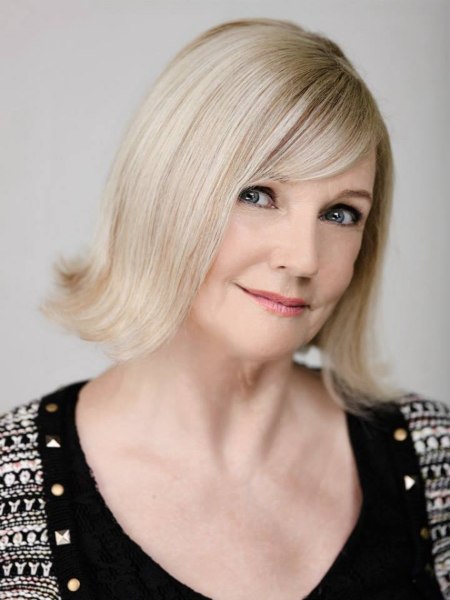 This is a great way to spice up a classic. The medium length bob for older women goes from elegant to sassy with a wispy outward swing that lifts the mood and the features. This look bounces with every step and every turn that she takes and it is super easy to recreate at home. All you need is a wide round styling brush and a blow dryer.

The hair was cut at the same length all around and has a veil like fringe that is long enough to reach over the eye, but for good vision it is curved to the side and just appears light and playful. What brings much finesse to the style is the amazing color with very subtle dark strands in the moonlight silver, which has slightly darker roots.


Casual Chic with Layers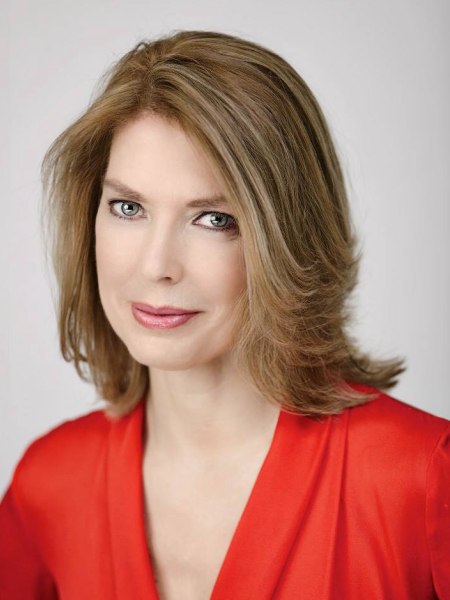 Feathered back with lots of movement, but the volume is controlled. A great sporty look that is a breeze to maintain. The hair was cut in layers with the shortest one starting below the cheekbones and the longest one at shoulder length. This is a great way to wear longer hair without all the hassle.

Her hair color is a warm dark blonde with lighter streaks, especially around the face. This has a very radiant effect that is especially flattering for mature women.


Bouncy Layers with Volume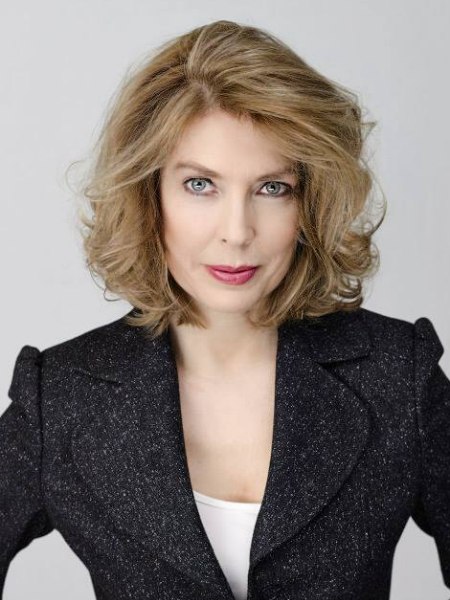 This beautiful hairdo is one of the greatest looks for older women. It is full of movement, great volume, happy curls and a sophisticated shape. All in one. It is appropriate for the office and a spectacular hairstyle for pretty much any occasion. Just be ready to get some jealous glances!

It is the same cut as in the previous image, but now the volume was pushed up with some larger curls and a loose, tousled styling.


Face Framing Sleek Style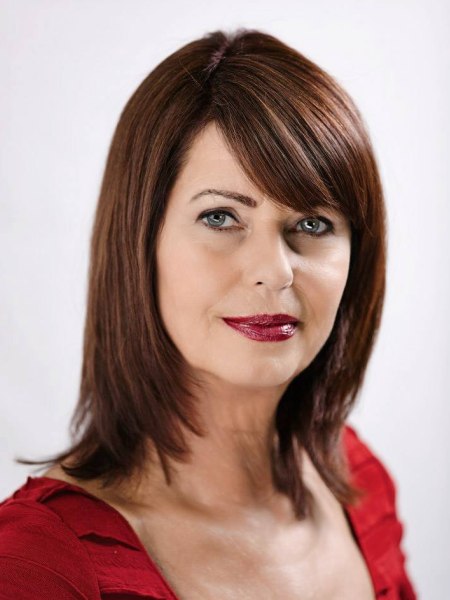 Busy older women want easy hairstyles without sacrificing an ounce of chic. This could be the solution! A face framing cut with a tapered line in the lower section. The shoulder length is very manageable and you can wear this in a wash and go way or spruce it up a bit, as the next image shows.



Here it is all in the cut and in the hair color. A deep brown comes to live with gentle highlights and a warm sheen. The side fringe is always a very elegant way to cover some of the forehead and to add a playful touch to the hair.


Curls and Sleek Lines


Be it a leather jacket or a cocktail dress, this styling of the tapered face framing haircut is just delightful. Mature and still playful with a sexy touch. The partition is drawn in a curved line to enable a side fringe, but to also keep the volume balanced on both sides.

90 percent of this look is made up of smooth, sleek and rounded lines and all of the real fun is in the lower perimeter where a curling iron created the magic of lots of medium sized, well defined curls.


Practical Upstyle


This is a third option for the tapered and face framing cut for older women that already made us a fan in its last two incarnations. Up is the word and if you want to feel a breeze on your neck, while looking utterly attractive, give it a try. The hair was simply combed to the back and put up. You can do a banana roll or just use a pretty barrette.

The difference between a simple, practical updo and a casual updo with a twist of fashion is in the bangs. These are curled up and laid in a creamy wave with a bit of volume to remind of a retro quiff, but with womanly charm.


Bob on Fire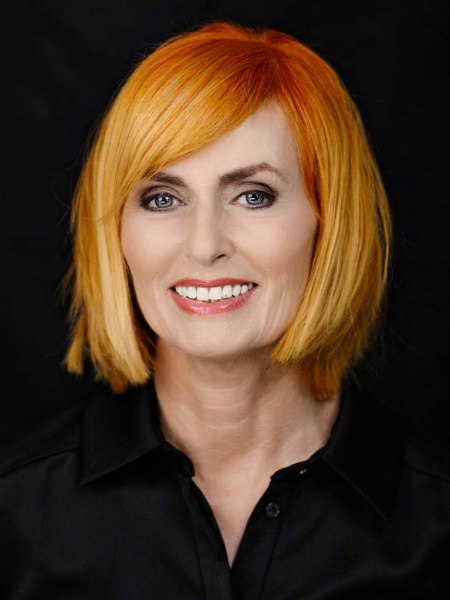 A fiery and feisty bob might be all you need to make a statement. Let you hair express your confidence and security in your own stylish world. Just because we get older does not mean we have to look like our mothers. Go for the color and texture that modern hair design can give us.

This is a wonderful take on a classic bob with a hint of the traditional, but also with a lot of passion and unconventional attitude. The color transitions seamlessly from a deep copper to a strong brass color that lightens towards the tips. A neat part with a diagonal fringe is contrasted by the tousled lengths with an irregular cutting line.


Bright and Cheery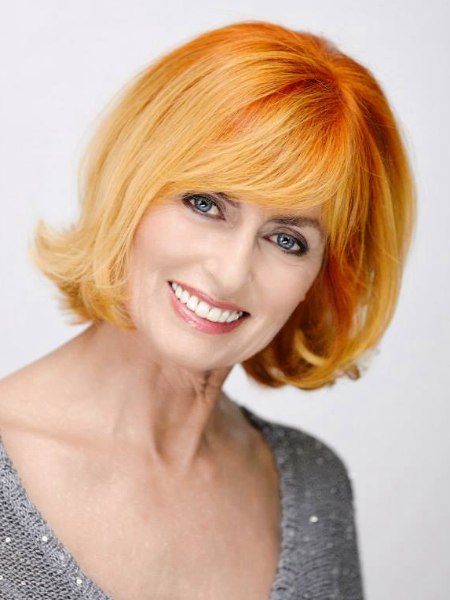 This short and feminine hairstyle for older ladies is based on the same cut as before, but a bit less rebellious with soft curls in the tips.

Volume was built up throughout, the fringe falls looser and in a wide curve. This is a very classic styling, but the color takes it to the next level.


Corkscrew Curls with Spice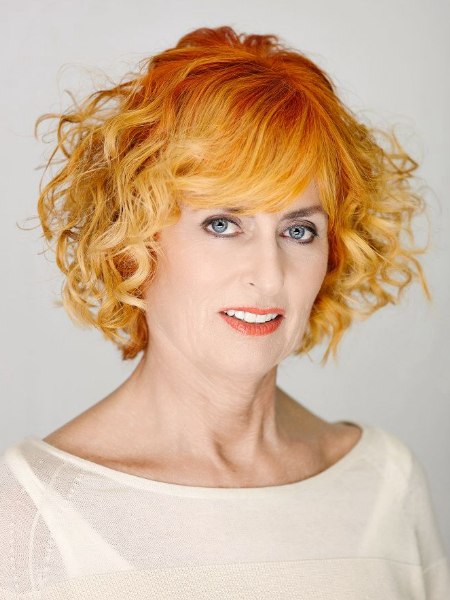 Turn up the heat with a head full of corkscrew curls. These will not only create a romantic hairstyle but look especially good on women in their stronger decades. The movement in the short hair and the volume distract from potential wrinkles, which are of course all well earned, but not everyone needs to notice them.

Let them notice your hair and your fiery spirit! This look can be done the quickest with a curling iron.

Hair: Marco Arena & Team
Coloring: Kathleen Bock & Rebecca Dietz
Make-up: Anna Meier
Styling: Mia Vehro
Photography: Adrian Bedoy & Team