Hair Up by Davis Hair Creation

Scroll down for more photos ↓

The international hairstylist Davis Biton, who specializes in hair ups and is the creator of the successful "The Art of Dressing Hair" - the step by step books with DVDs - and the "Hair Creation Gallery" books, presents his latest collection with looks inspired by ballroom hairstyles from the 20's, 40's and 60's.

The collection showcases a wide range of techniques and styling elements used in traditional - and sometimes unique - ways. The looks are elegant, intricate and make a dramatic statement wherever you choose to wear them.



Different braiding techniques, curl types and methods of arranging the hair offer a wide variety of textures and levels of volume. The inspiration of style archetypes from various decades offers you a range of looks that will guarantee that you find something you will enjoy.


Woven Braids of Hair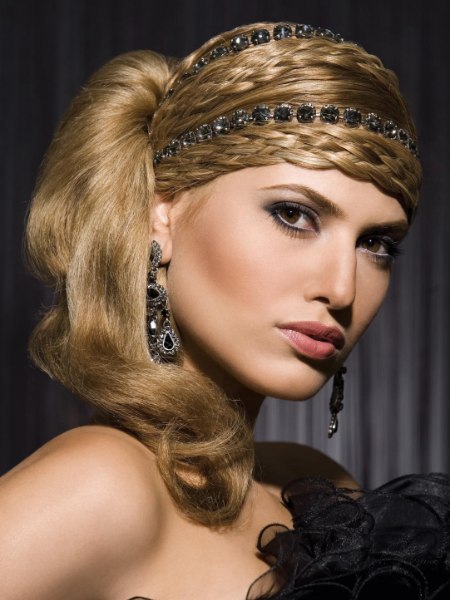 In the earlier half of the last century, Hollywood glamour-fashion included beaded bucket-hats with feathered accents, and this hairstyle recreates that look by wrapping woven braids of hair with smooth strands and jeweled links.

The long fall of soft-bodied curl is a perfect plumage to accent the look. The finished product is fun, frivolous and very glam.


Chignon Style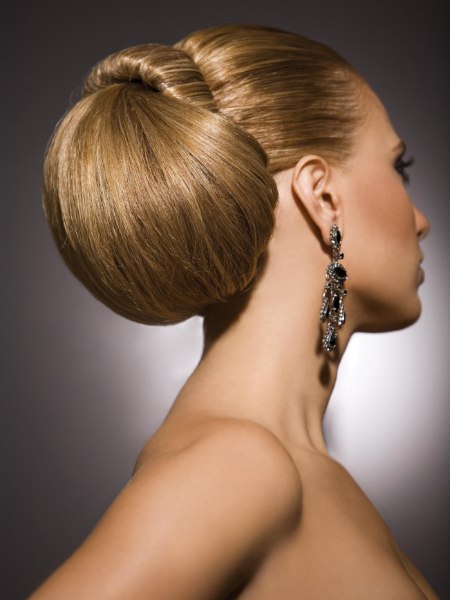 Epitomized by smooth, sleek shaping of what could be called an exaggerated chignon style, this look features once again, the hair as accessory effect. The hair forms a thick confining element for the globe that emerges from the crown of the skull.

This is a hairstyle that is all about shape and silhouette. The look gives beautifully clean lines and sleek styling to flatter any face and make the neck look lean and swan-like. Davis Biton's book will show you how to style a chignon that looks this special.


Elegant Updo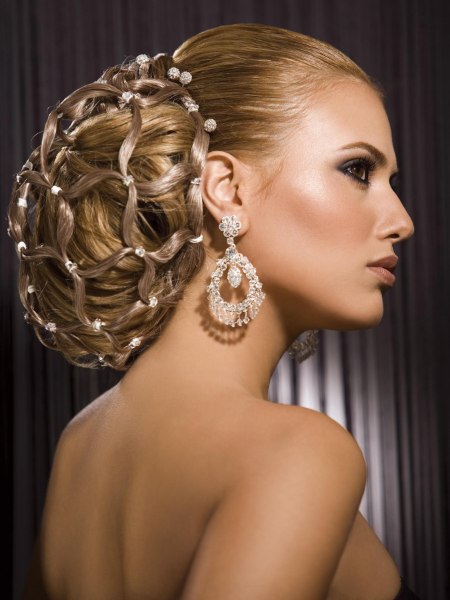 The hairstyle shown here calls to mind Venetian Masquerades and the eras throughout history where women wore their hair confined within ornately jeweled nets to preserve the expensive styling for as long as possible.

This look uses hair to create the means of confining and dramatizing the style. The look is striking, elegant and can be achieved by any woman with longer hair, AND those who have an affinity for hairpieces.


Up-Style with Woven Elements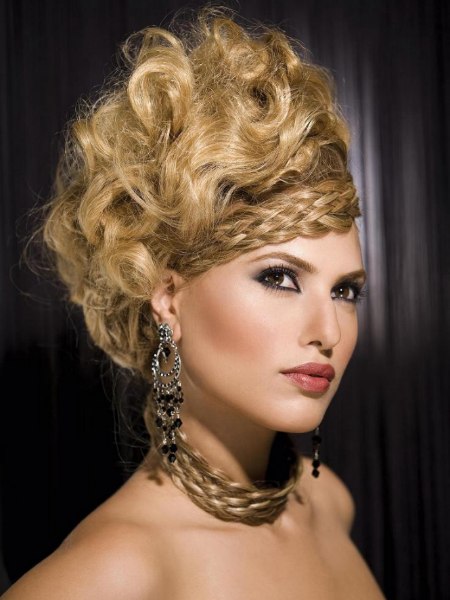 In the 20s and 30s in New York Society, drama was the buzzword for the fashionable ladies of the social strata that encompassed the theater and performing artists. The hair was often adorned (and even superseded) by intricate and ornate headdresses.

Offering a nod to those origins, this hairstyle features intricately woven elements of the hair framing the face and supporting the high-volume styling of the waves and curls of the up-styled hair. Certainly not a style for the meek, this look is still great for those who want to make a dramatic impression and revel in being the center of attention.


Herringbone Braids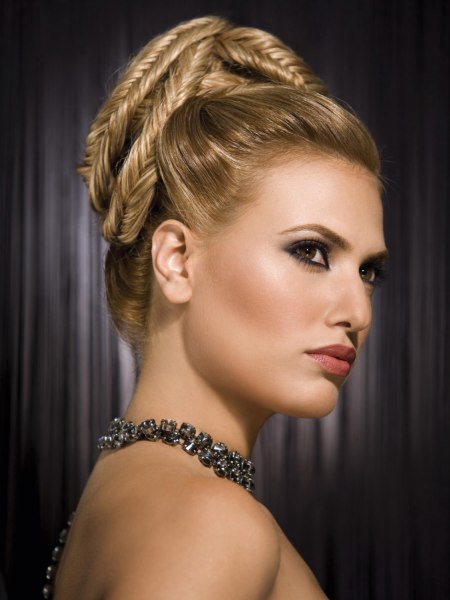 At first, this up-style appears simple. It's a topknot hairstyle with spiraling coils and rolls of hair draping from the crown. But NO! It's not simple at all, but rather a look showing pure craftsmanship and precision in styling. The topknot base is there, true, but the falls of hair are crafted by weaving hair segments into herringbone braids and draping them carefully along the style.



The beautiful, multi-tonal hair color combines with the texturing of the braiding in order to create a subtle impression of rich metallic sheen. Davis Biton's book will explain how to do the herringbone braids.


Sophisticated Up-Style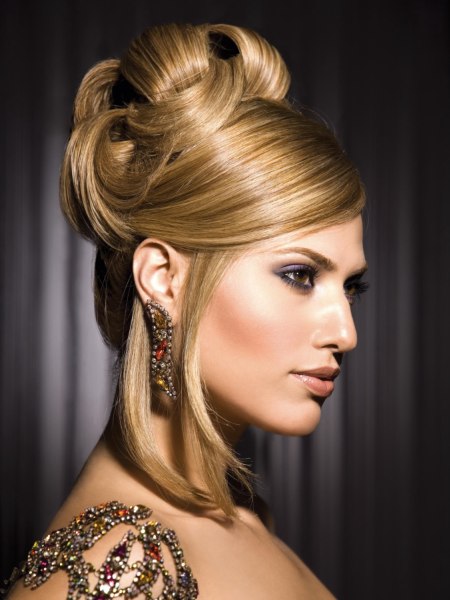 Combining volume with sleek, smooth styling may seem like an effort to work at cross purposes when it comes to hair, but his up-style shows clearly that not only can it be done, but it can be done well. The hairstyle is smooth, elegant and sophisticated featuring smooth curves that intersect and interlock with one another.

It creates a look that is both high-volume and chic and it frames the face and balances the features whenever it is necessary with minor adjustments in the drape and line.


Casually Elegant Up-Style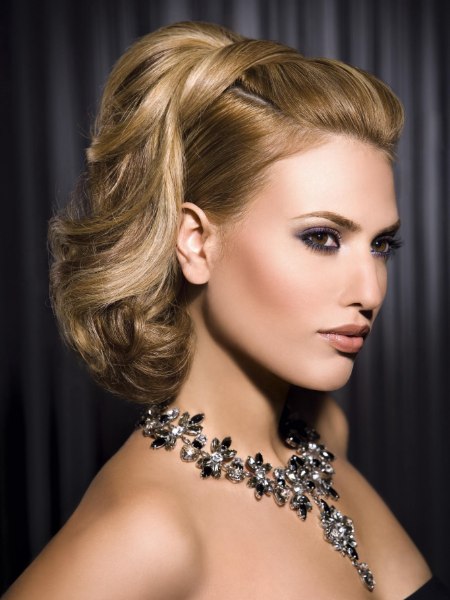 Making a transformative look without actually causing a permanent physical change in the shape and length of the hair is a sign of a skilled stylist. For those times when you need a shorter look to accommodate a particular fashion statement but you don't want to cut the hair, or resort to a full-on up-style, this hairstyle makes an accessible compromise.

By redirecting the length into a broad-based foundation at the crown, the ends are then allowed to fall into the desired lengths. The result is a casually elegant look that keeps the focus of the eye where you want it.


Princess Look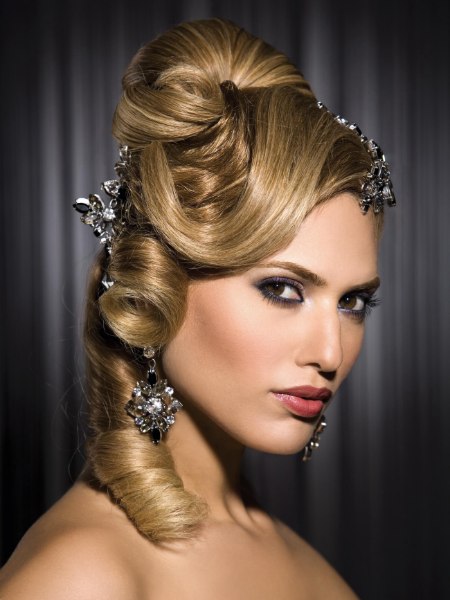 Almost every little girl dreams at some point or another of being a princess. As grown women, some of these little girls hold on to that dream. Having her hair ornately coiffed and adorned is a main desire for many brides as it gives them the opportunity to live the princess fantasy.

If you want your princess moment, you could do worse than adopting this hairstyle. It's partially up, partially swept, and accented by sausage curls.


Up-Style with Pin Curls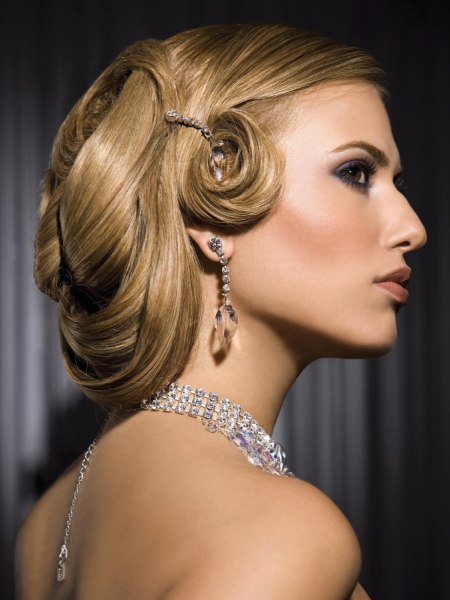 The heart of sophistication is simplicity combined with aesthetic virtue - a hairstyle that pleases the eye without fussiness or an overload of accessories. This up-style is reminiscent of the chignon or snood and is nothing more complex than an artful arrangement of draped lengths of hair and pin curls to frame the face.

The look obviously has the prerequisite of longer lengths of hair, but can be adapted to some mid-length looks as well.


Princess Bride Look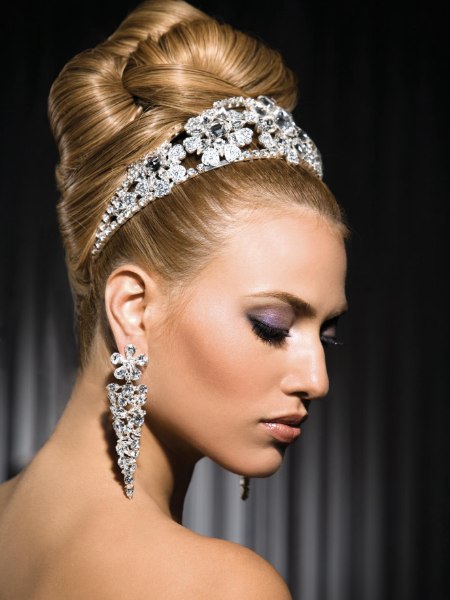 A couple of up-styles back we talked about the desire of most little girls to be a princess, and the fact that this desire usually survives to adulthood and is manifest for many women when they become brides.

This look is the classic princess bride look. Smooth, sleek twists and wraps that form a chic crown to the head. This classically up-swept look is everything you could want in an up-style: tidy, elegant, not-too-fussy and definitely beautiful.


Clean and Sharp Up-Style


It's interesting to see how hairstyles evolve, and more importantly, how they "revolve" through the ages. The classic look of hair in an up-style that features a nest of carefully crafted curls is one that has been seen in virtually every era and age of social development.

The incarnation of this classic ideal is shown here with thick, smooth locks of hair that appear molded into swirls. Interestingly, the look is clean and sharp, yet still gives a feeling of being soft and feminine. The defined multi-tonal streaks of color throughout the hair give the sweeps and coils extra definition and an almost-metallic sheen.

Hair: Davis Biton
Photos: Ohad Romano

See also: Long hairstyles | Up styles