Redtropolis
Bennie Pollard and Team BennieFactor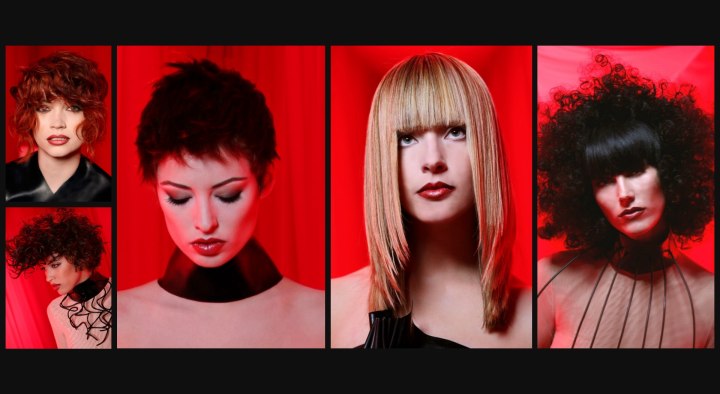 Scroll down for more photos ↓

They will be noticed. They will turn heads and they will inspire. They are artful and unforgettable. Most of all, they are red.

With Redtropolis, a new collection of ravishing hairstyles, Bennie Pollard and his BennieFactor Team spoil us with an array of intense looks that seem to explode in their crescendo of color and style.

Red hair, with its power, its burning desire and zest for life has inspired and seduced for millennia and still does today. It seems as if this color, so heavy with symbolism, touches the very core of our being and leaves no one indifferent. There is no middle way for red. It is always extreme, yet pure. It is direct and does not make any compromises.



To combine this hair color experience with hairstyles that bring together the influences of several decades, taking the very best elements and bringing them to new heights, was a masterful step for Bennie Pollard with which he proved again that he is a true visionary and artist.

The Redtropolis looks are flaming cocktails of retro ideas mixed with shots of sci-fi, served with a blazing flame. They are made for the worldly and adventurous, self-confident women of today who dare to express themselves, but would never compromise their high standards.

Bennie Pollard's 25 years of experience, his artistic and highly professional approach are visible in every single haircut. He has always been inspired by high fashion and spent several formative years in Miami during the mid 80s. After returning to his native Kentucky, filled with new skills and inspiration, Bennie began building his empire.

Positive affirmations rule his work and his private life. Bennie believes that wishes and thoughts can in fact materialize and he uses the power of positive thinking to expand his own personal world and his business.

Beside winning numerous awards and being named one of the top 20 salons in the US, Bennie Pollard expanded his vision with a line of cleansing, nourishing and styling products that were composed with the creative hair artist in mind. The products that include, for example, a "b more" building spray, the "b ready" lasting spray, "b creative" pomade and "b excellent" finishing spray with shine are high-quality tools that can be mixed and matched.


Intense Look with Red Hair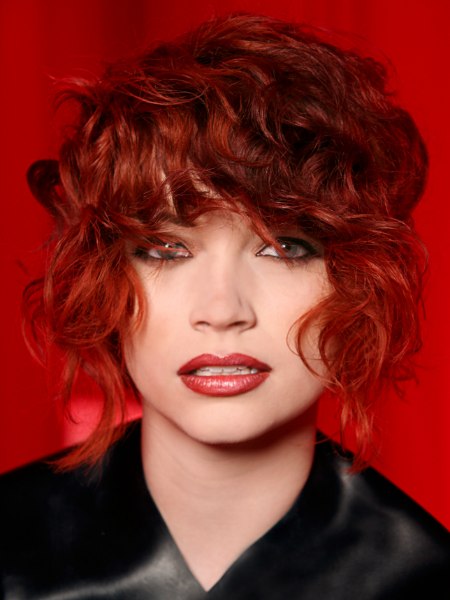 Like an all consuming, eternal flame or a tsunami of deep burning passion, this hairstyle grabs you with its irresistible vibration and intense look. It is a masterpiece of high hair fashion and uses the skill of a gifted hair colorist.

The red changes its tune meandering across the waves of hair from a pointy orange sunset red to a deep burgundy, coming together in a true symphony of fiery flavor.

The haircut combines layers of different lengths with the shortest ones in the nape and two flashing sections on the sides. The ends are lightly textured. All of the hair is styled towards the front in waves that are wild, but tamed into one artfully directed flow framing the features.


Curly Quiff


Rockabilly meets Rococo in this short poetic hairstyle. An oversized, almost caricatured curly quiff is the eye catcher of this opulent aria made of hair. Large curls are masterfully arranged and defy gravity with their vigorous bounce. Tinted in a deep lava red intermingled with a soft merlot this extravagant style unfolds to diabolic beauty for a true goddess of modern days.

The hair was cut in evenly short layers on the sides and in the back, with the front section of at least twice the length. A natural curl helps with this style, but a perm will also produce the desired result. Lightweight but strong styling products hold up the front that twirls and curls like smoke from a smoldering fire.


Breathtaking Look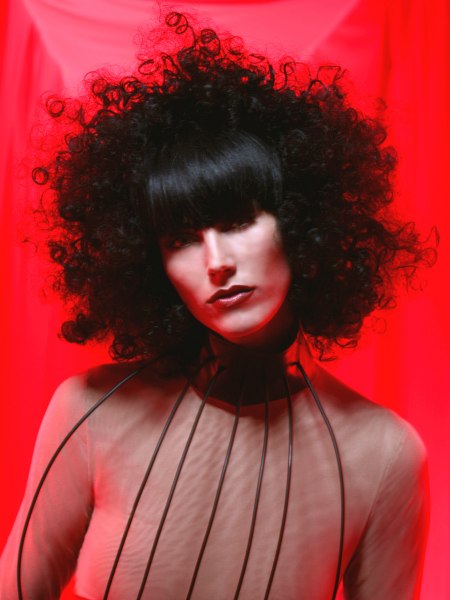 Divine eccentricity infused with the memory of big afro hair produces this breathtaking hairstyle. The new avantgarde is feminine and exuberant. It is filled with exhilarating shapes and structures to bring hair fashion to a new level.

The BennieFactor team presents us with a flaming halo out of innumerable, perfectly shaped small curls that are spiraling outward like ringlets of heat around a calm center.

The balance comes from the wide and thick, straight bangs that were rounded for shiny volume. The black cherry color is simply out of this world with its exotic shimmer.


Long Tapered Haircut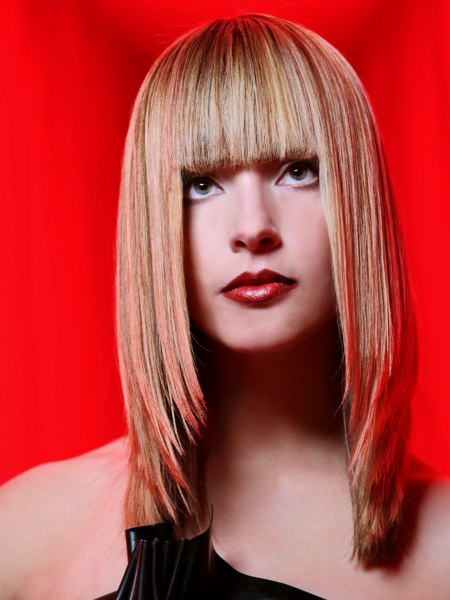 The Redtropolis collection lives from its diversity and the balance of intense visions that are turned into wearable art. A familiar color and cut is taken to new heights and finds new ways of expression filled with surprising accents.

This long tapered haircut boasts perfect scissor skills with its geometric cut-out that frames the face, opposed to the irregularly textured ends. The range of color exposes itself more and more with every reflection of light and out of every angle. Strands of gentle rose are set off by platinum and honey.


Radical Short Crop


The shortest hairstyle of the Redtropolis collection is extreme in all its elements. A radical short crop, cut with a razor to achieve the utmost in texture, yet keeping the silhouette soft and wanting to be touched.

All is taken to spicy heights with the color of slowly roasted chili peppers that is radiating a gently hitting but intense heat.

Styled in a forward motion it shares the attention with the face of a confident, ageless and powerful woman.

Hair: Bennie Pollard and Team BennieFactor
Make-up: Lesa Miller
Photography: Edward Brown

See also: Short hairstyles | Long hairstyles