Spring-Summer 09 by Jack Holt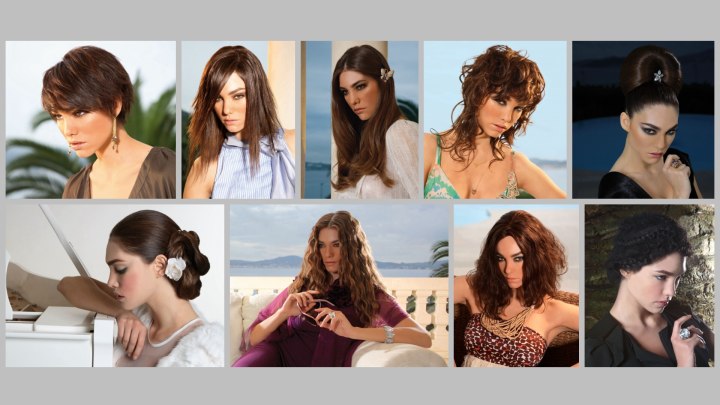 Jack Holt Coiffeur Créateur brings us a set of classically inspired, but updated hairstyles that provide a wide array of looks for the coming seasons. These styles combine modern styling techniques with classic and cultural inspirations to create looks that flatter and flash.


Two-Tiered Hairstyle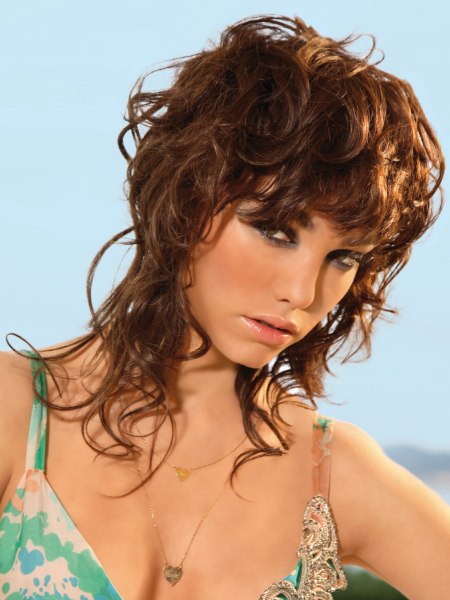 Here we have a deeply layered hairstyle featuring a two-tiered look. The upper tier falls to mid-cheek making a fuller frame for the face and eyes. The nape of the neck is collared by a close-lying cowl of silken strands that give the impression of increased length and grace to the neck and shoulders.



The whole of the hairstyle is a mass of loose, uninhibited curls with textural definition in the style and a "controlled-chaos" effect. The style is great for wavy hair types and can be created using a blow-dryer with a diffuser attachment and the fingers to scrunch the hair and maintain the curve. A dab of smoothing serum can be used to help keep the strands looking silky and smooth.


Simple Long Hairstyle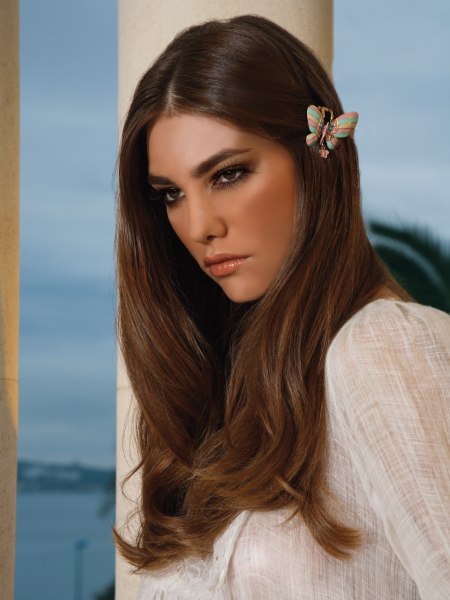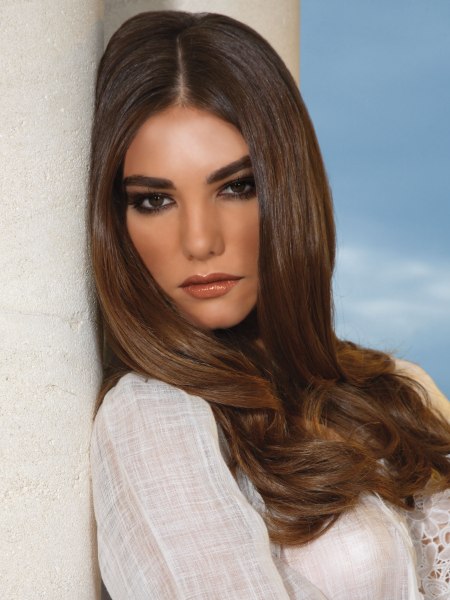 Here's another supersimple hairstyle. The long, luxurious hair is cut bluntly with a light texturing of the ends to soften any hard edges. The focus is on the sheen and silky-smoothness of the hair in this gently curving style.

Get this look in your own long locks by gently blow-drying the hair on low-heat settings using a flat brush and a smoothing balm to keep the hair protected and add the lustrous sheen you see.

The hair can be passed briefly through a flat iron to give it extra smoothness, and to redirect the curve as desired, but care should be taken to keep the hair as little-abused as possible.


Chic Up-Style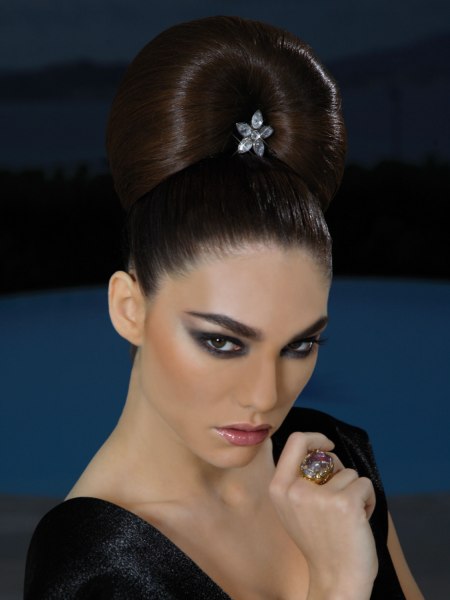 This crisp, clean and ultra-chic up-style is all you need to command attention. The hair is smoothed and drawn carefully to the crown in a clean sweep and secured with a fastener of your choice.

The long hair is then rolled carefully around a foam molding (you can find specially prepared tools to create these looks) and secured into position using pins and accessories. Some individuals will require the use of extension hair to create this look, and others may employ hairpieces and other such accessories.

The finished look - by whatever means it is achieved - is meant to be carefully structured and severely simple.


Long Hair with Ripples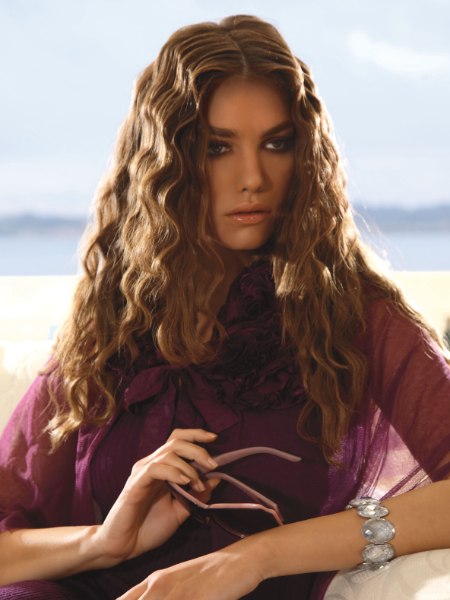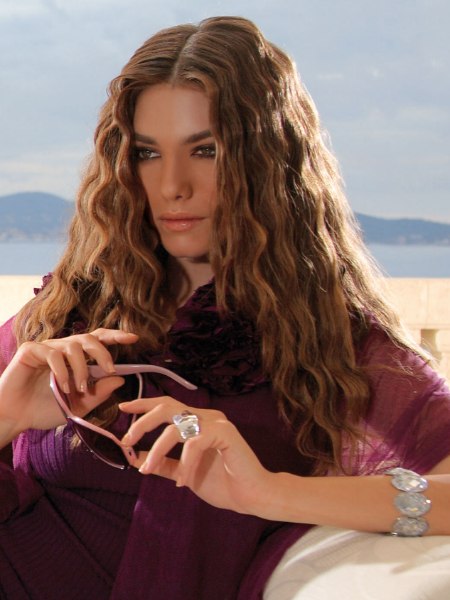 This hairstyle is another simple style, taking the long, slightly layered locks and waving them into a cascade of ripples. The weight and bulk at the top and sides of the style gradually diminish as the ends taper to points created by the defined strands.

This style of wave is often created using "rag rolling" techniques and by braiding the hair in large swaths to give deeper, broader switchbacks. Some women opt for a permanent wave style using these techniques in order to get this look more easily on a daily basis.


Long Wavy Bob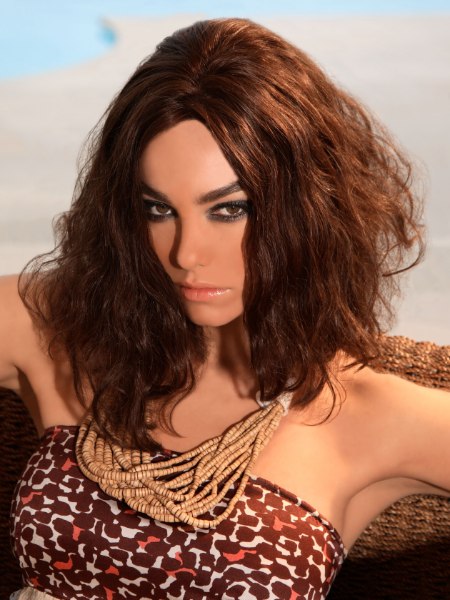 The hairstyle we see here is a long asymmetrical A-line cut bob, created in a moderately wavy hair type. The added volume along the bottom edge of the style creates a flared effect that plays well off the downward angle of the cutting line as it moves to the foreground.



The slightly off-center parting is staggered to camouflage the scalp and can be useful in cases of new growth of color-treated hair or for those with thinning hair.


Short Layered Hairstyle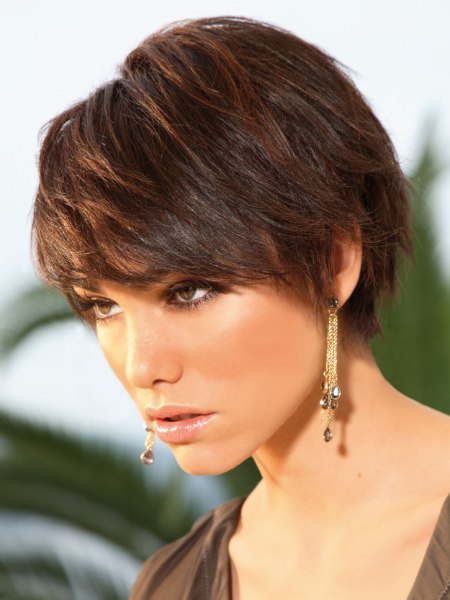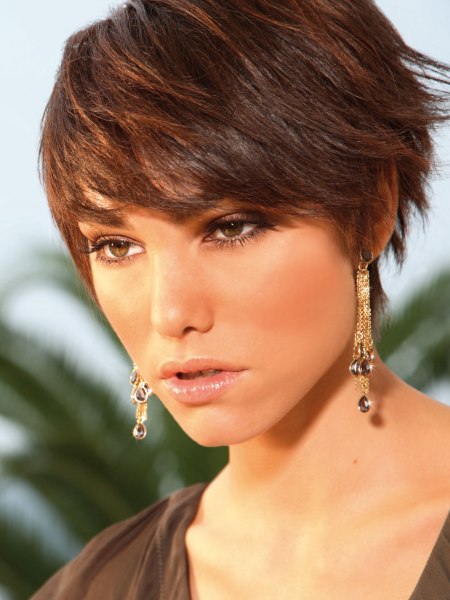 The last several months have shown a surge in shorter and shorter hairstyles among the world's most popular celebrities, and here we see a classic crop style in a lovely, short-layered look.

With a weight line that falls around the level of the eyebrows, the lower portion tapers gently to cling close to the skin while the upper layers are silky and defined for a slightly tousled look.

The look is easily classified as a "gamine" (or boyish) hairstyle, but the pixie cut is totally feminine in this incarnation. Styling is easy, with a gentle blow-out using a large round brush and smoothing serum.


Bridal Hairstyle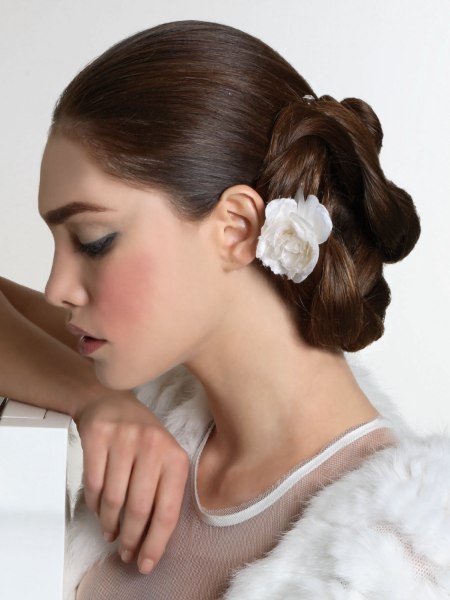 This hairstyle is a carefully crafted chignon-type hairstyle that starts from a smoothly drawn base that gathers the long hair to the nape of the neck and then instead of turning it under or twisting it up, forms a florid knot that is both visually appealing and secure.

Similar looks can be accomplished for women with shorter hair by adding in extension pieces to the hair for length and fullness. This is a beautiful bridal hairstyle and could also serve for any formal occasion and can be dressed up or down as needed with the right accessories.


Ragged Shoulder-Length Hair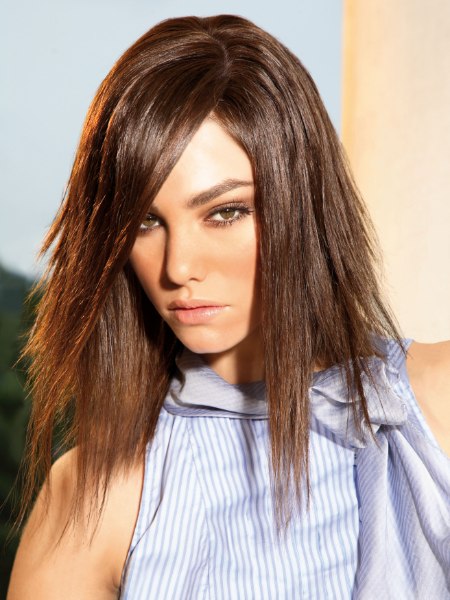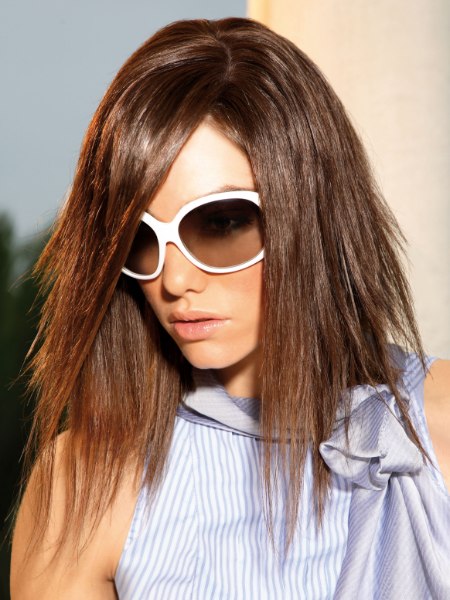 This layered hairstyle is a razor-cut wonder. The shoulder-length hair is deeply layered and textured for a ragged look without defined cutting lines. The free-form haircut features a long fringe that seems to blend with the rest of the lengths with no delineation.

Styling consists of a straight, blow-out using a flat brush and firm hold product, followed by flat iron pressing to create sharp edges and clean lines. The finished look is edgy and bold, and not for the faint of heart.


Full-Volume Up-Style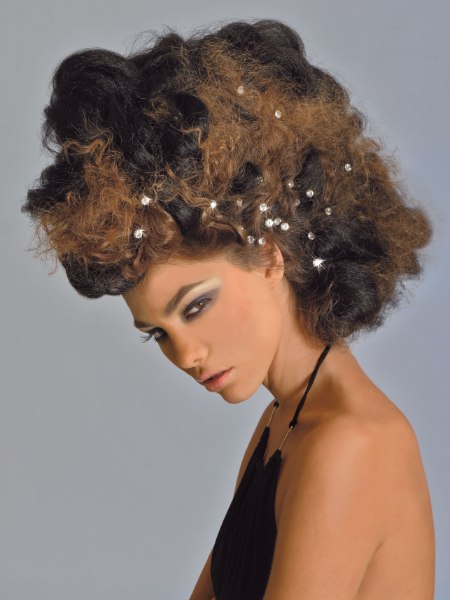 Never intended to conform to convention, the Reggae culture has always marched to its own drum - steel drum at that. This hairstyle draws from that untamed nature and is a full-volume up-style that forms clouds of hair and a bold, powerful silhouette.

This style is crafted with backcombed lengths that are interlocked and woven into a large, loose mound. The finished arrangement is adorned and supported by jeweled pins which add sparkle and stability in a textural landscape.


Hairstyle with Braids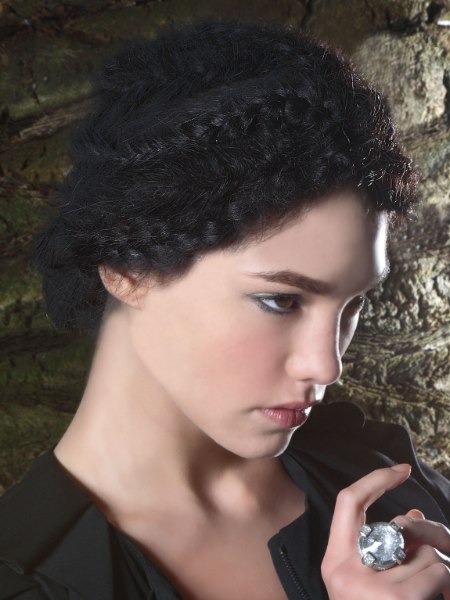 This raven-hued hair is styled into a lovely cap of braids that is reminiscent of Grecian and Etruscan hairstyles and is perfect for those who have coarser and or wavier hair types. To create this look, the hair is loosely divided into wide tracks that are braided close to the scalp.

The finished braids are not woven tightly, but rather form a textural "crown" for the wearer. The braids emerge from a central part and wind around the scalp in contouring lines.

Hairstyles: Jack Holt Coiffeur Créateur
Photography: Sandra Fourqui

See also: Short hairstyles | Medium hairstyles | Long hairstyles