Female Portraits by Camille Albane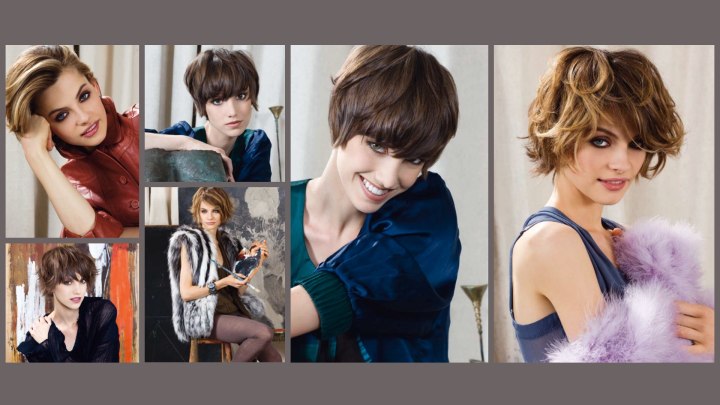 Painting, Sculpture, ... Hairdressing.

For the "Camille ALBANE Woman", beauty is a hobby she loves, and which lets her transform into... herself. She reinvents herself every day, every season, and gently, seductively, fulfills her dreams of color and length.

Her hair is a canvas on which she combines matter and light and her hairstyle a sculpture of sensual volumes. She imagines naturally pigmented colors which recall the dreamy tones of a painting... Feline highlights, bronze and copper locks, artsy colors, chestnut brown and charcoal...



Her choice of make-up and hairstyles knows only one limit: her imagination. She doesn't shy away from plum purple nails and preens herself with her purple feather powder puff. She'll happily use artificial means to gain a real result, like when she applies hair extensions.

She discovers all this magic in the Camille ALBANE beauty parlours: true artists' workshops where every woman is unique, like a painting appearing before her very eyes.

Camille ALBANE, Hairdresser, Colorist, Make-up artist...


The Inès Bob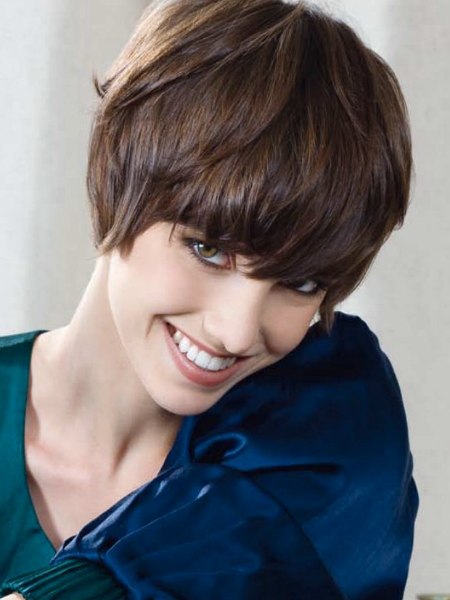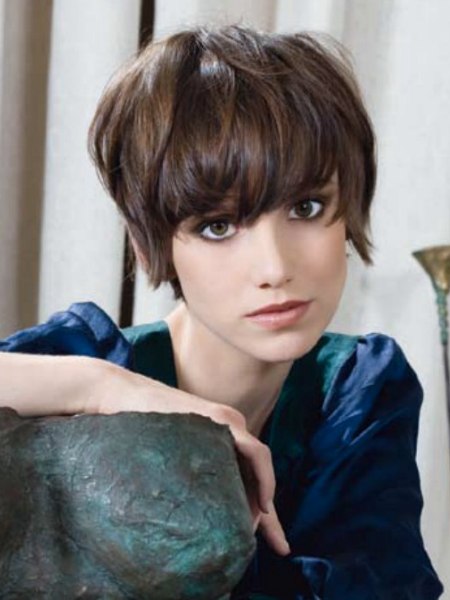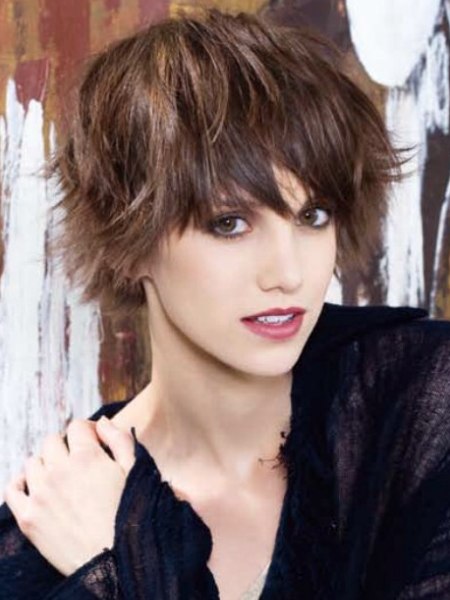 Named after the always impeccable French icon of style, Inès de la Fressange, the short bob with layers is gaining a loyal following all around the globe. The best of all worlds come together in this sweet and short hairstyle. Finesse in its outline and freshness through movement and texture.

No matter how often you ruffle your hands through this hair, it will always fall back into place and look just fab! Check out the pictures for more styling ideas! Tips turned out and a little ruffle changes the entire vibe.


The Dream Cut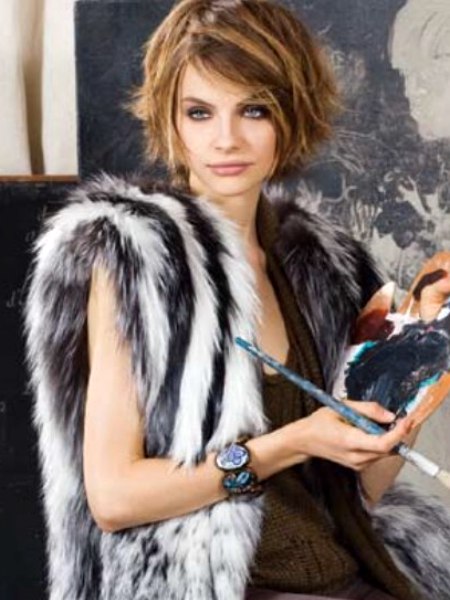 Admit it; you have been dreaming about this. A haircut that suits each and every of your needs. It is super chic, low maintenance, easy to style and head-turning gorgeous. The mussed look of the thick layers is done with some mousse and the fingers. But before all the styling comes the ideal cut. The back is short and reveals her light natural wave.

The fringe is the longest part and plunges in a hot curve where ever she wants it to. The hair can be parted center or side or not at all. You will have so much fun exploring all of the great styling options that this all round haircut will give you. Don't forget to ask your stylist for some golden highlights too!


Swept Back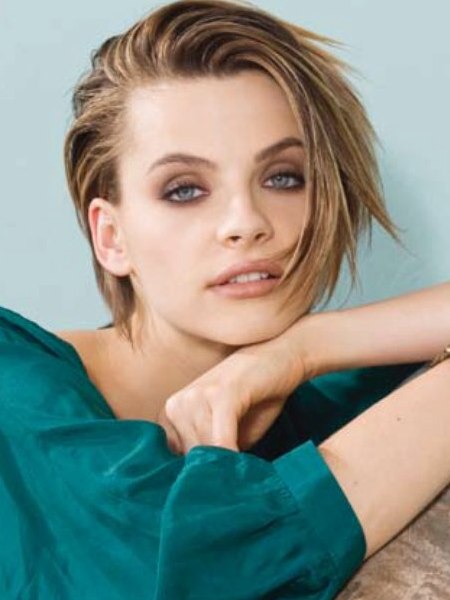 Use styling gel to sweep back your layered short cut. The long bangs now fall in an attractive curve on the side of the face and dominate the style since they are the longest section of the cut. One side combed behind the ear.

Make sure to give the hair a continuous flow as if caught in a big wave in the ocean. This hairstyle is great for days when you want to look your best, but are running out of time. A great style for summer evenings after long beach days!


50s Style Bun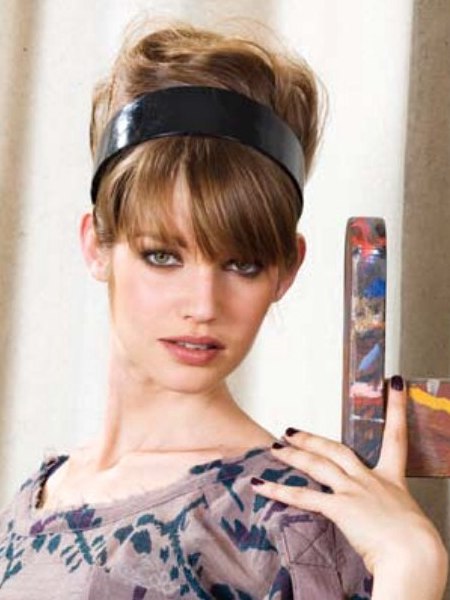 This bun and hairband mean business! They are big, bold and fabulous. They will not be overlooked. A tribute to the great styles of mid 20th century and specifically to Monica Vitti, the iconic Italian actress. Even if your hair is not long enough to shape it to a classic bun, you can still create this look.

Just brush your hair well and shape it round, add some mousse for volume, a little teasing and hairspray will do the final touch. Go crazy on the hairband. The bigger the better, and you can match the colors to your outfits! The bangs are simple and sleek.


Short Urban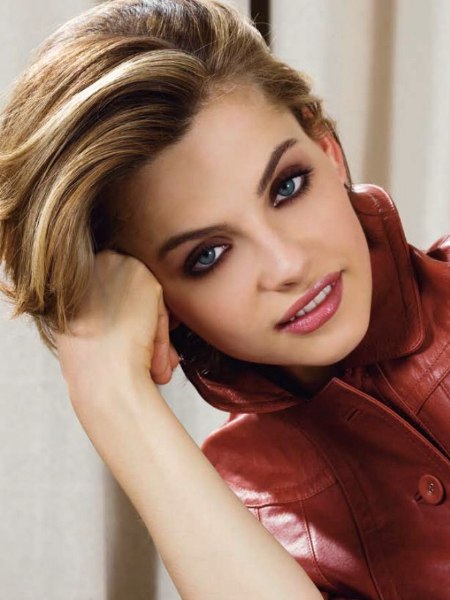 Just like there is a power suit for women in the professional world, there is also a power haircut and you are looking at it. The short sides with long top hair can be styled to stunning looks. This sweeping, long side fringe is just one of the options.

A warm, dark blonde with amber and vanilla accents is full with energy and dimension. The length shows off collars of blouses and jackets and is short enough to always keep her neck and head cool.

Hairstyles: Camille ALBANE by Jean-Luc Amarin
Photography: Nathalie Demontes

See also: Short hairstyles