Mane Evolution by Winnie Loo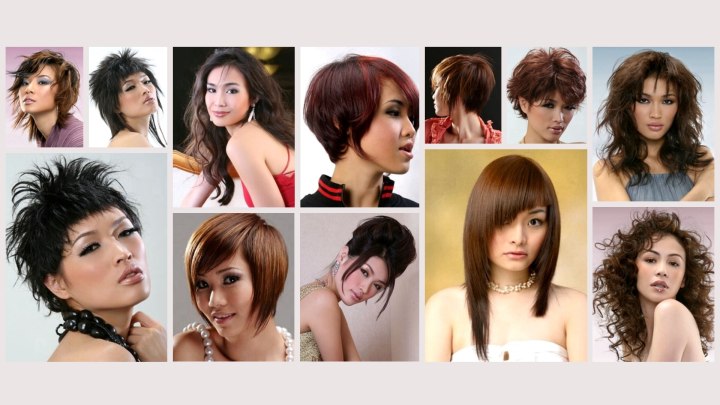 Scroll down for more photos ↓

Lighthearted choppy shades of retro colors and chunks are expressed with jazzy lines of coils. Flips and dips articulate Winnie's artistic hand of talent.

Sensationally smooth and slick hairstyles tweaked in the fringe are next to tangled wisps of tussled hair continually impressing us with the genius at hand.



Asymmetric lines are sculptured to perfection. These are short and long Asian hairstyles to die for!


Tussled Croppy Hair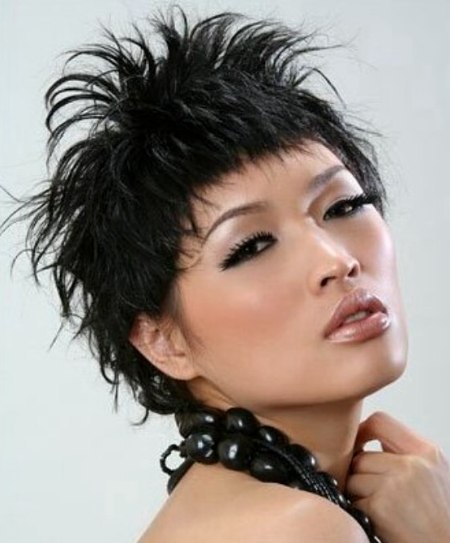 Tussled croppy textures are boldly displayed, exclaiming the thickness of stacked layers closest to the scalp while spiky fans dance in the air. Freezing gel will help with your style, just lift with your fingers.


Jaw Skimming Hair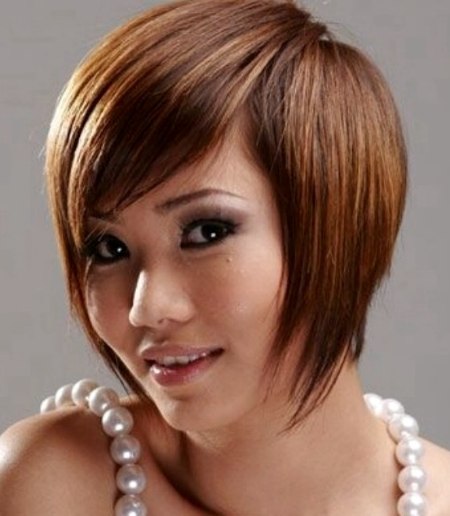 Smooth gold and brown slices of hair skim along the jaw in long strands of fringe. A side part is hidden with the crown that sweeps toward the face and edges around the frame. Light styling lotion and gloss will aid with this hairstyle.


Cropped Spiky Hair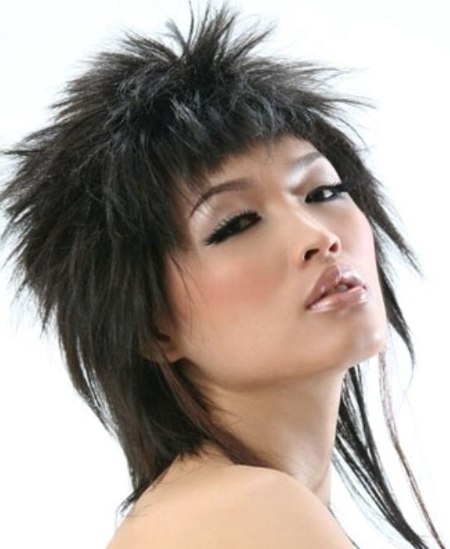 Cropped spiky jags are instigated upon the top with texturized lengths working their way down the hairstyle until the longer blended layers lie below the shoulders. Freezing gel, thermo lotion and gloss are all helpful products to complete this hairstyle.


Fashionable Flippy Hair


Muted coppery red exudes its charm with a touch of a lighter copper in the crown of this most fashionable short Asian hairstyle with flippy layered lines and a face-flattering fringe. The height of femininity, a must for you to try for yourself!


Updo for Asian Hair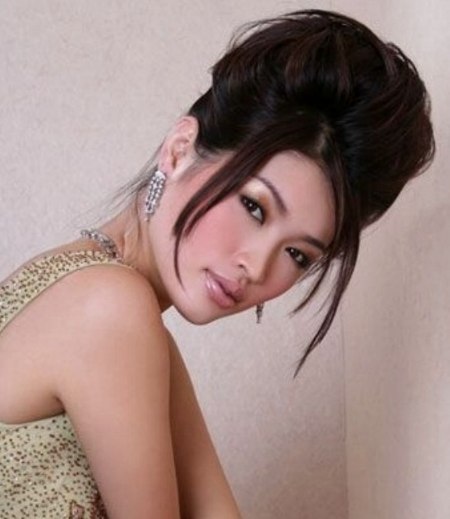 A large round upsweep is set into a grand image with sections of hair carefully laid over one another to exhibit the various clarifications of light and dark lined arrangements that end with the two long thick tendrils that hang from the small part. Spray and pins are in order to help keep the style in tact.


Hair with Lavish Dark Waves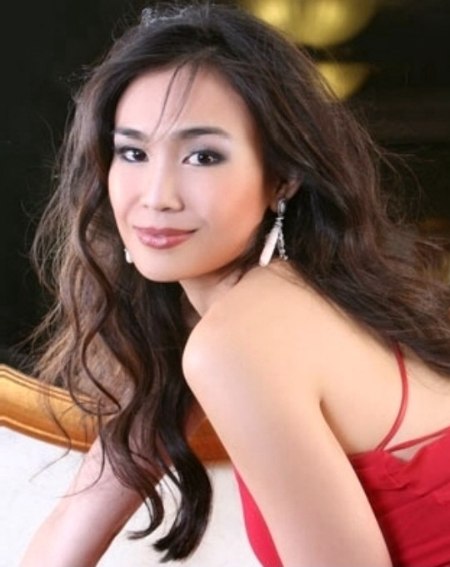 Lavish dark waves cannot be praised enough by the simplicity of the hairstyle that brings such a foxy picture. All you need is a small messy part to begin the styling with a large curling iron.


Hair with Festive Ringlets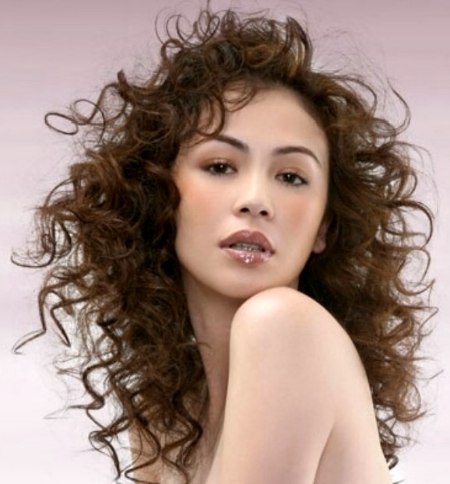 The festive appearance of ringlets and coils are ablaze with layered waves and every bit the charming influence of a lion's mane. Impressionable hues of brown color are the first to be on the catwalk. Consider getting a spiral perm for a lasting arrangement.


Languished Layers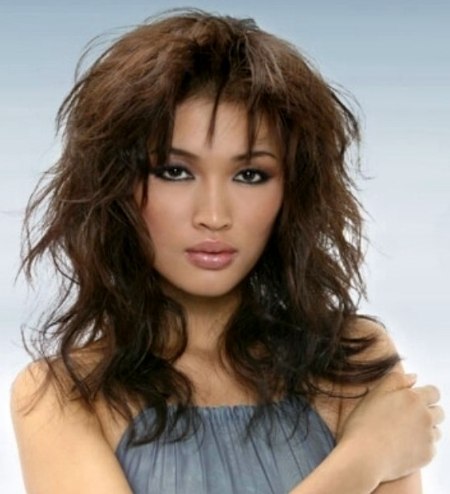 Tepid cinnamon brown hair in languished layers of idle bends that rest along the Asian model's shoulders. Blow your hair upside down after applying a light styling crème. To insure a good and lasting style, entertain the idea of a gentle body wave.


Windswept Tendrils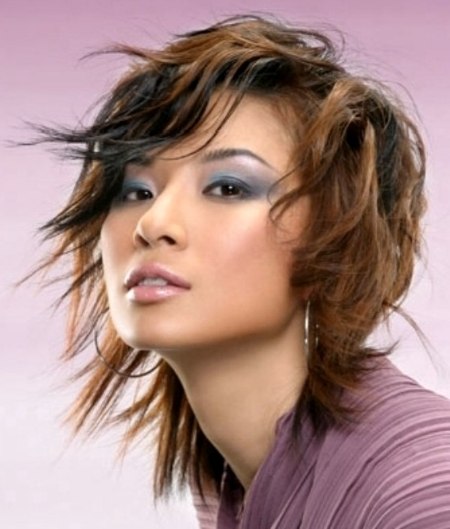 Windswept tendrils gaily reveal the idyllic color combos of cinnamon brown with black and marvelously long lines cropped into a the winsome shag of flips and darts. If your hair is only 2.5 cm or 1 inch off structure it will not lie in the same way as the photo. Be sure and get the right haircut and learn how to maintain it.


Exciting Short Hairstyle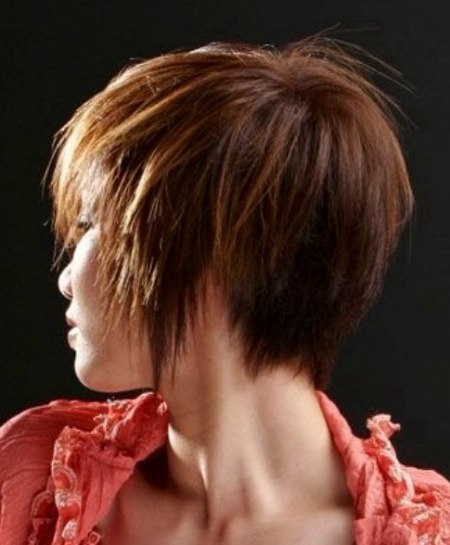 Stunningly chopped and texturized lengths lie in specific sections around the face and are quite apparent in this most exciting short hairstyle for Asian hair. The back is clipped up and around into the shape of letter W and rounded lines in the crown portray the different shades of reds and strawberry gold.

The top has forward-falling angles of hair that spread over an eye. Try this "top of the line" haircut to make a real difference in your life.


Asymmetrical Long Hairstyle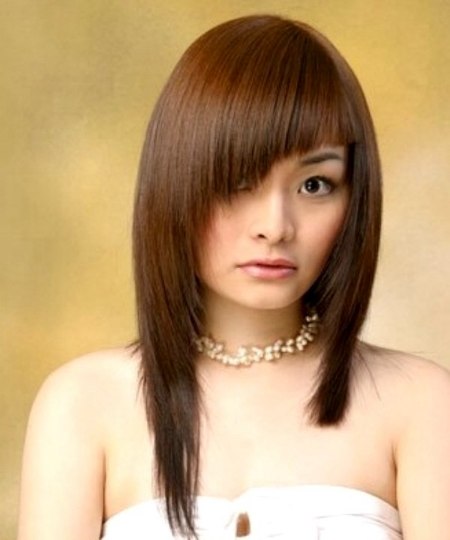 The boldness of an asymmetrical hairstyle in smooth velvet lines are formed from the beginning of one corner of the model's temple and fringed down into an angle a good way below the shoulders.

The other side begins the angle measuring along the jaw and ends just below the shoulders. A complete difference that still unifies the hairstyle.


Curving Around the Neck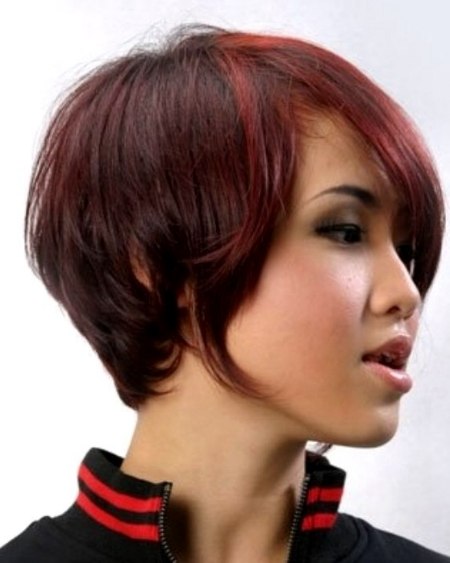 Plush red oak colors abound in mid-layers of smooth lines of hair have been flounced to curve around the neck and a long skinny twine around the face. The other side of the short haircut evolves from slick movement over the top, carrying over the eye and flowing into a twine. Apply light styling lotion and spot dry with your hands.

Hairstyles: A Cut Above Group of Salons & Academy

See also: Short hairstyles | Medium hairstyles | Long hairstyles