"Peaches Goes to Prom" by Barrie Stephen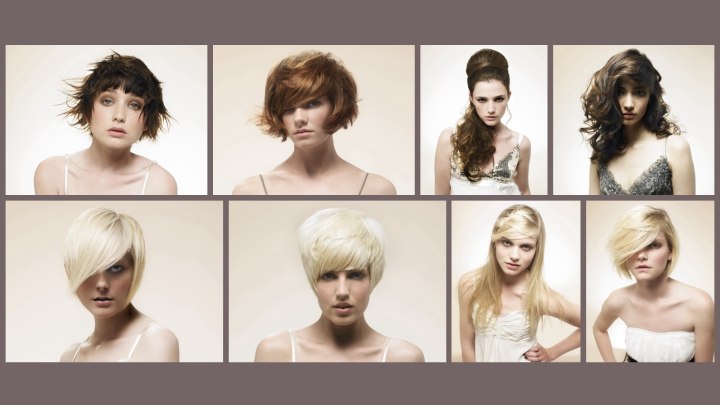 Scroll down for more photos ↓

Pretty prom meets Peaches Geldof. Think beautiful feminine clothes with a dose of attitude. Girls want it all. A "butter wouldn't melt' appearance with a slight naughty streak.

This is exactly what Barrie Stephen has captured with his latest divine hairstyles collection. Luminous skin and floaty fabrics highlight the natural beauty of the pictures.

But look closer, rock chick beehives, mussed up texture and the devil may care glances suggest that all is not as it seems...


Blonde Bob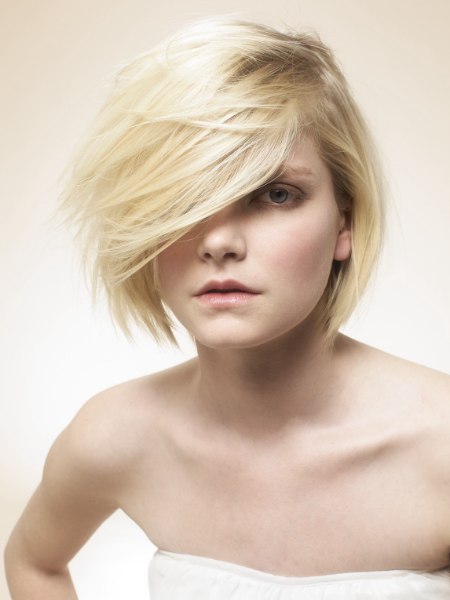 Bob goes prom and glam! Raise the hair and style it to the side for an haute coiffure look that won't be rivaled. Edgy, feisty and modern, this classic underwent a texture tune up. The sides and back are styled sleek and down, but all of the power sits in the bangs.

A very low side part enables the long bangs to fall over one of her eyes. It is then finished by "unstyling" and allowing thin strands to overlap each other in different angles. The lower cutting line is textured as well for even more spice in the baby blonde hair.


Blonde Crop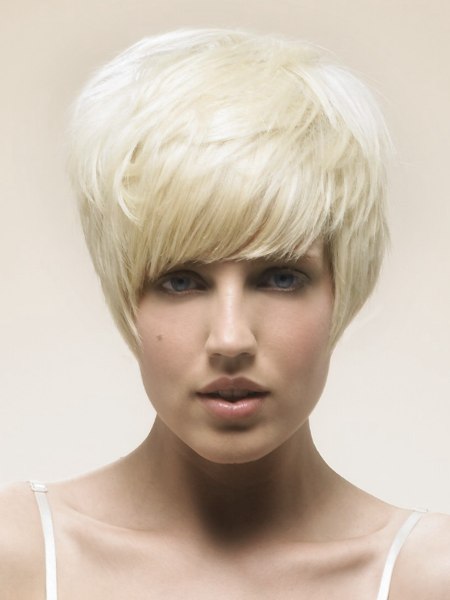 Prom hair goes retro with this high volume hairdo. Incredible volume was built on the crown while the demure sides are snugly hugging her face, barely covering the ears. Note how the line on the sides corresponds with her pretty cheekbones. It is a detail like this, that can take a hairstyle out of the mainstream and make it must-have irresistible.

The bangs are smooth and curved in the tips, thus making sure her eyes are well emphasized. The top volume is possible to the longer layers and skilled styling, a good lift to the roots and overlapping directions.


Mussed Up Short Hair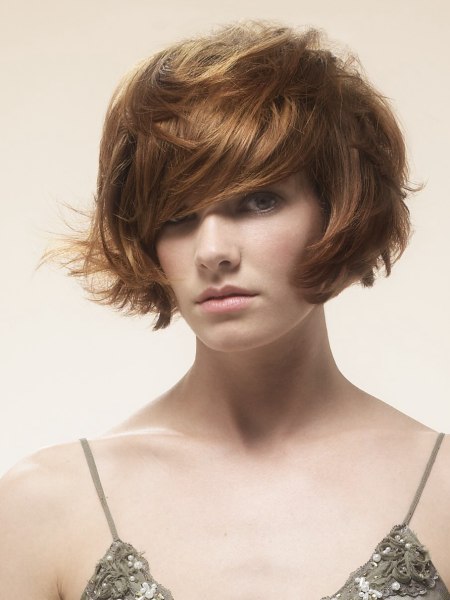 Layers in a bob are the source of all of this amazing volume and the contagious motion. You won't be able to spare a dance with this hairstyle. Chin length, thick and in a blushed blonde color, the night belongs to the sassiest of them all.

The almost dry hair was styled towards the front, the top was teased from underneath to generate this much body and then pulled to the front as well. A little mousse massaged into the hair results in the mussed texture and as a final touch, use some wax to accentuate individual strands and sections.


Easy Prom Hair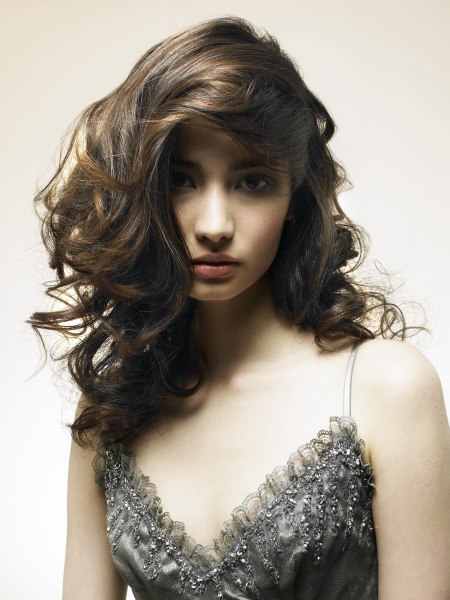 The best alternative to the classic up styled prom hair is a mane as powerful as this. Long layers are already in the hair and all that is needed is a good styling. As luxurious as it looks, the finish is actually quite easy and with some skill and perhaps another pair of helping hands, you might be able to do it yourself.

When the hair is semi-dry, apply some mousse and roll it all on large curlers. Draw a very long side part so that the mass of hair falls to one side. The curls are gently mussed and styled with the fingers for a natural feel and good definition. A bit of shine spray, or if you dare even a gentle mist of glitter will take this look out of orbit.


Hairband Style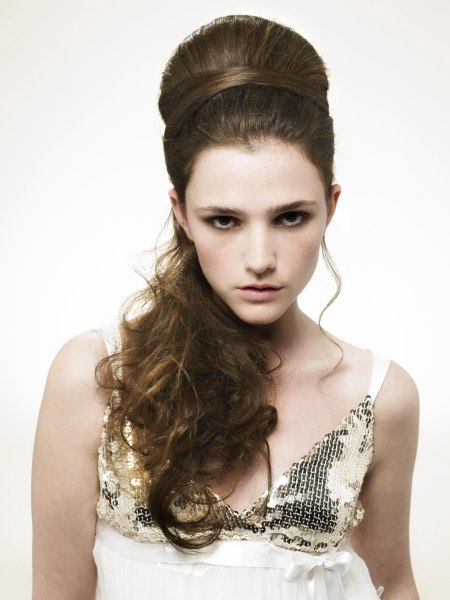 Half up and half down with a nod to the muses and goddesses of the ancient world, this daringly elegant style combines classic lines with a fresh finish. The top was bumped up to a round shape, held together by a hairband made out of a wide strand of own hair. For a fun effect this could also be done with a colored piece of hair extension.

The rest of the hair was then gathered to a low-sitting ponytail and swung to the front in all its tousled and curly glory. Make sure to use on thin, wavy strand as an accent next to the face. Romantic, but with a bite.


Loosely Plaited Hair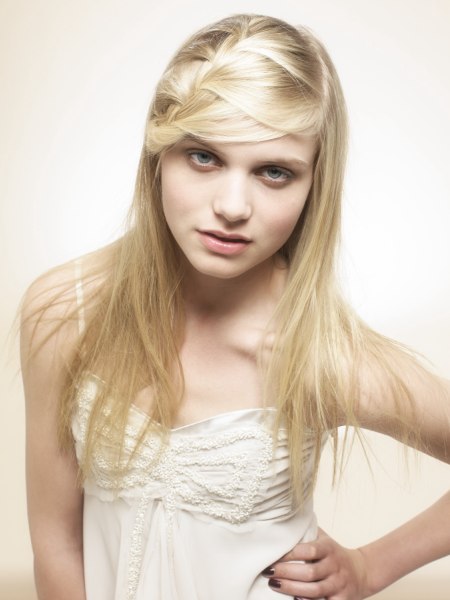 Something as simple as a braid can set you apart. Well, this braid is not simple, but it is doable with a little bit of skill. Now that you are inspired, have someone help you to loosely plait from the back toward the front all across the crown. It is a French braid technique with very wide strands.

The trick is to brush the hair very well and to separate the individual sections of hair neatly. Give it a slant in the line to that it runs from the center back to right beside her eye. The end of the braid is secured behind her ear.


Parted to One Side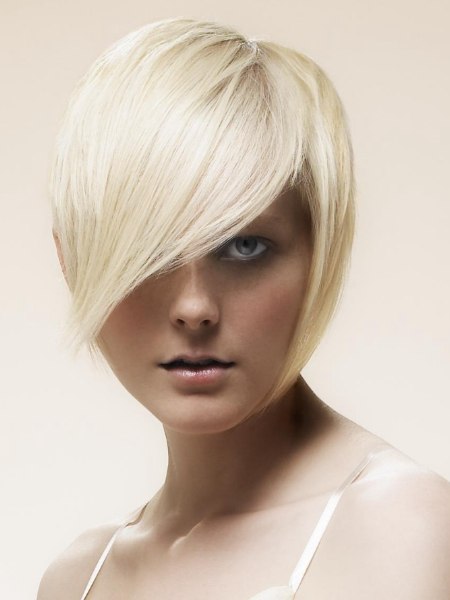 Side parts continue their popularity. In this short hairstyle the side cut divides the front into a broad petal shape that stands in for the bangs and a curved, sleek side. Minimalist shape and minimalist color will demonstrate your high sense for fashion.

The hair was blowdried over a round styling brush and guided towards the front. If it is not straight enough, use a hot iron to flatten it out. A touch of serum keeps the surface supple and free of rebellious flyaways.


Mussed Up Short Hair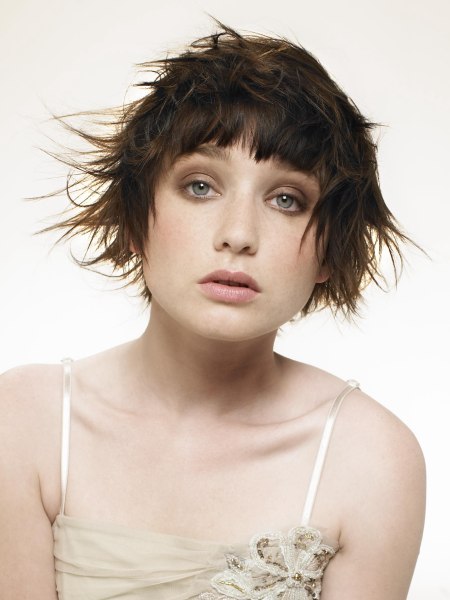 Sharpen those tips. Nothing looks more adorable than the new mussed up short hair looks with all of their layers and fun styling options. Wispy is the word and it is even more efficient when part of the hair remains sleek and neat.

Here it is the fringe that makes a nice and smooth change to the flipped up and out ends. It gives the hair a very finished and polished feel. Deep texture results in varying lengths and very gentle highlights boost the glam factor.

Hair: Barrie Stephen, Barrie Stephen Hair, Leicester
Photographer: John Rawson
Make-up: Liz Rochford
Clothes: Bernard Connolly

See also: Short hairstyles | Long hairstyles