New Glamour by BUNDY BUNDY

Scroll down for more photos ↓

When it comes to BUNDY BUNDY looks, New Glamour is more than just a catchphrase. It is a testament to innovation and creativity. Calling on inspiration from Hollywood's heyday and classic hairstyles from bygone eras, these styles use updated techniques and state-of-the-art styling products to create super-chic hairstyles that last.

The hair color is also a matter of classic looks brought into a modern era. These days, those classic colors like champagne blonde and mahogany browns are multi-dimensional and luminous with layers of tones and highlights and glossy, glassy shine.


Veronica Lake Look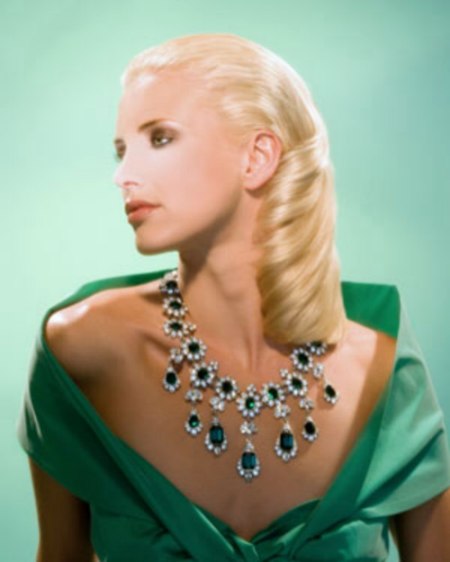 Veronica Lake would have been even more unforgettable had she been able to enjoy the kinds of hair color and styling available today.

This buttery blonde hairstyle is a modern revisiting of the classic page boy style. Styled to be swept smoothly back from the face, the hair curves into gentle loops that caress the neck and shoulders.

The vintage styling can be easily achieved by using a combination of a light styling product and a comb back technique with large rollers wrapped under.

Once dry, use a round brush to loosen the setting product and direct the hair into smooth rolls of curled hair.


Close-Fitting Up-style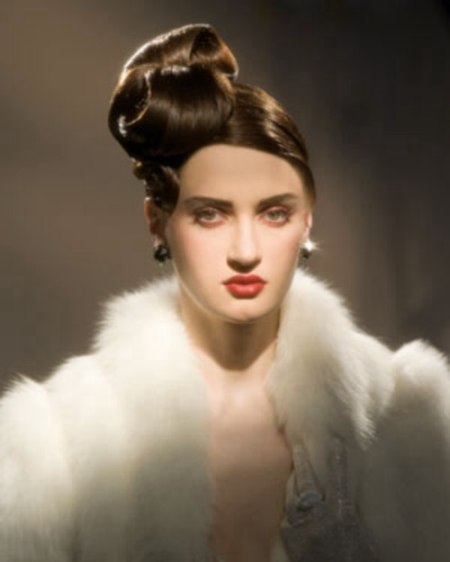 This smoothly sculpted style includes a sleekly close-fitting cap of hair topped by a double-swell of hair. The up-style portion of the hair is likely crafted using accessories that will make the hair appear fuller and allow the hairstyle greater structural stability and hold.

The rich coffee color is glossy and reflective which gives depth and dimension to the hair. Be ready to turn heads.


1950s and 1960s Hair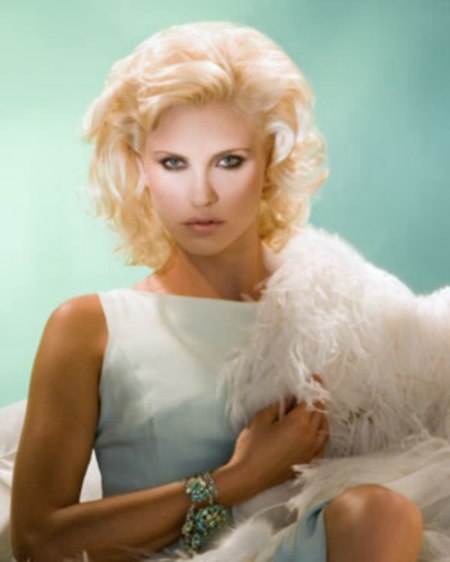 Glamour at full volume is evident in this layered hairstyle which calls to mind the sexy sirens of the 1950s and 1960s, such as Marilyn Monroe and Jane Mansfield. Large and medium rollers wrapped in a custom arrangement for maximum volume create a look that is "larger than life".

While similar hairstyles of yesteryear would have been combed and teased into a fluffy meringue, today's styling is focused more on definition and direction in the curl.


1980s Men's Hair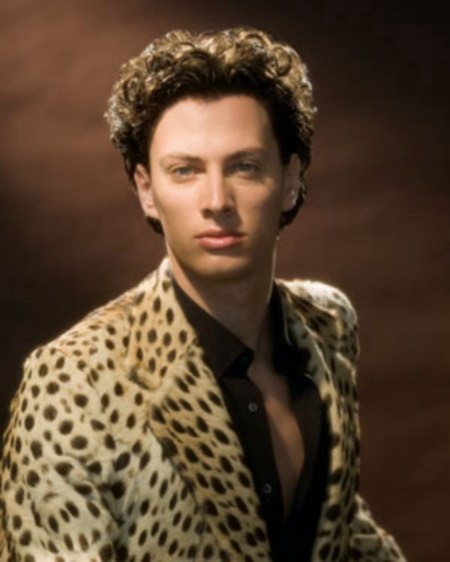 Here's a look for men that hearkens back to the "big hair" days of the 1980s.

With a traditional cutting line around the forward perimeter - including a longer fringe area - the style is longer in the top, crown and nape to take advantage of the hair's natural wave. The sides of the hair are tapered in order create a balance of volume.

Styling should be soft, using a light hold product and leave-in smoothing serums to maintain the integrity of any natural curl.

Using a blow-dryer with a diffuser attachment and the fingers will help to ensure the hairstyle you desire. Mist with hairspray and scrunch gently for definition in the finished style or a light application of spray laminator will add extra shine.


Long Satiny Hair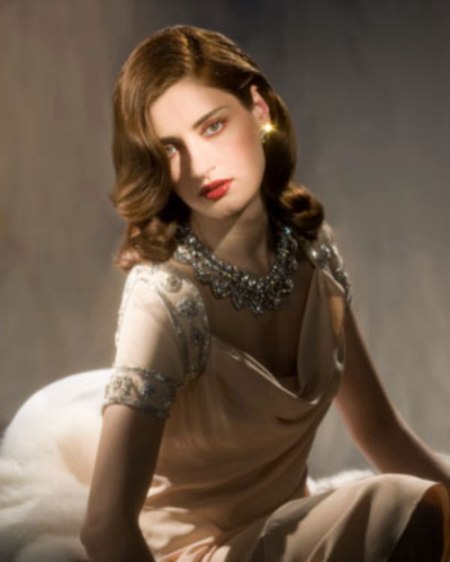 Rich brown color creates a perfect fabric from which to create this long satiny hair. Minimal layering around the face creates a look that is both flattering while remaining substantial. Styling features a side parting that is cleanly defined and long, flowing waves to give visual interest and a sultry look to the hair.

The hairstyle is elegant and romantic and would be as suited to the spotlight of the stage as it is to the soft glow of candlelight across a dining table.


Classic Bun Hairstyle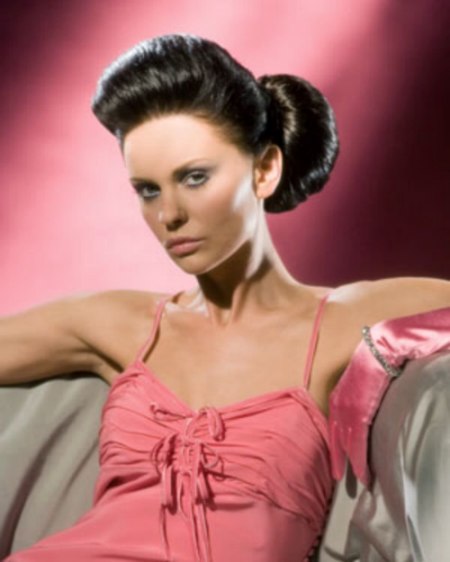 Here we see the rise of the classic bun hairstyle. The ebony strands are highly glossed and swept into a full-volume rise in the top and side sections while the trailing length is gathered with the crown and nape into an enlarged swell that is a blend of a bun and French twist.

The hair could be enhanced with an accessory to fill out the volume of the hair or the hair itself may provide a sufficient volume amount.


Hair Combed Back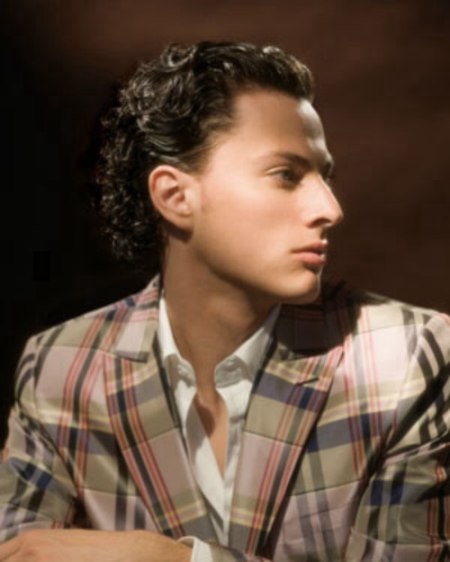 The 1980s men's haircut is shown here with a different styling focus. The hair is treated with a firm hold product and combed loosely back to direct the hair without drawing out the natural wave and curl. The result is a visually interesting hairstyle that is as chic and elegant as it is easy to create.

The "wet look" is almost mandatory for this type of styling and can be refreshed if the hair gets dry and "fuzzy" by misting it with hairspray (or even water) and can be gently scrunched to redefine the curls.


Topknot and Fringe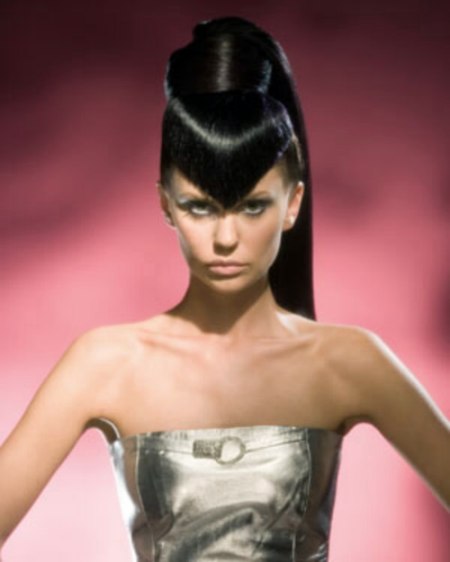 In the 1960s, Barbara Eden turned heads on television's I Dream Of Jeannie wearing her hair in a tightly drawn topknot with a blunt cut fringe. (Of course, the skimpy little pink and burgundy midriff outfit was responsible for a lot more attention.)

The topknot style seen here is traditional in its basic styling - tightly drawn sides, nape and crown pulled to the back of the top section, wrapped by lengths of the hair, while the forward half of the top section is combed forward as a fringe with a sharply pointed shape.

This hairstyle most likely incorporates additional hair extension wefts in order to give sufficient density and length to the style.

Hairstyles: BUNDY BUNDY Artistic Team

See also: Medium hairstyles | Long hairstyles | Up styles | Men's hairstyles