Medium Hairstyles by La Biosthetique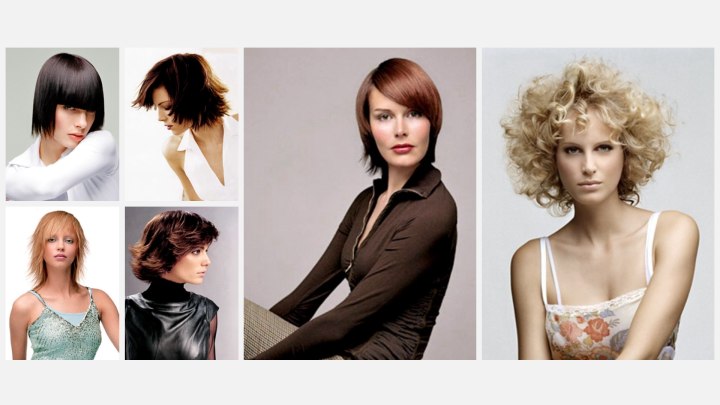 Scroll down for more photos ↓

Somewhere between the chin and shoulder is the magic medium length. These haircuts give you all of the advantages of short cuts, but come with the movement, bounce and volume of longer hair. A great way to get the best of both worlds.

Many women choose medium hairstyles as a transition between long and short or vice versa, but you might just like your new cut so much and keep it for a very long time.



In this collection, fine layers are used to build shape and structure. Tips are softened by point cut textures and the bangs are prominent, skimming the eyes and ever so trendy. Wearable looks with an edge and a very feminine flair, customized to the individual needs and wants.


Eye-Skimming Bangs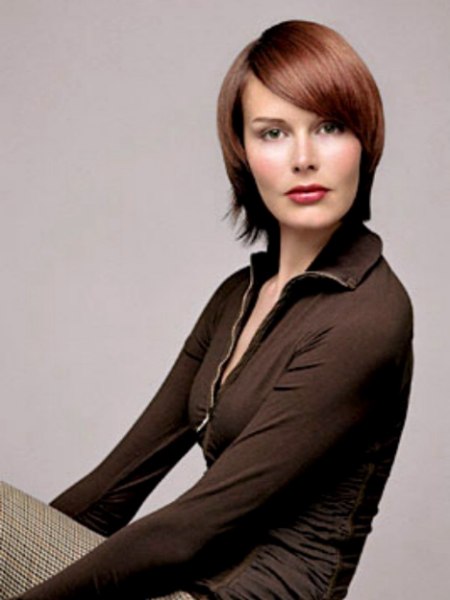 Neat curves are cheered up by some textured and flipped up ends. The length reaches to the middle of the neck, allowing shirt collars to be visible even when they are turned up. Elegant lines mix with feisty texture and above all, this haircut is very easy to style at home.

A little smoothing lotion is essential to keep free hairs from flying around and disrupting the serene surface of the reddish brown cut. A little volume was built on the crown during blow drying the hair. A little flip in the lower section makes it playful and brings in a cheerful element of spontaneity.


Collar-Grazing Hair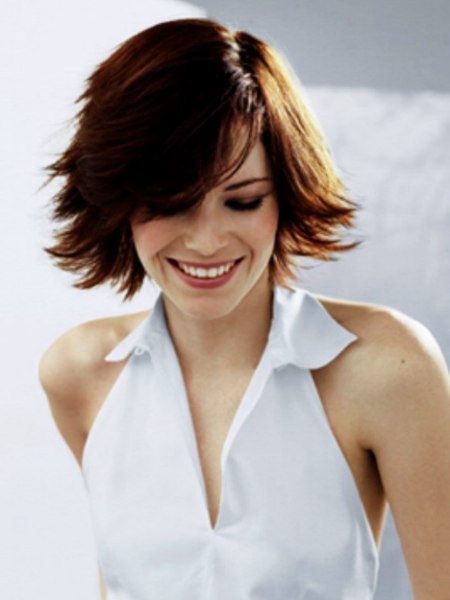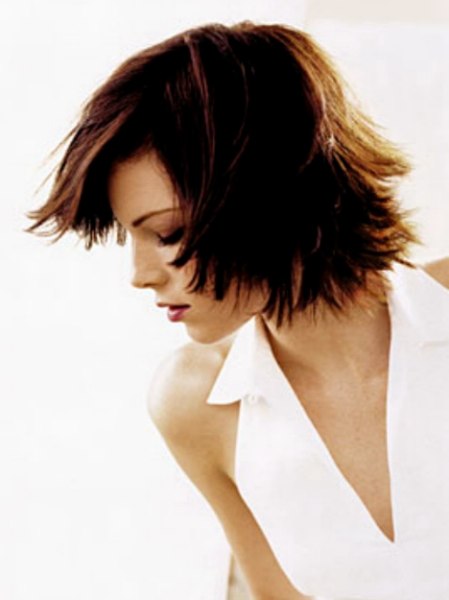 This collar-grazing haircut is very charming. The upturned ends have been created with strategic layering through the hair. A great style for medium-thick hair.

This not too short hairstyle lets you expose the collar of your beautiful blouse to the fullest without giving up too much of your hair length. A lovely mid-length hairstyle for a summery look!


Pupil Level Bangs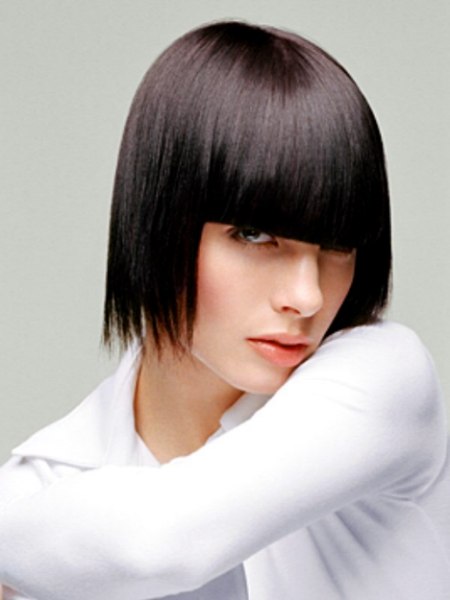 Bangs and texture take a medium length, pitch black bob to a new level. The fringe is squared with a straight line and strong corners. It is cut just short of pupil level. But it gets even more intriguing.

Heavy splicing puts intense texture in the side. Jagged and soft they are now the total opposite of the rest of the cut with its smooth and graphic lines. It is an intervention on geometry, close to a rebellion. Yet it is in unison that both extremes come out to their best potential.


Upturned Ends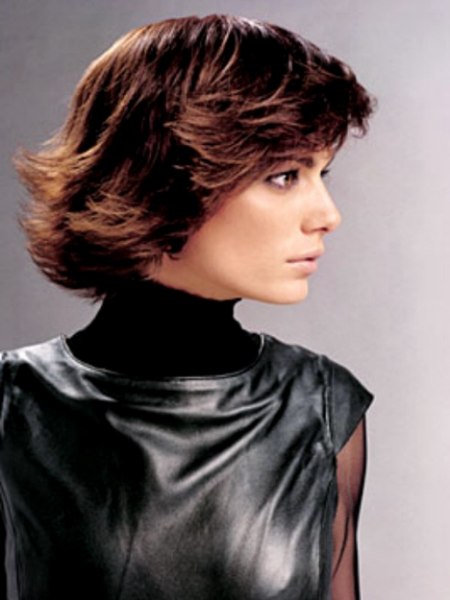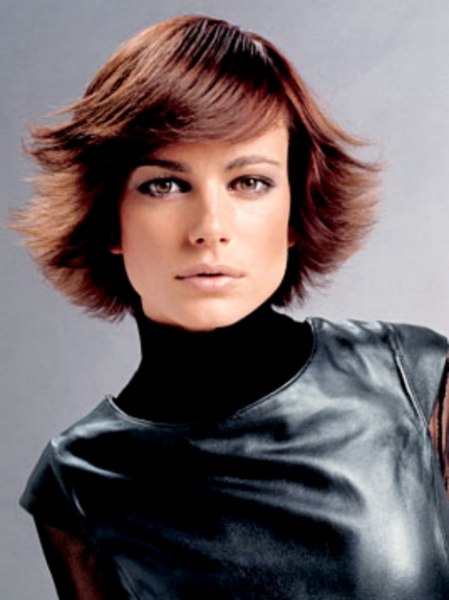 Lisa Rinna wowed us all with her beautiful short and medium looks. This hairstyle is very similar to hers and features layers and distinct texture throughout. The cut is then styled with an outward flip along the edges. A texturing technique called splicing keeps the ends light and wispy enough for this dynamic effect.

Long side-swept bangs are feathered for more movement, and they also bring much attention to her eyes. A perfect cut especially for thick hair that needs to be lightened up and controlled.


Long Flippy Nape


A beautiful medium length hairstyle with long layers around the face, fringy bangs and a long flippy nape. This flattering look is youthful and inspiring. The fine texture all throughout and the many layers are essential for the light and feathery look achieved with the edges turned outward.

A hairstyle like a fresh summer's breeze! Her hair color is a mild strawberry blonde with very thin blonde accents. The bangs are also kept very light and are cut slightly diagonally. Best news is that this cut is great for all face shapes!


Curls with Maximum Volume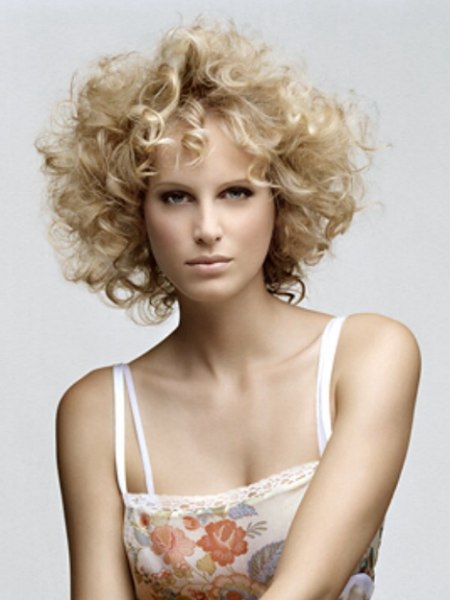 Natural or permed - no one has to know. All that matters is that you love your curls and others will too. For this glorious halo of blonde radiance, the hair was cut to layers that have the same length on top and in the neck areas, but blend in with slightly longer sides. This makes for the round shape and the angelic and ever seductive texture.

When blow drying make sure to use a diffuser attachment and then separate the curls with your fingers. Curl enhancing products are always a good idea to shape out the little ringlets and to make the style last and last and last.

Hairstyles: La Biosthetique Paris

See also: Medium hairstyles