Lisa Rinna's Hairstyle
Q: What is the exact cut for Lisa Rinna's hairstyle, and how do you blow-dry it after you get the cut?

A: Lisa Rinna has actually had several different hairstyles over the years that she's been on television, so I'm not certain which style you mean. However, I want to be helpful so I found this photo of Lisa Rinna. If this isn't the style to which you were referring, all I can say is that you will need to be a little more specific in the future.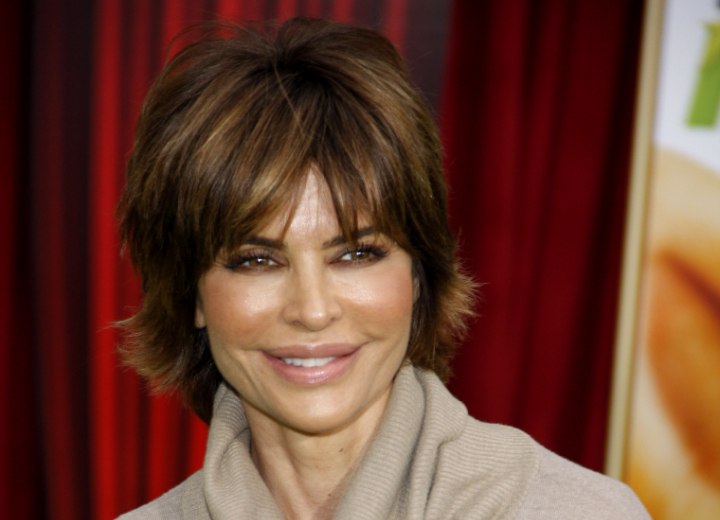 Click to enlarge

The hairstyle Lisa Rinna has in this photo is a modified shag haircut with razor texturing on the sides and back and styled so that the ends curve outward. The hair is cut with a softened weight line around mid-ear length and the lower sections are given long-angled layers. The bangs are rounded and lightly razored for texture, and the style is given an off-centered parting.

To blow-dry her usual style, you want to use a diffuser and your fingers to hold the hair out from the scalp and provide extra "lift" then use a low-speed fan setting to blow the ends of the hair in the direction they grow. This will help keep the hair smooth and shiny. Be sure to use an appropriate styling product on the damp hair before you blow it dry. The ends of the hair are turned outward using a round brush while drying. Use a small amount of styling product spread evenly over the fingers to add a little definition to the "points" of the hairstyle.

Your stylist should be able to duplicate the style Lisa Rinna has if your hair is similar in texture and density (she has very dense hair, meaning that she has a lot of it). All you need to do is find a photo of the style you want and discuss it with your stylist to determine how to achieve the look for your own hair.

©Hairfinder.com


Related posts:

Lisa Rinna hairstyles

Photos of the latest short hairstyles

The good and the bad about razor cuts

Classic short celebrity hairstyles