Wedding Hair & Up Styles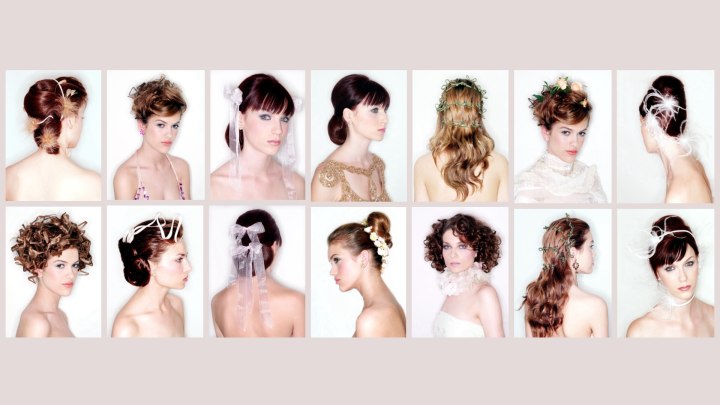 Wedding hairstyles and up styles created by Peluquerías Madrigal in Madrid, Spain.


Festive Hairstyle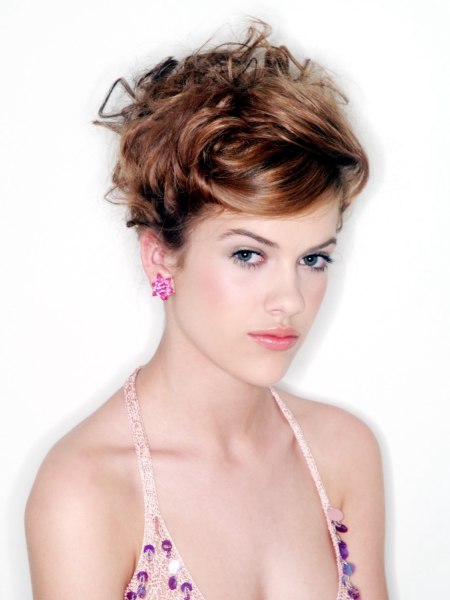 This festive style with an edge works well with medium length hair. All hair is swept upward around the head and invisibly fastened with combs or hairpins. The long bangs are arranged in a soft and flattering curve. Pull out some of the ends and give them an edgy structure with a flat iron.


Big Romantic Curls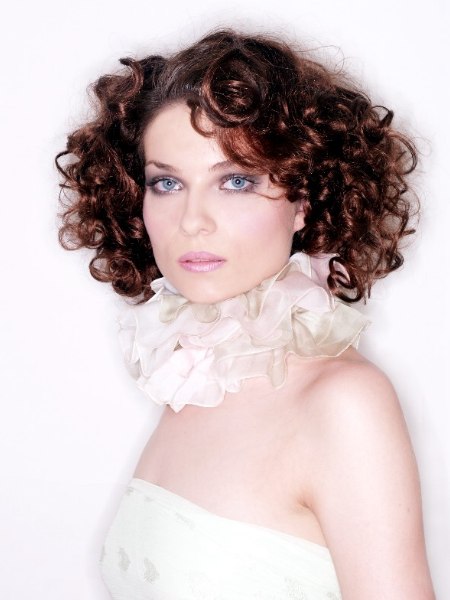 Nothing is more romantic than big open curls hugging your face. It's easiest to achieve this dreamy look with a base of natural curls that are tamed and brought into shape with a curling iron.

For flat hair you'll need a set of good rollers. Use the larger ones and roll the hair up tightly. Do not brush or comb, but pull curls apart with your fingers. Add a light shine spray and you are ready for your special day.


Banana Bun Up-Do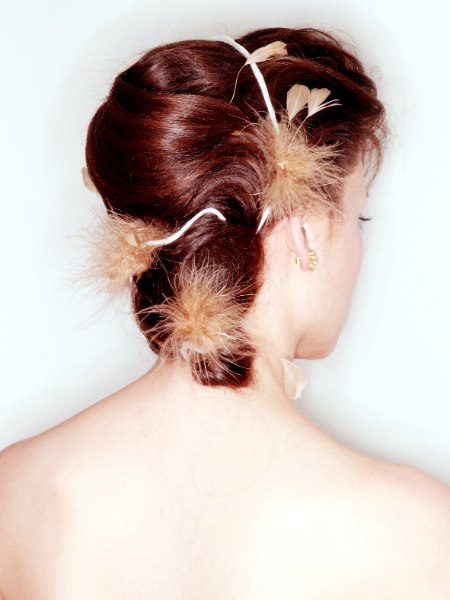 This sophisticated up-do looks more complicated than it is. Long hair is swirled into a large and loose banana bun on the back of the head. A lower portion is loosely braided and tugged under.

Decorate this hairstyle to your hearts delight. Feathers and ribbons work great as seen here. Flowers or jeweled pins are equally precious.


Long Hairstyle with Ribbons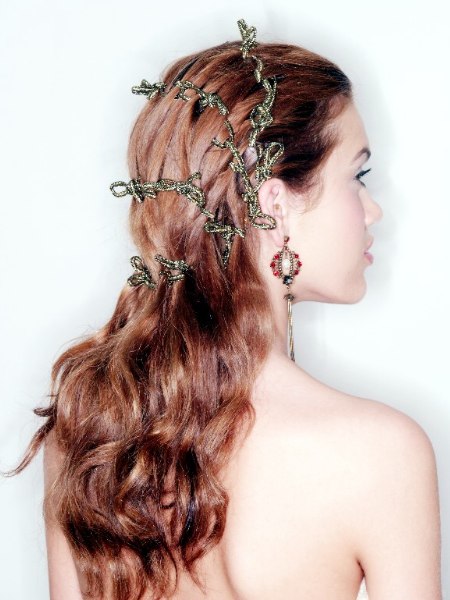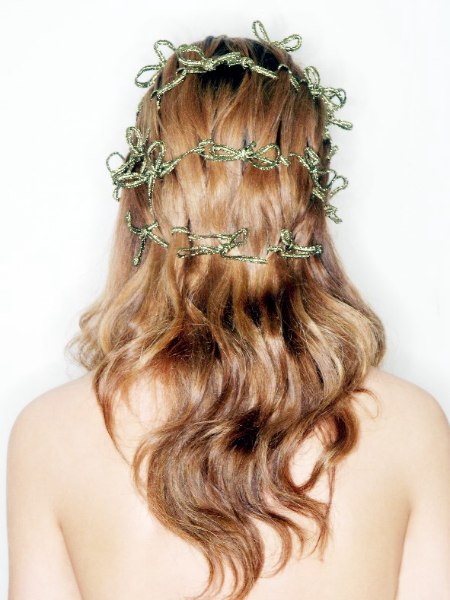 Make it a fairy day to start your own fairy tale! Brush your well conditioned and washed hair until it shines, then take ribbons, best are the ones that have a tiny wire inside, and tie small bows around inch-wide strands of your hair, starting on top of the head.

Incorporate all the hair from the sides as well. Make sure that you interweave the same strands with the next row of bows.


Hairstyle with a Special Twist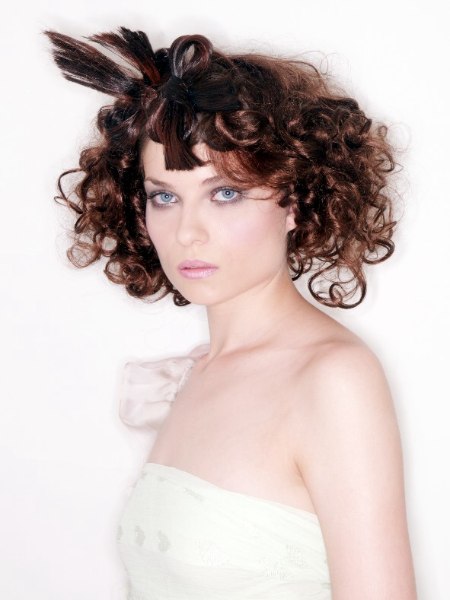 For an unforgettable appearance go with the romantic curls but ad a special twist to them. Medium long hair is rolled over curlers and heat set for better endurance of the style.

Use your fingers to separate the curls and to give it all a lightly untamed look, then pin on a stylish hairpiece over your forehead, in this case a bow in two colors, one of them the natural color of the model, was used.


Classic Up Do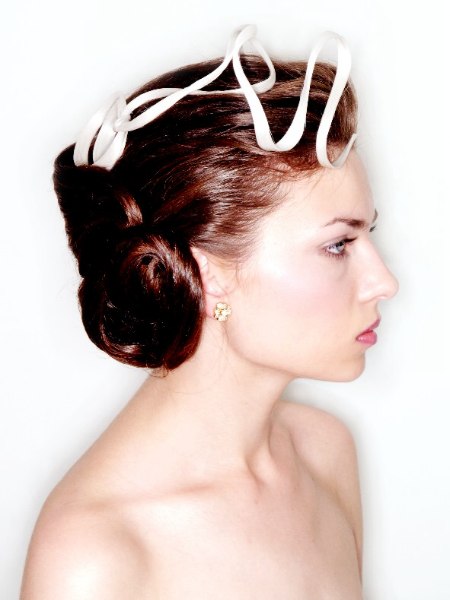 Classic look with an artistic touch. Minimalism as elegant as it can be. A classic up do, a sleek and shiny roll in the back of the head that holds all the long hair neatly together is decorated with a white satin ribbon that is loosely draped from the back of the head to the front. Think about the lines of Miro or Kandinsky and get inspired!


Bun Wedding Hairstyle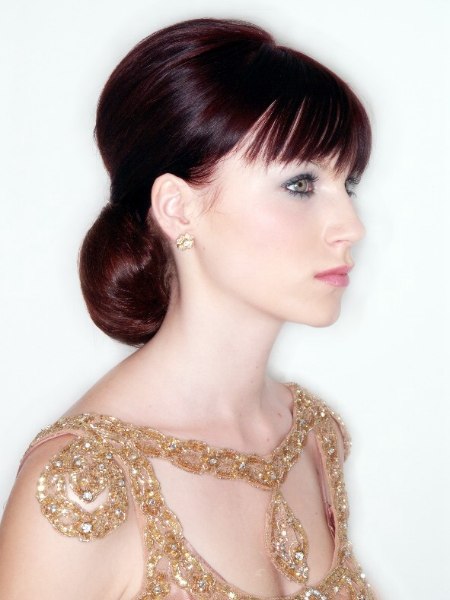 Buns don't have to be boring. Enchant with a classical style that brings all the attention to you face and lets you feel comfortably stylish before, during and after your wedding.

The hair on the back of the head is teased to have an extra body, then combed flat and shiny before the lower part is put into a pony tail and tugged under. Slightly feathered bangs bring a playful element to it all.


Updo with Flowers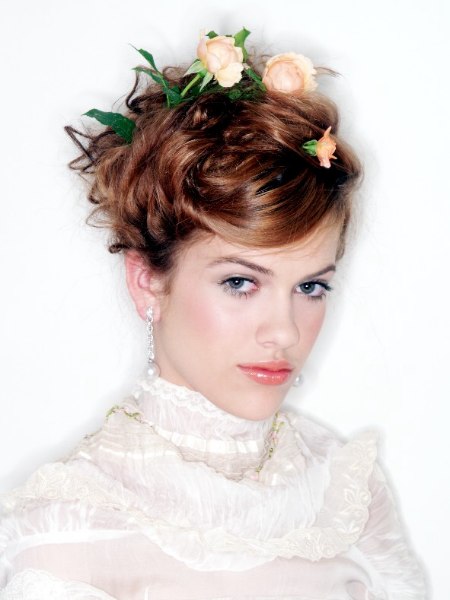 Who needs a veil when there are flowers to wear in your hair? The beauty of this updo lies in its organized randomness. The flowers are not pinned into a straight row, but in different places over the top of the head and close to the bangs that are pinned upward together with the sides and the back of the hair.

This style works great with any hair, from medium to long. Just pile it up and put in your favorite flowers.


Ponytail Bun with Bows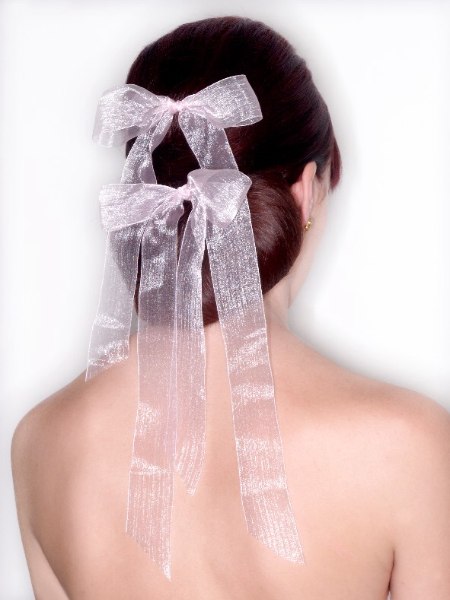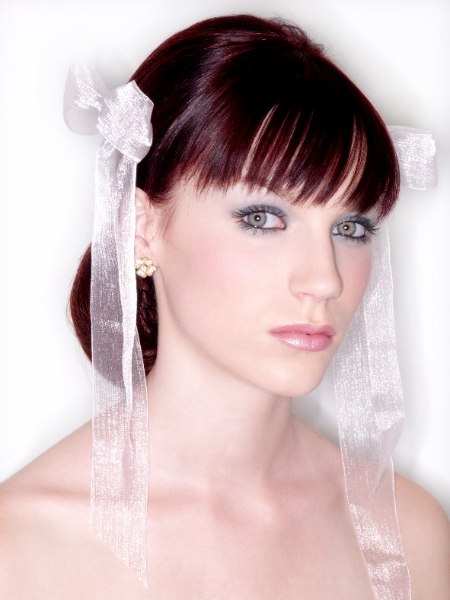 Audrey Hepburn could not have worn it better. This ponytail bun has been a favorite for decades and is a great sophisticated hairstyle in any environment. You can never go wrong with this look even for a wedding.

In this case it is made festive with two long shiny organza bows that can either be pinned into the back of the hair or onto the sides.


Sci-Fi Look Hairstyle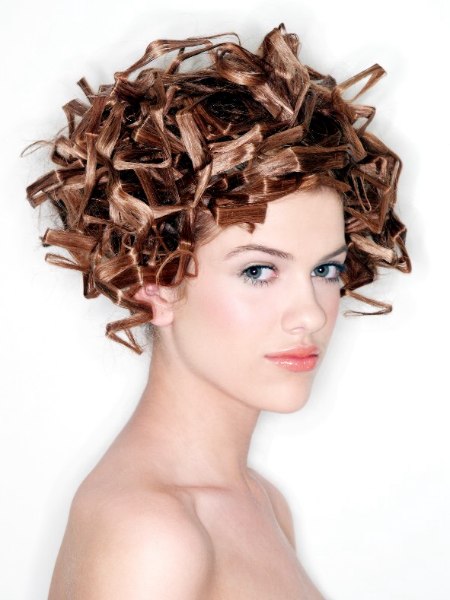 Sci-Fi look for the daring ones. Take your curls into the future and create this extravagant hairstyle for your wedding. This works best with medium long hair. Individual strands of 1 to 2 centimeters width are curled with a flat iron, which gives the curls that certain edge.

After all the strands are done, do not comb or separate them too much. Just push them in place with your fingers and ad a generous helping of hair spray to give it extra hold.


Turban Up-Do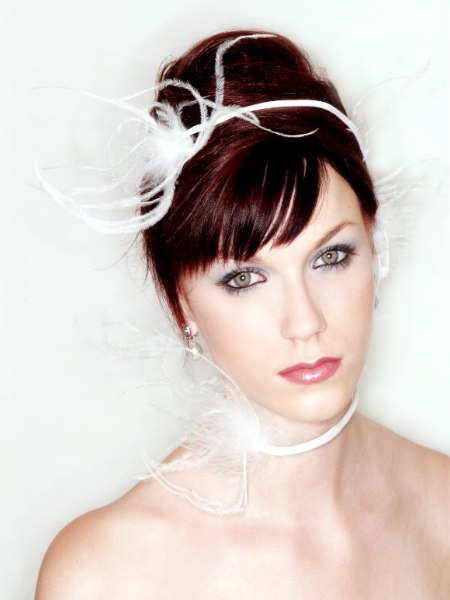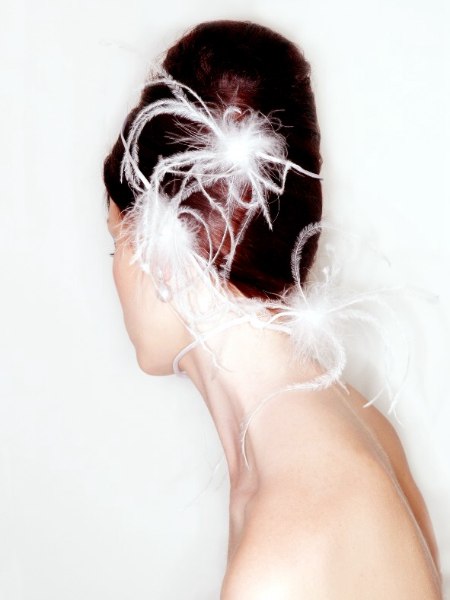 Look like a fairy-tale princess! On your wedding you should be the most beautiful fairy around - this is the style for you. Long hair is rolled up into a neat turban up-do on top of the head.

A classic and sophisticated style that is given a new touch with a feathered ribbon that is wrapped around the head and also the neck.


Hairstyle with Roses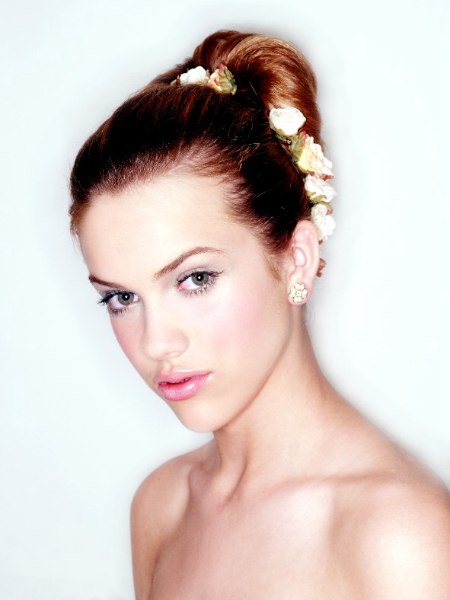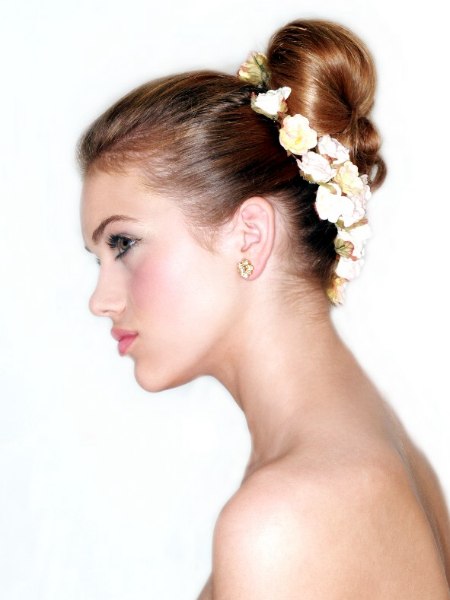 Flowers in your hair create a dreamy and romantic look. Bring out your tender side with a wreath of small roses that is wrapped around a lofty bun with most of the flowers covering the back of your head, cascading down to the nape of your neck.

Hair and Make-up: Madrigal, Serrano, 63 Madrid, Spain.
Photographer / Fotografo: Miguel Oriola

See also: Medium hairstyles | Long hairstyles | Up styles