Voltaire Couture Collection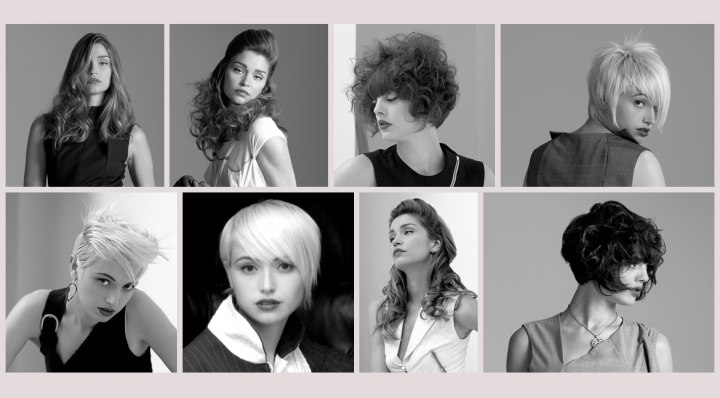 Scroll down for more photos ↓

This hairstyles collection is dedicated to Adrian Wood, creative director and co-founder of eye'candy, who sadly died in December 2005.

Inspired by the elegance of aristocratic beauty from a bygone era, this collection combines womanly silhouettes with the innocence of youth. Classic styles take unexpected twists with fairytale curls and light, playful textures.



Effortlessly sophisticated and luxurious in their finish, these looks encapsulate eye'candy and share the values we stand for: inspiration, individuality, accessibility, credibility and clarity.


Sweet Fringe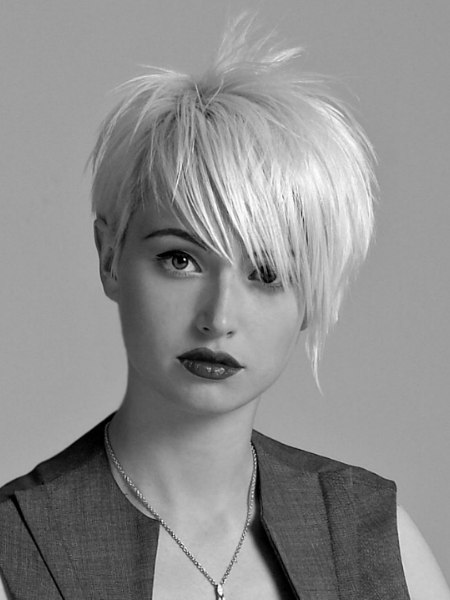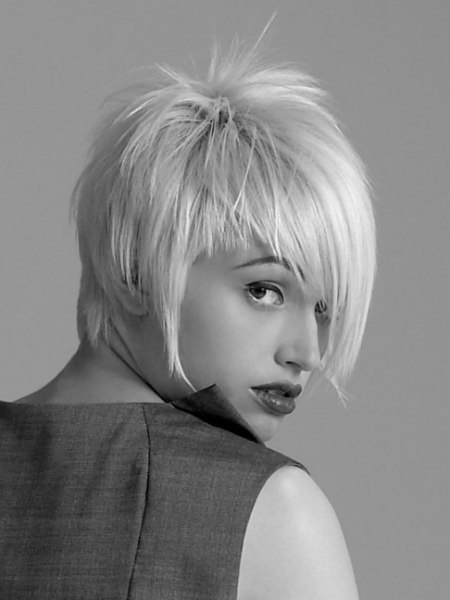 A certain amount of mischievousness suits even the most refined women. This much texture in a chic short haircut is just the right thing to express the free spirit that lives inside. A beautiful floral shape unfolds its splendor in a light blonde glow and with increasing lengths in the layers from top to the adorable little tip at the lower end of the bangs.

Asymmetrical, diagonal and softened with a point cut technique, this small pixie has big impact. Wear it with a gently tousled styling and spiked up sections of hair or smooth it out as shown in the next image.


Silky Short Cut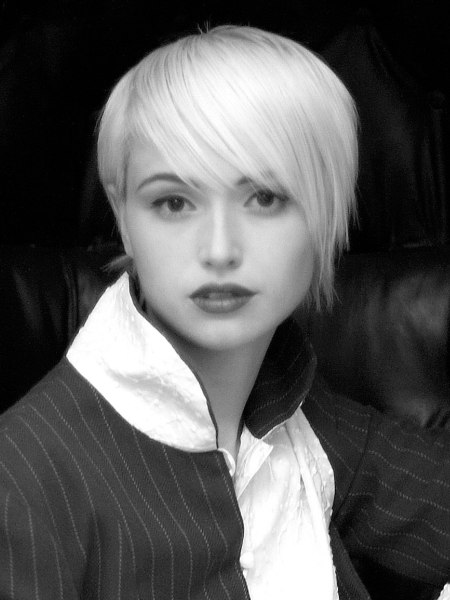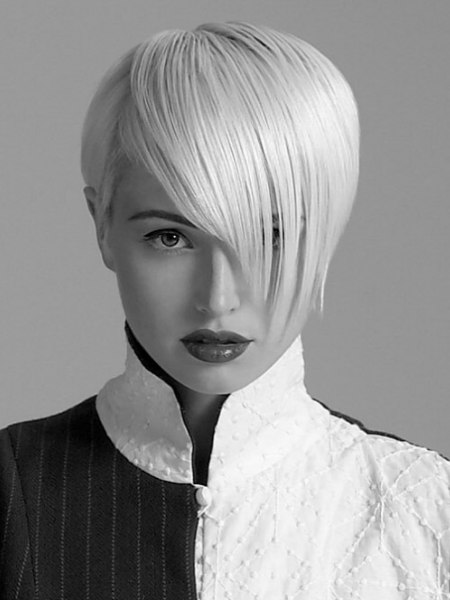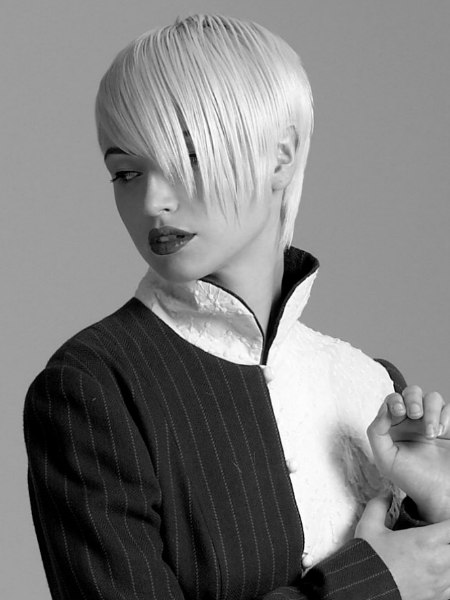 Fresh spun silk is perhaps the only material that would equal this charming short hairstyle in its softness and arresting appeal. Short in the back and jaw-length in front, this flattering hairdo makes it clear that she is unique.

Fine texture throughout in the tips makes the edges this soft, an effect that is far enhanced with the baby blonde hair color. The asymmetry is achieved with a side part and different lengths on both sides. Tug one side behind the ear for even more adoring looks.


Party Styling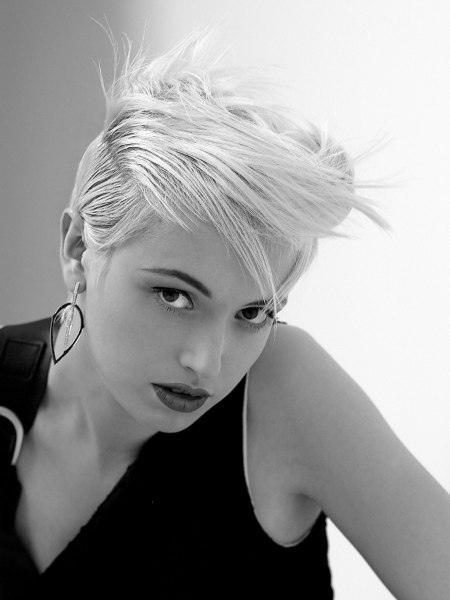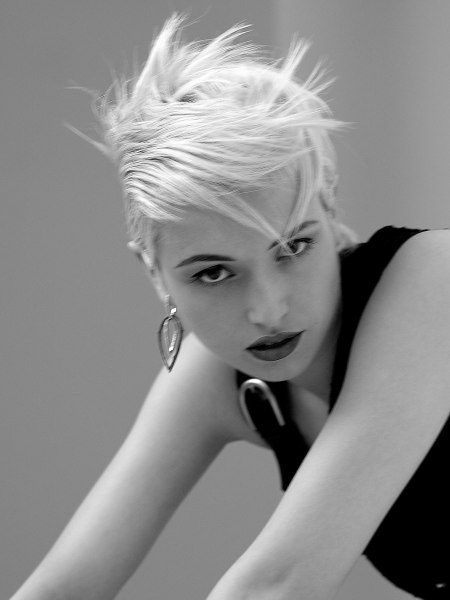 What to do with a short haircut to get it ready for a glamorous night and the party of the year? Check with your stylist about which are the best styling products for your hair type and then get creative! This alluring example features sides combed down and behind the ears, while the longer top hair was styled to the top, then front, then all around in a wild rush of blonde.

Another accentuating strand on her forehead moves into the opposite direction. Get inspired and play with your hair. Overlap it, layer or spike it up. Gels, pomades and waxes are the weapons of choice.


Brunette Bob with Curls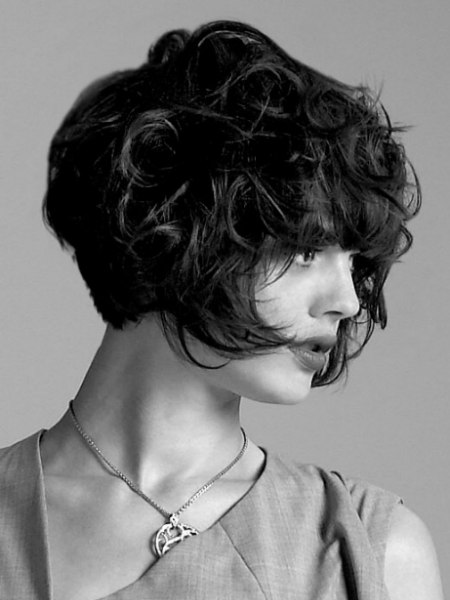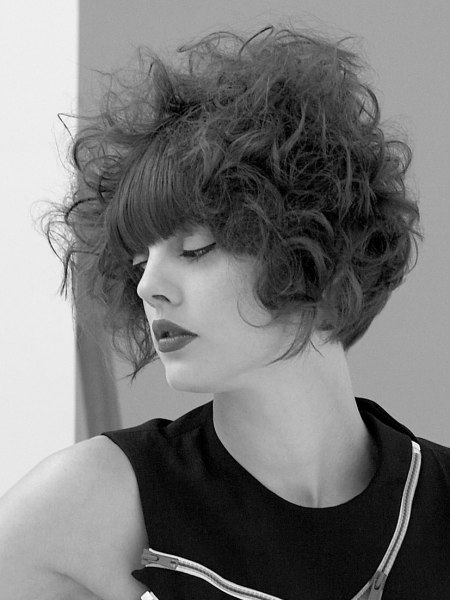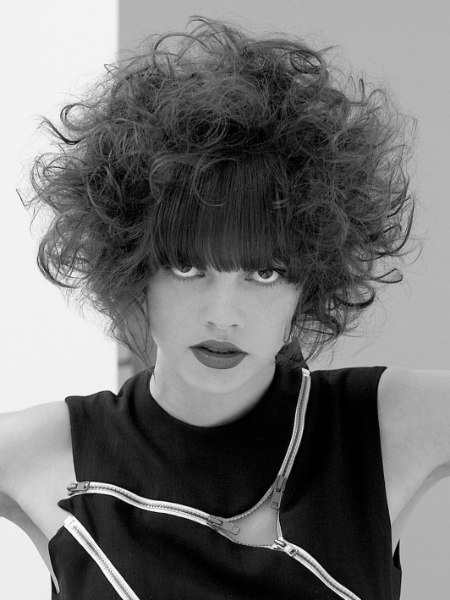 Show off your pretty neckline with a short, but high volume bob. Large curls and sleek bangs up the ante and display a sight of seductive elegance. Posh and sexy, a hairstyle that does not even try to be humble and low maintenance. But it is all worth it.

The neck is short, sexy and graduated. Topped by hands full thick, luscious curls and all brought to perfection with the front tips that are curved into the face. As a thrilling contrast the thick and straight cut fringe remains straight.


Noble Simplicity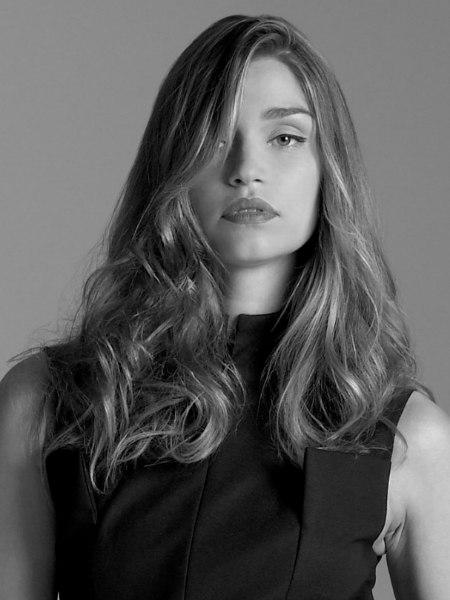 When it comes to long hair, less is very often more. Keep the hair healthy and shiny and give it a good cut regularly and you are halfway there. This sophisticated image of long hair grandesse turned this stunning with the side part, resulting in a long curved fringe, as well as the large waves and curly action in the lower areas. Sleek and neat on top turns into churning passion, illuminated by subtle highlights.

After blow drying the hair can either be shaped with a curling iron, or thick rollers. A curl enhancing mousse and scrunching alone can suffice if there is a little bit of a natural wave pattern in the hair already.


Upstyled Bangs and Spirals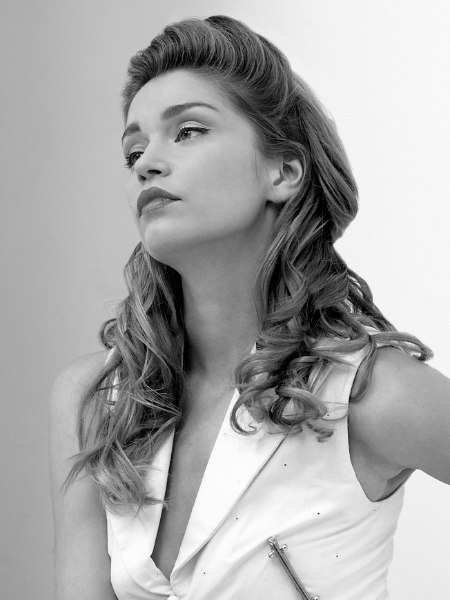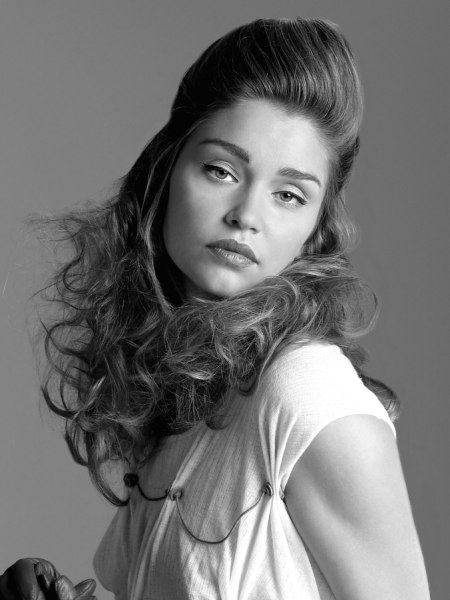 Long hair all dressed up! Get ready for the cocktail party or the day on the yacht with a face liberating look featuring a lifted fringe, that is softly shaped and pinned on top. The remaining hair was curled to long corkscrews and just a little bit tousled.

Elegant and yet effortless styling with emphasis on round shapes, wide curves and feminine flair. The expression is vintage but with a modern finish.

Hair: eye'candy artistic team
Photography: John Rawson
Styling: Bernard Connolly
Make up: Liz Rochford

See also: Short hairstyles | Long hairstyles