British Hairdresser of the Year 06/07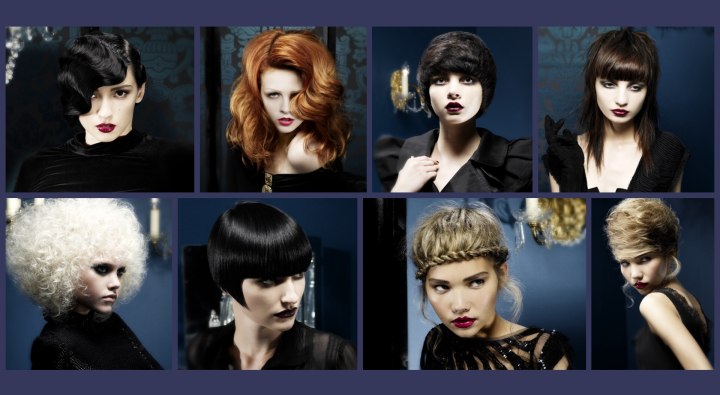 Scroll down for more photos ↓

The savor of royalty comes in many shapes and hairstyles and Hob gives a hint of fine taste with the finesse of sensual rolling red hair.

There are deep black waves that dominate the face, while others dare to make a bold statement of volume or straightness. These plucky hairstyles bring a revolutionary edge to the platform you do not want to miss.


Semi Spiral Curls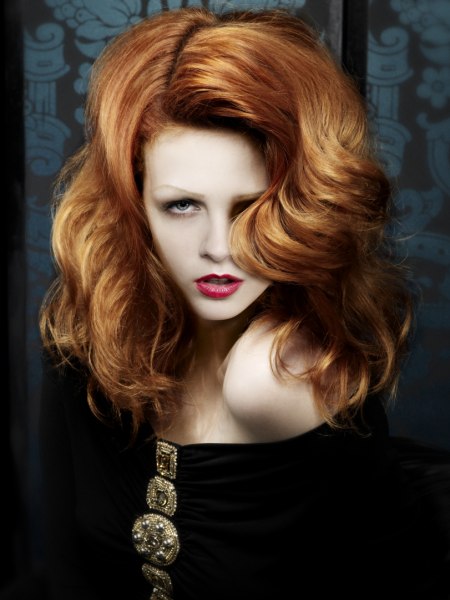 This redheaded lady rebels at the thought of being tamed. A high side part that tips into her crown reveals thin slices of gold running throughout heavy thick semi spiral curls that bring a noticeable wave. Gel and gloss for luster should be used for this beautiful long hairstyle.


Vintage Cap Cut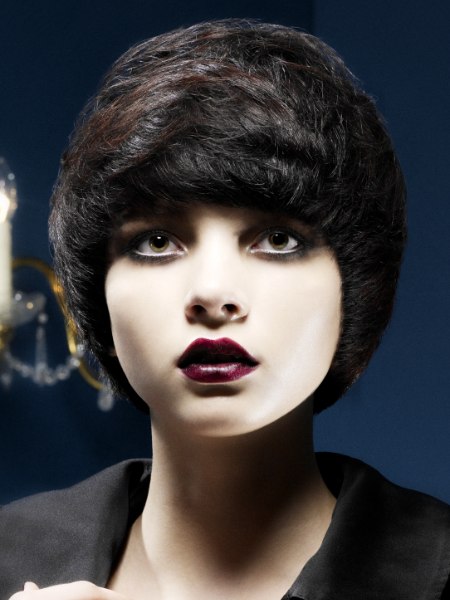 The vintage of silent movies bedazzles us with this short layered cap cut surrounding the model's face, covering the ears and in complete harmony along the nape. The hair is brushed toward the face, with one part combed over as if an ornament. Light styling spray would be favorable for this hairstyle.


Deep Rich Waves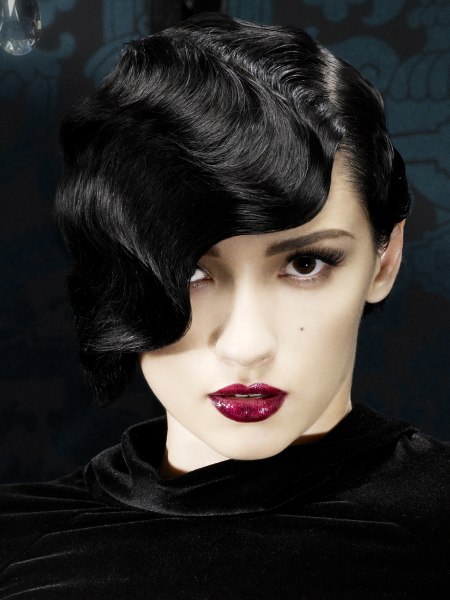 Like that of a sleek panther discerning your every move is this model who has short and slick black hair exposing her ears and the enticement of deep rich waves that cover one side of her face. A generous application of gel for the waves and slickness will bring success for this lush style.


Platinum Blonde Afro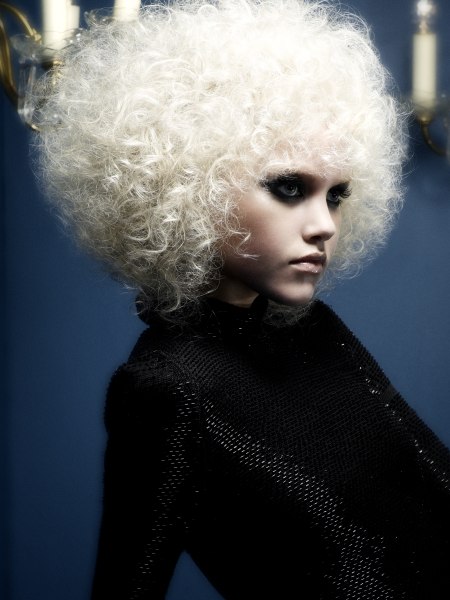 Scores of curls and swirls in billows of fluffy volume make an impressive statement on this white platinum blonde hair. Fashioned in layers with a good moisturized permanent will bring this desired result. Use a good curl activator and semi-dry.


Very Short Retro Bob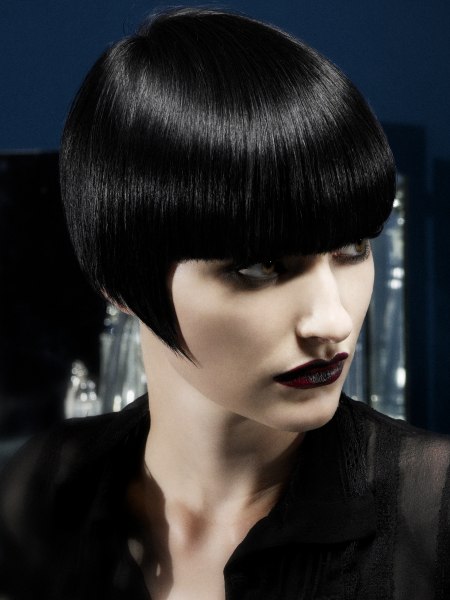 The plumb line falls straighter than possible in this ingeniously smooth and slick bob haircut. All lines have been edged direct, sharp and blunt. The use of a heavy gel while drying will bring this unique and very short bob. Spray gloss for the polish effect.


Straight Razored Shag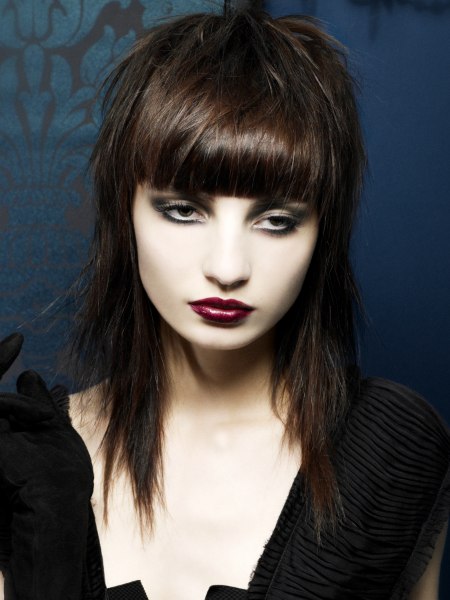 The artistic movement of a straight razored shag is seen flawless with the bangs in a heavier position covering the entire model's forehead. The length hits just below the shoulders in sprays of fray, keeping completely in sync with the definition of the hairstyle. Light sprays of styling lotion should be on target for this unfailing hairstyle.


Medieval Times Hairstyle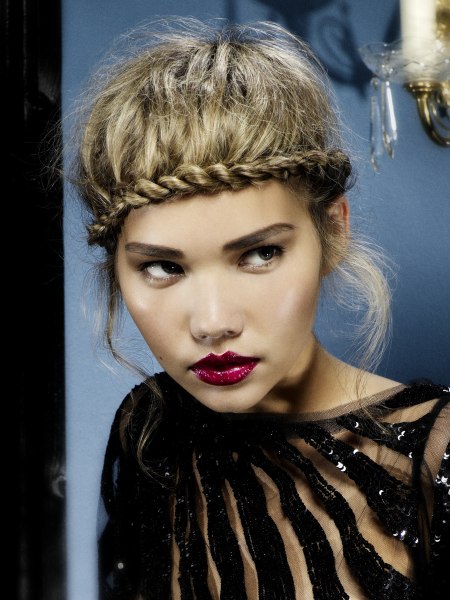 The braiding arrangement of unconventional hairstyling is on stage with the pouf on top and the front with the majority of hair in the back. The braid is wrapped around the head as if a head band and gives the touch of medieval times as she waits for her knight in shining armor. Use a light hair crème to style the braid.


Wisps of Free Curls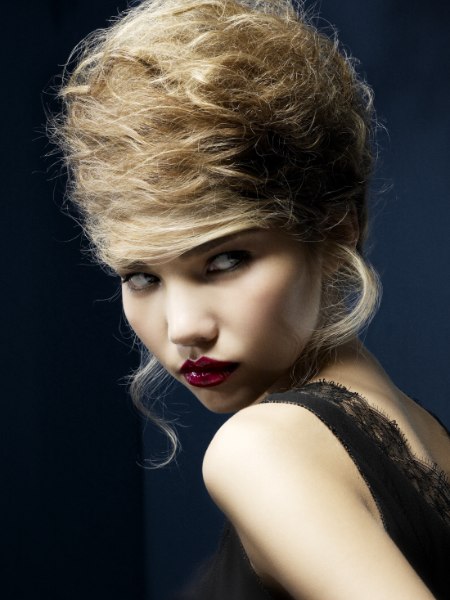 Plenty of back-combing and brushing has been applied in this layered beige blonde hairstyle. Wisps of free curls join together as they circle around the head, while others peep out on the top, in the center. Gel and hairspray are a must to achieve obedience with this dauntless updo.

Hair: Akin Konizi @ HOB Salons
Photography: Jenny Hands
Make-up: Emma Miles
Styling: Damian Foxe
Products: Wella

See also: Short hairstyles | Medium hairstyles | Long hairstyles | Up styles