Wear Thin Hair Short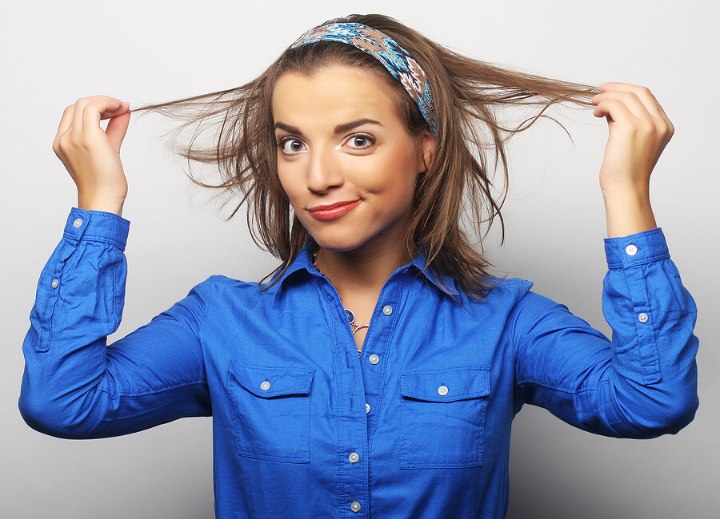 Q: Is it true that thin hair has to be worn short?

A: There is no one hard and fast rule for anything, especially when it comes to hair. Thin hair has been getting flak for as long as I can remember, which is actually quite unnecessary as this type of hair can be really beautiful if you manage it right.



Thin hair usually doesn't work very well when it is grown very long, as it tends to fall flat very easily. Thus, shorter hair lengths tend to work better for thinner types of hair, although this doesn't necessarily mean very short hair such as pixie styles, etc.

Thin hair usually works better with shorter lengths, because the weight of the hair is less, and there's more opportunity to incorporate different layers and texture to the hair, which also decreases the weightiness of the hair. The more you decrease the weight of the hair, the less prone it is to fall flat.

Does this mean that all women with thin hair should wear their hair short? Not by any means, no. If you have thin hair that is curly or even quite wavy, you'll be able to get away with quite long styles as the wave in the hair keeps it from falling flat.

But if you have fine, thin hair that isn't very dense, you might want to stick to shorter styles. A-line bobs are some of my favorite styles for women with fine hair that is straight, as these cuts make for perfect wash-and-go hairstyles. Also, well-cut A-line bobs are often a source of envy of lots of women because of its beautiful shape, timeless beauty and classic sense of taste.

Feminine pixie cuts with long bangs and wispy sides may also be a good choice if you have fine, straight hair. These haircuts are super easy to style, easy and economic to maintain and very in-style. Be sure to add some highlights to make your style your own.

In the end, you never have to feel that you're backed into a corner and have to cut your hair in a certain way just because you have fine or thin hair. Women tend to be very self-conscious about their fine or thin hair, and this often becomes sort of an obsession. This is totally unnecessary. There's really a lot that you can do with this type of hair. Just have a chat with your stylist, and you'll see worlds of possibilities.

©Hairfinder.com Photo: Bigstock

See also:

Are bob hairstyles a good idea when you have thin hair?

Is there a difference between fine hair and thin hair?