Wear Short Hair
Q: Can anyone wear short hair? What facial features do you need to look good with short hair?

A: Yes anyone can wear short hair; it will obviously just suit some people better than others.

People who are overweight or want to appear thinner will reap the benefits of longer hair, as longer hair tends to make one's face look slimmer and make's one appear to look taller. When you appear taller, you seem more streamlined. This tends to be the case, but it is not a clean-cut steadfast rule that can be applied to everyone though.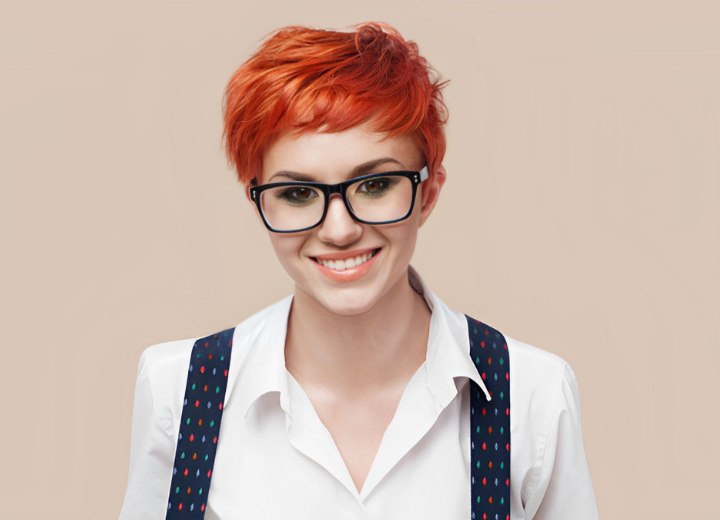 Some larger women look stuffy and frumpy with longer hair, depending on facial shapes and structure. When Kirstie Alley is thin, she wears her long golden locks like a boss. But when she's overweight, it makes her look stuffy and pretentious. She's so much better with a long and straight-haired A-line bob.

Short hair usually looks better on small to medium built women who are on the slim side with a heart or oval face. Once again, this is not a steadfast rule that can be applied to all.

Someone with sharp features may prefer longer hair as the short hair will greatly increase the sharpness of their features, potentially making them appear like an actual pixie. Then again, some women like to enhance features such as these to an almost other-worldly extent, as it makes them stand out from the crowd and makes for an unforgettable face.

To answer your question on a purely theoretical basis; slim women with strong cheekbones, strong facial features and an oval- or heart-shaped face will look best with short hair or pixie styles. Small ears and a long elegant neck will be a bonus for this look.

©Hairfinder.com


Related posts:

Choosing the right pixie cut

How to make short hair feminine

Look younger with short hair