How to Make a Bun
Q: How can I make a bun with a foam insert or hair donut?

1. Your hair should be relatively clean, (washed in the last day or two). Thoroughly brush you hair out to get rid of any knots or tangles that might be present. This is really important to get that sleek and elegant look when the bun is done. The best brush for this will be a paddle brush, which will get rid of all the knots and give you a really smooth surface to work with. If you're after a more messy bun, you don't have to smooth the hair back as perfectly as when you're aiming for a really structured and sleek bun.

2. After you're satisfied with the way that you hair is brushed out, you can tie the hair back in a ponytail. Use a hairband that is almost the same color as your hair, in case of the off-chance that the hairband shows when you're done. Place the ponytail on the crown of your head, as this is the most flattering shape of the bun for your face and silhouette from the front and sides.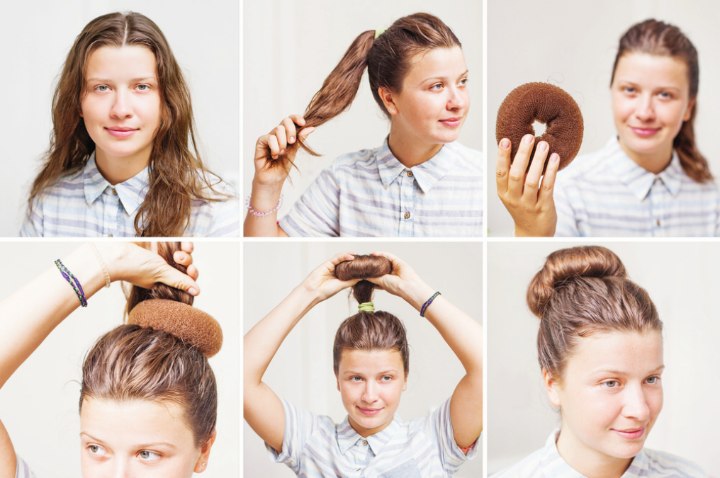 Click to enlarge

3. Take a can of hairspray, spray it on the palms of your hands, and smooth your hands over your hair to make sure that any stray or frizzy hair gets smoothed down and stays in place. You can also spray some of this on your fingertips and smooth the hair behind your ears and in the neck area. Here we're using a large brown foam doughnut for long brown hair. If you have shorter hair, use a medium or small doughnut and if you have blonde hair you should use a light-colored doughnut.

4. Brush the ponytail again, and then pull the ponytail all the way through the doughnut so that the doughnut rests right in top of your crown. With one hand, take hold of the end tip of your hair and pull the hair upwards so that it is pulled straight. With your other hand, gently shift the doughnut upwards towards the tips of your ponytail. Once you're about two-thirds of the way to the tips of the hair; stop and split the tips of the hair into two parts.

5. Direct one part to the front and one part to the back of the doughnut. Gently distribute the hair around the width of the doughnut until the whole doughnut is covered with hair. Take a hairband and secure the tips of the hair under the doughnut so that the doughnut is completely covered and secure. Then gently roll the doughnut down the length of the hair until it rests on your crown.

6. Use bobby pins in between the fold of the hair around the doughnut to secure the structure on top of your head. Make sure that the doughnut is 100% fastened. Use dark bobby pins for brown or dark hair and golden bobby pins for lighter hair. You can once again use some hairspray to secure the hair of the doughnut and to get rid of any frizzies.

©Hairfinder.com

Related posts:

Updos

How to make messy bun

How to do a ponytail with poof