Techniques for Straightening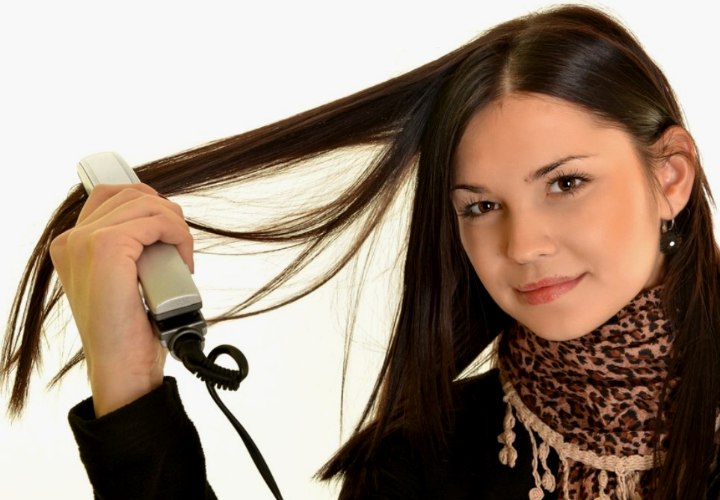 Q: Every time I straighten my hair (with a "Herstyler" straightening iron), I always have problems with straightening the hair at the back of my head. My hair is very curly and thick, so I was wondering if there are any easy techniques for straightening those hard to reach spots.

A: Depending on the individual, there is usually always a portion of the head that is difficult to manage when straightening the hair. The solution generally involves practice, ingenuity and adaptation to suit your personal needs.



Many individuals find that straightening the hair in harder to reach places becomes easier if you approach it from the reverse of your normal tack. In other words, if you usually use horizontal slices of hair working from top to bottom, you can try separating thin vertical slices in the back of the head and hold them out to the sides as you iron them.

Remember not to overload your iron. It may mean more slices to be ironed, but if you have to pass the iron over a slice of hair multiple times because it is too thick, you'll eventually use more time than starting out with less hair per slice.

Also, make sure you separate your hair into sections before you start working. One of the biggest problems many people encounter is that the rest of their hair gets in the way when working on a particular section. Keeping the hair confined securely before working with a specific section (and loosely kept out of the way after) can make things a lot easier.

Finally, preparation is key: Be sure to dry the hair fully before using your flat iron. If you are dealing with hair that is more than simply wavy, use a flat paddle brush and your blow dryer to blow it out as straight as possible before ironing it to a smooth finish.

Use styling product on hard to manage hair to increase the staying power of the straightening, and a light mist of hairspray can be applied section by section in order to give a more "starched" finish to the straight style. Just be sure to let the hairspray dry before applying the iron to the sprayed hair. Let the hair cool completely after ironing before combing or brushing over the ironed section.

©Hairfinder.com Photo: Depositphotos

See also:

How to use a flat iron

How to choose a flat iron that meets your needs

Is it possible to straighten short hair with a flat iron?

What is the best thermal protectant spray I can with a flat iron?