Temporary Pink Highlight
Q: Hi. I am going to a prom and I wanted to have one pink highlight in my blonde hair (like Avril Lavigne). My hair is medium blond. Is there a good kind of temporary hair color you would recommend? I would love for my hair to be a lighter shade on blond then one pink highlight! Is there a way that can be done with it all being temporary! (My mom said it must be able to wash out!) I know there are some pink sprays but I would think that when I brush my hair it would fade. (Is that right?) Any suggestions would be greatly appreciated. Thank you so much. (Oh and one more thing: it would be much easier for me to buy hair colors at a store rather than online!) Thank you!

A: Well, there is NO way to lighten the hair using a temporary color. The process of lightening the hair's natural color requires chemical reactions that disperse the pigment in the hair. This will always cause a permanent loss of color. The good news is that the color of your hair is sufficiently light that you can get a bold pink streak using temporary colors fairly easily.

These temporary colors can be found in a variety of media – gels, sprays, and liquid – and each are great for use with different styling techniques. Gels are great for bold color additions to structured and spiky or other hairstyles where gel is used as a primary styling and holding product. Sprays are good for softer, more diffuse color applications or can be carefully layered with multiple coats to create stronger colors on a target area.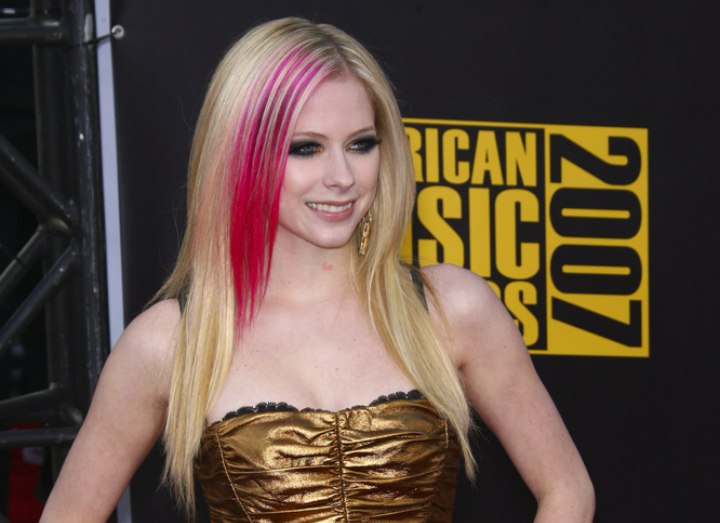 Click to enlarge

The temporary hair color liquids are great for painting streaks of the hair in bold colors. Most of the liquid products are quick-dry and you can therefore use multiple colors on the head for really wild and funky looks.

Please be aware that using temporary color products can result in staining hair that is lightened or chemically straightened or permed. Staining can also occur on dry, porous hair. This may mean that it takes several shampoos to remove the color, so be aware of the condition of your hair.

Another option you may want to think of is the use of "pre-colored" hair extensions. There are many "accent" hairpieces that are available at your local beauty supply store which simply clip into the hair and can be incorporated into virtually any style. {Christina Aguilera was recently seen wearing some animal print extensions at a Music Awards show.}

The difficulty in finding the right product for you is in the limitation of needing to be able to purchase the products locally. On that front, I can recommend that you visit your local beauty supply store as a first step. There you can check to see what temporary color products they have available and maybe pick up a couple of different types to try out before the big event. If your local outlets don't have anything that suits you, do consider online orders. You can find a variety of great products and colors. Just make sure you allow for enough time to get them to you before the prom.

©Hairfinder.com

Related posts:

Temporary hair color

Hair extensions for length and color effects