Style Big Curls and Waves
Q: My hair is long and naturally straight. How do I style my hair so that it has nice big curls/waves that look natural? For example, like Lindsay Lohan's. I've tried using curling irons but none of them seemed to work for me. It slightly curls my hair near the bottom but the top remains straight. Sometimes it's because the barrel isn't long enough to curl my hair from bottom to the top, other times my hair just won't stay curly. Should I use sponge rollers instead? Thanks a lot for your help!

A: One of the major causes for failure of the hair to curl well is the texture and length of the hair. The longer the hair is, the heavier it is, and the more the curl is pulled out. Because you have long hair, and your hair is naturally straight, you're going to find that the curls will have to be created carefully to get the kind of results you want.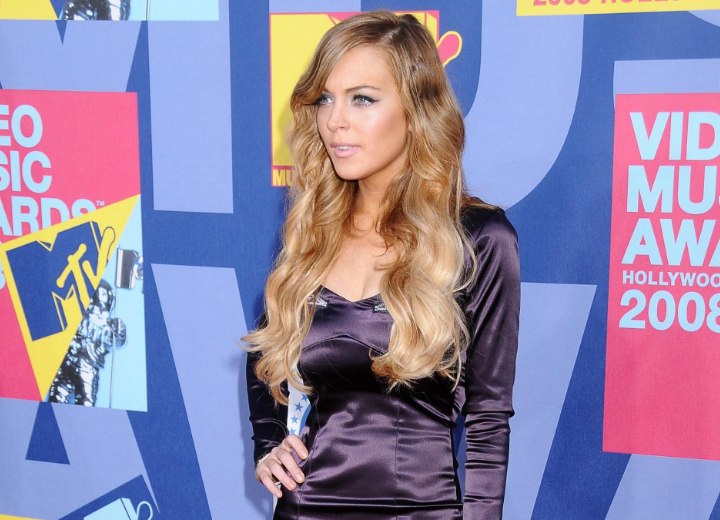 You also run into problems using a curling iron when the hair is thick, because the hair can overload the capacity of the iron. In order to curl the hair, there has to be an even application of heat through the hair in order to break the physical side bonds in the hair shaft.

In your case, I do think that a roller set will serve you far better for achieving the amount of curl you want for your hair. Just be sure to use rollers that will be large enough to create the big curls and waves that you want. Sponge rollers will work and will be comfortable for you while sleeping, but may not be available in the size you need.

There are new, soft rubber rollers available these days that will be comfortable for you while sleeping and are available in a wide variety of sizes. Look for them in your local beauty supply store. For best results, the hair should be shampooed and conditioned, towel-dried and hair product (mousse or gel) applied then combed through with a wide-tooth comb to distribute it evenly.

Once the hair has been rolled on the rollers, you can let the hair dry naturally overnight, or sit under a bonnet dryer until the hair is dry. Using heat to dry the rolled hair will make for stronger curls, but if no bonnet dryer is available, you can simply use a blow-dryer (with a diffuser attachment) the following morning to warm the curls then let them re-cool (re-enforcing the curl).

You will want to wrap the rolled curls in a scarf in order to prevent friction against your pillow and bed linens, and keep your curls neat. The finished curls should have the strength and bounce you want. To make sure you get the results you desire, here are some tips:

• Don't overload the rollers. Make sure that the segment of your hair being rolled on the roller is no wider or thicker than the roller it is being wrapped on.
• Be sure to wrap the ends smoothly around the roller. Your finished rollers should be smooth, without protruding ends. This prevents what is known as "fishhooks" where the tips of the hair bend at a different angle to the rest of the curl.
• For maximum volume, wrap the hair so that the roller ends up sitting directly over the segment of hair being rolled. If you don't want as much lift, you can wrap the hair so that the roller comes to rest against the scalp off-base.

Don't forget to secure the rollers with hairpins or clips. Using bob pins as opposed to hinged clips will be more comfortable if you intend to sleep on the rollers.

©Hairfinder.com

Related post: Long hair roller set