How to Wear a Belt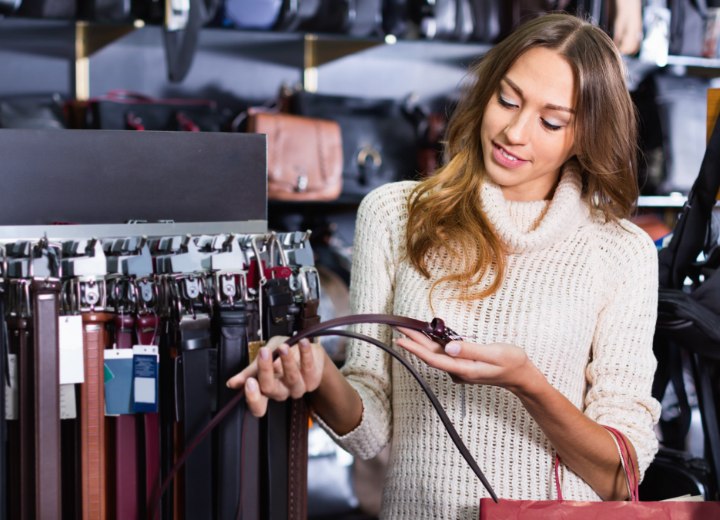 Once upon a time belts were a modest tool to keep your pants up. Nothing fashionable or glamorous about them, they were born out of necessity. Not in this day and age, today belts are one of the most used and most fashionable accessories, available widely and at reasonable prices.

They add spice and glamour to your outfit and can accentuate the best bits of your figure. Not just that, they are easy to use and available is so many shapes, forms and sizes that they can be matched with practically anything. So here's a little guide to help you decide the best way to wear your belt.


Different belts for different bodies
• Do not wear big bulky belts if you are rather petite and curvy, as they take the focus away from your figure.

• For tall and lanky girls a wider style of belts is recommended as it would make you look curvy.

• For those of you with a slightly heavy tummy, you should go for dark colored wider belts in the middle of your waist, it gives a slimming effect. Take care not to tie it too tight or else it will give you a muffin top.

• You can also try wearing it on your hips, which takes the focus away from your tummy.

• In case you are blessed with a fuller figure, cinch belts are the belts for you. They tuck in your waist and create an hourglass figure effect.


Different places to wear your belt
On the waist

• This is the classic and always fashionable way to wear your belt. Thick waist cinchers give you a perfect feminine look, making your sexy curves look sexier.

• Make sure that the material used for the belt can support bending, stretching etc. Generally, leather, layered satin and wide elastic bands are best suited for waist cinchers.

• With a long dress, replace the buckle with an oversized bow and see the effect for yourself.

Empire waist

• Wearing the belt just below the bust line is a bust enhancing and very feminine way of wearing the belt. It also has a subtle age reducing effect.

• However make sure that you keep it subtle and muted. So go for thin belts in contrasting colors.

Hip slingers

• These kinds of belts are worn around the hips. They are great for emphasizing your sexy hips and breaking up the dress.

• They work very well with hipster or low rise jeans. But not just that, they can be very elegant with a loose shapeless dress.


Different styles of belts
• Ribbon belts with khakis and sweaters are a perfect way to add some feminine touch and color to you look. They are generally worn on the waist.

• Skinny belts look best with short dresses that finish above the knees. On the other hand for a sexy look with a short skirt and top go for a wide belt.

• Wide metal and leather belts are the latest in-things, they look quite bold and work very well worn over dresses or with blazer and pants.

• Chain link belts with or without studded jewels are a fab way to define your waistline and take the focus away from hips.

The best thing about belts is that they are as good for a casual look as they are for a formal one. They are a relatively inexpensive, trendy and stylish way to add some zip to your outfit. It's not even necessary to match them with your other accessories like shoes or hand bag, they can stand on their own and add their unique touch to whatever you wear. There will never be a bad time or a bad occasion to get belted!

Radhika Basu Thakur ©Hairfinder.com
Photo: Lakov Filimonov/Shutterstock