Sleek Tapered Hair

What a fun and chic hairstyle worn by Vanessa Paradis when she attended the World Premiere of "Sleepy Hollow" (November 17th, 1999). The premiere was held in glamorous Hollywood and Vanessa extremely glammed herself. She was a guest of her then boyfriend, Johnny Depp whom the French singer, actress, and model dated for many years.

Her light green eyes are beautiful and they go well with a medium brown shade. The brunette color has flecks of warmth and gold that catch the light fantastically. Vanessa wears her hair stick straight with subtle flips on the ends. Hair is cut into a layered, shoulder-length hairstyle. The strands are cut just at the shoulders and shorter layers in the front taper up towards the chin. The ends of the hair seem to be cut with a razor, the technique helps create an edgy finish.

The layers are kept longer and are only cut in to create shape on the ends. Too many shorter layers would be too much and wouldn't look as sleek even when ironed out. A crisp, sleek part down the middle keeps the look simple. Hair is blown out for smoothness and then flat ironed through, section by section, for a totally straight finish. A soft shine spray is misted over Vanessa's strands for a mirror-like result. This is a great hairstyle to be inspired by if you are growing out a shorter bob haircut. The look is a great middle ground between short and long hairstyles.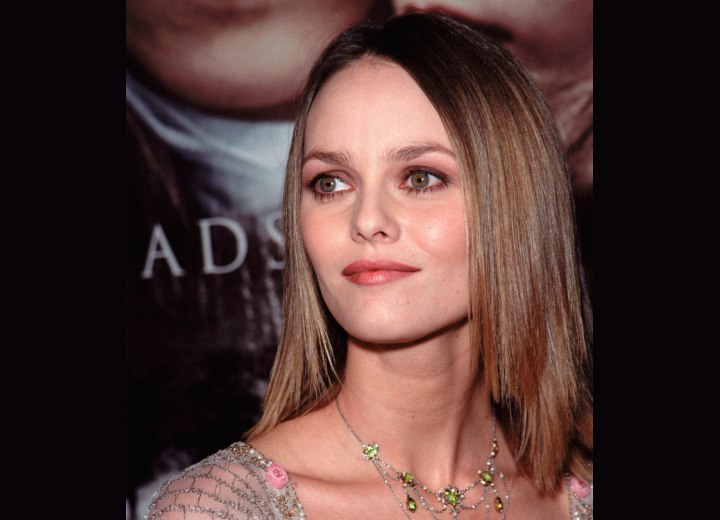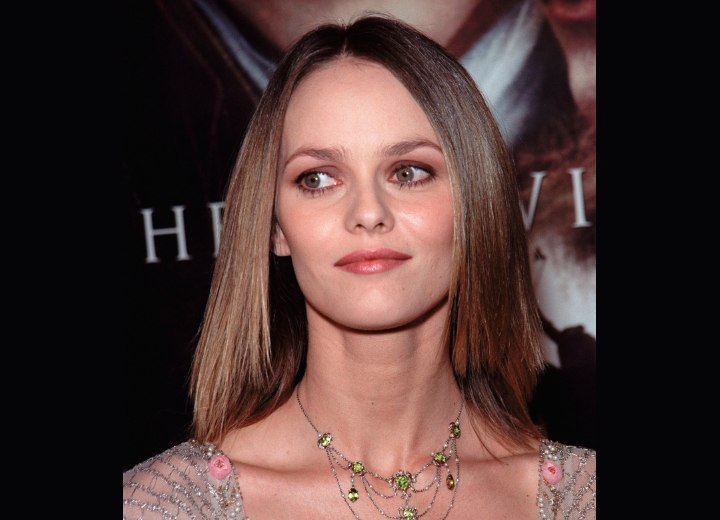 Related Post: More Vanessa Paradis hairstyles
Photos: Featureflash / Shutterstock