Taryn Manning with Short Hair

At the Los Angeles premiere of her movie Hustle & Flow (July 20th, 2005), Taryn Manning showed up looking quite glam! Her short blonde hairstyle is reminiscent of the Great Gatsby era. There are so many elements of this hairstyle that make it absolutely divine.

The wispy and wavy texture is incredible and we love how the ringlets are super defined yet baby soft. Her long swooping side bangs are cut right at the brow and help frame her face perfectly. Any longer and the bangs would be annoying and in the way. Hair is sprayed with a light hairspray and then scrunched up to break up the curl slightly and add a fun modern texture.

The pale gold color of Taryn's strands is beautiful. Her green eyes glow and really pop next to her highlighted locks. Hair is cut right at the jaw line and tapers up in the back for volume. This is a great hairstyle to try for ladies with fine curly hair. The length makes the hair look fuller and it is also much easier to style. Add your favorite curl enhancing products and let hair air dry on its own, or use a dryer to diffuse. If you choose to diffuse the curls will come out tighter. Break them up with your fingers when hair is completely dry.

We also love this hairstyle because it is practically ageless. Any woman, young or old would look fabulous with this chic and short haircut. The bangs are great at adding balance and mystery for younger girls and great at covering wrinkles for older women. We think Taryn Manning hits it out of the park with this breathtaking hairstyle.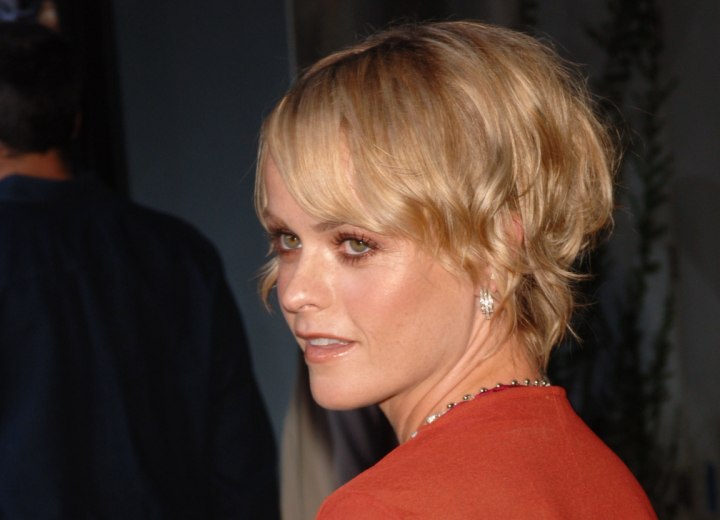 Related Post: More Taryn Manning hairstyles
Photos: Featureflash / Shutterstock