Carey Mulligan & Ella Thomas
Ella Thomas - 09/24/2009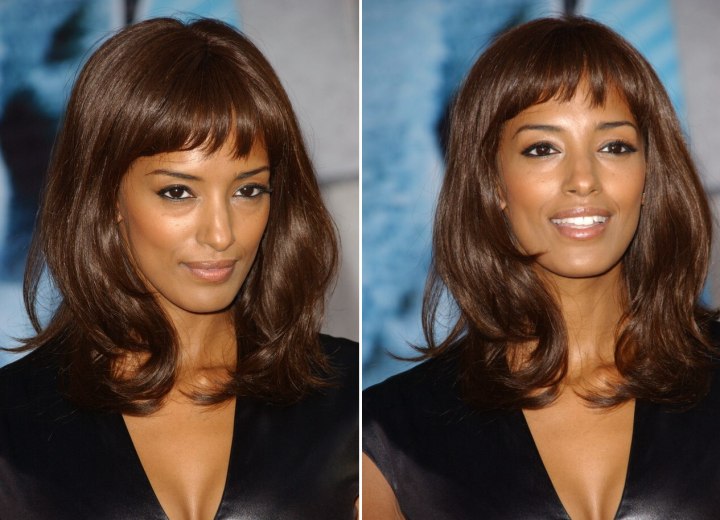 Click to enlarge

Ella Thomas makes her way through the crowd at "Surrogates" World Premiere in Hollywood. Her rich medium warm brown has has been cut in long hairstyle with layers. There is a slight part on the top that brings down her short bangs allowing her pretty eyes to be seen. The layers gather around her shoulders while some are scooped up and others move into a lovely smooth round curl. The hair color compliments Ella's eyes and skin tones and the black color she is wearing is considered safe, but for extra pizzazz, rich colors of orange, yellow or lime would be her most flattering colors for her to wear. Her skin tone is radiantly soft. She has high eyebrows, dark shadow on the lid, eyeliner up and down around her eyes, lashes and mascara, bronzing and blush are brushed around her high cheekbones and a subtle neutral lip color.

Carey Mulligan - 10/01/2009


Our British actress Carey Mulligan attended "An Education" Premier in Los Angeles, California. While other starlets wear their hair in the usual trendy long layers, Carey's is worn in a short crop with layers and the back close to the head and flipped up on the bottom. The sides are clipped around the ears and the top is cut short enough to give a nicely rounded pouf on both sides of her part.

Her light milky skin tone stages her naturally thick eyebrows, a small amount of concealor, a slight minty shadow, eyeliner, lashes and mascara all amplify her sweet face. There is a fine brush of pink blush and a light pink lip color. Small conservative jeweled earrings match her feminine portrait along with the slyness of her smile.