Leslie Kay & Hannah Storm
Hannah Storm - 08/27/2009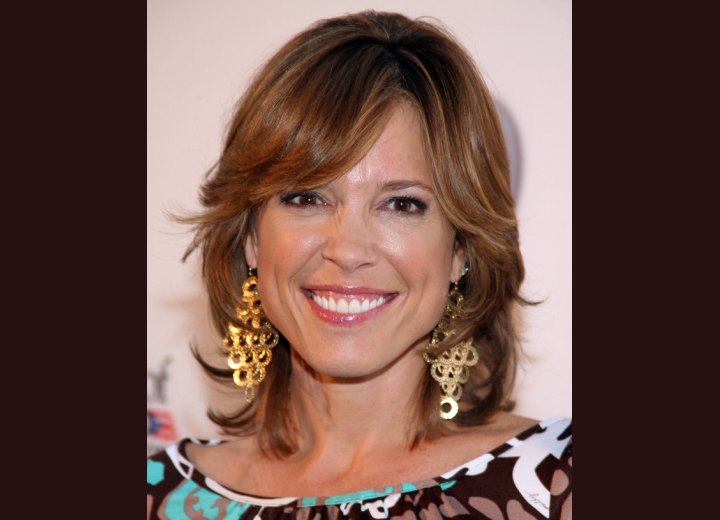 Click to enlarge

Hannah Storm is wearing her hair in a loosely styled shag that is divided with a small short part and is combed over to the one side covering part of her eyebrow and forehead in an eighty type feather hairstyle. The other side comes down into a light wave going back and then circling around toward the face in the wispy angles that layers produce. Her length covers her neckline and it can flip up or be curled under or placed into an updo. Her hair color is normally a medium to dark brown and has been lifted up a few levels and given caramel and blonde highlights. Her large gold bangle earrings display the attractive red lines that are in her hair.

Keep it simple sister, and that is what Hannah does with her makeup. Her eyebrows are kept thick, yet tweezed. A small smoky hue is on the lower eyelid with eyeliner, lashes and mascara. There are pink tones in her foundation and just a touch of blush with a transparent glossy lip color.

Lesli Kay - 08/27/2009


A picture of dark brown mahogany is always attractive with blue eyes and Lesli Kay gives us this shiny example. Her hair is cut short into a bob style, but don't let that fool you; there are slithered ends that are fringed around her neck, with one side higher than the other. The top is heavy and begins just up from the crown and takes over part of her forehead and temple. This semi bob is an easy hairstyle, simply wash your hair, apply your styling crème and blow dry and gloss.

Lesli's facial makeup is light with a little bit of bronzing/blush brushed on her cheeks and forehead. Her eyebrows are tweezed into the arch and are followed by concealor, a light iridescent beige, eyeliner, lashes and mascara. Her attractive baby pink lip tint happens to bring out her eyes, her skin tone and even the color of her hair.