Daphne Zuniga & Taylor Spreitler
Daphne Zuniga - 08/22/2009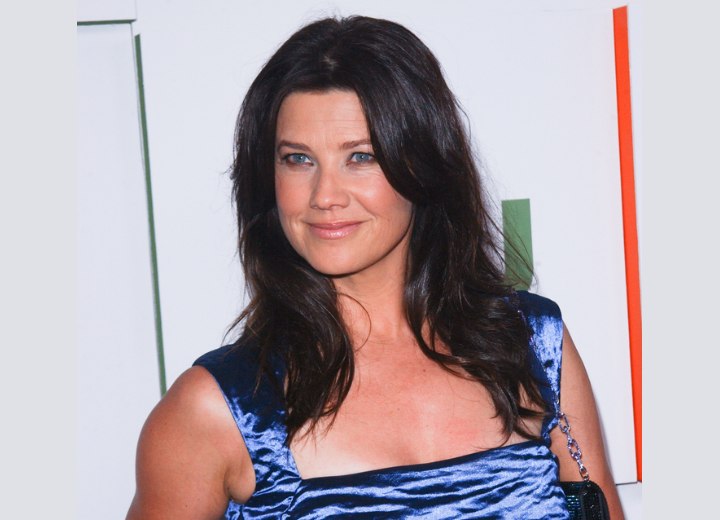 (Click to enlarge)

Talented Daphne Zuniga has a black hair color with a few brown areas processed throughout her long layered hairstyle. The central part is navigated into one large zag that allows for her hair to have the two long dipped waves on both of the sides. The rest of the hair lies below her shoulders and upon her back. I believe Daphne can be much more attractive, beginning with a new customized haircut. I would clip her hair about halfway around her neck, then; take out some of the heaviness in her appearance with a few choppy layers. She would still have some length, but it would be more up and light. The ends would be able to lie around her neck or flip out a bit and still be long enough to be put into an upswing if she desired. She would have irregular bangs with more on one side, they would go up and then a sudden drop. While a light blue shimmering, rippled wave dress is pretty, there are other dresses that would probably do more for Ms. Zuniga. I would suggest a soft muted olive green medium v-neckline on her, with one large jade in the center and gold earrings to match.

There is a lot of pink in Daphne's skin tones. To neutralize her tones just a bit; I would apply a neutral tawny lip shade that would also go with the olive dress. A muted smoky green shadow would bring her luscious blue eyes out. Tip: Become sensitive with colors. Everyone has one color that looks better on them, than the others. Although, your eyes may be blue like Daphne's, it may not be your best color. Also consider the frontal area, if you tend to be broader, then, a v-neckline could be your best selection. Someone smaller would find the square cut front be more flattering. Most important, do not follow the trend, just because everyone else is wearing the same thing. You can look so much better with a little bit of thoughtful creativity.

Taylor Spreitler - 08/22/2009


Oceans of blonde ruffled coils made into waves dance below Taylor Spreitler's shoulders. The bangs are long and rest between below the eyebrow to the tip of the brow and are trimmed all the way to the temples. The light bangs are what gives the jaunty and upbeat heart to the photo. The bangs point to her cute chin and frame her eyes. Her hair is very long and the platinum section that we see is probably extensions as it behaves a little bit differently than the rest.

Taylor is wearing an ivory foundation with heavy eyeliner, lashes and mascara. She is wearing a glossy pink lip color. Her purple v-neckline dress is a good color. Here is what I would change: Her long hair would go back and be secured into the center of her head, or along one side with the abundance of curls flitting out and about. The bangs would stay the way they are. I would lighten up her eyeliner about 9 levels to open up her eyes more or better yet, take it away and only have a light touch on the lid. Apply just a touch of bronze upon her cheekbones, and either trade her long necklace in for a smaller piece that stays in the skin area or bring the one she is wearing up to fill up the flesh.