Mélanie Laurent & Agyness Deyn
Mélanie Laurent - 08/17/2009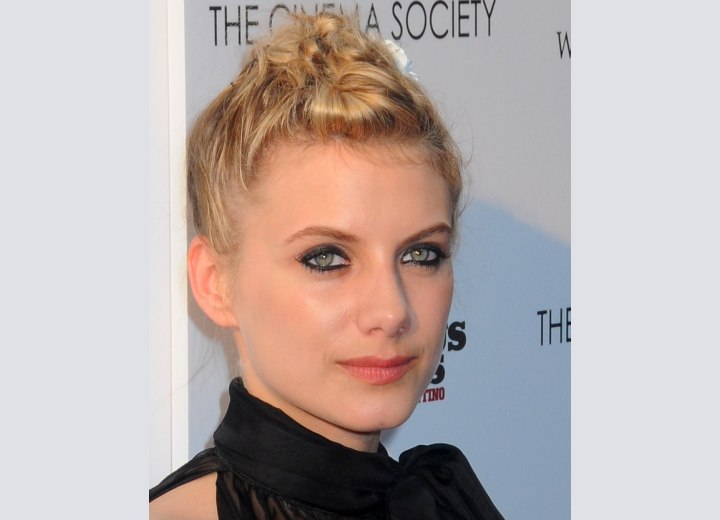 Click to enlarge

Our French actress wears her multi-toned blonde hair in a tight updo centered on the very top of her head. Different sections of her hair have been singled out and placed individually in the separate pieces and secured on the top with small curls fashioned accordingly. The bang area was taken in the group and secured to allow the small curls to be developed just a small ways from the coast of her hairline. Everything is up and away from her neckline, sides and face. Her face presents a pretty picture of creamy skin tone, naturally shaped brows with a little brush of a darker blonde hue is noted and thick sexy eyeliner above and below the eyes. There is concealor and an iridescent beige shadow that blends in well with the lashes and mascara. The final touch is the light coral pink lip tone set around the light feathering of blush.

Mélanie Laurent is wearing a chic black dressy high collared gown that brings out the best of her dewy skin, blonde hair and blue eyes.

Agyness Deyn - 08/17/2009


Agyness Deyn keeps her short platinum hair in a straight bob with a side part and part of the bangs to hang below her eyes and rests over the bridge of her nose. The bob just covers her ears and is combed toward the face. The back is inched around the nape to correspond with the length in the back. There are panels of hair that are colored a natural golden blonde, while other strips look to be more of an ash. There are other ways to wear the hair besides the obvious Dutch girl look that Agyness is wearing and one of the ways is to roll it with medium sized rollers from the part, all going down. This will develop the deep lush waves that are so coveted or today after a vigorous brushing. Another way would be to take zigzag sections on the top and sides and twist them away from the face and secure with a pin, designing the ends to curl around each other.

Agyness' makeup is a very natural looking application with a light translucent foundation, brushed darker brows, eyeliner, lashes and mascara. A light eye shadow is seen behind the lashes, a pink hue on her cheeks and neutral rose colored lip tint.