Agyness Deyn & Piper Perabo
Agyness Deyn - 01/08/2009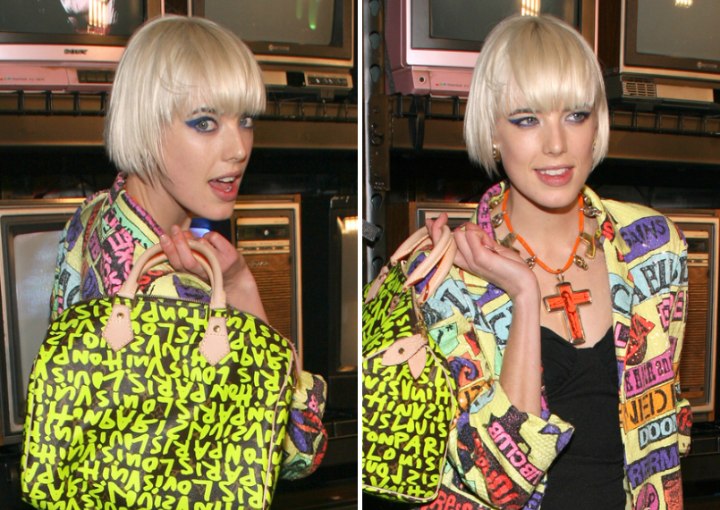 Agyness Deyn is wearing her signature hair color of a platinum white in a bob and this time she seems to have a few darker strips of color. Choppy splayed ends fringe in angles along the sides of her face and ride over her brows to threaten her eyes. The hair in the back is just up from the collar and rides under along the neckline. Her heavy bangs begin in a high fashion just up from the crown and have all been combed toward her face.

She is wearing a busy word oriented cover that goes well with the black shirt. There is a large hip orange bulky cross that demands attention along with the gold knick knacks that are attached to the chain. One large black and yellow bag stands out as if to say, "I've been busy shopping, what have you been doing?"

Agyness's pool of blue eyes is surrounded by eyeliner, heavy blue shadow, blush and very transparent lip tint.

Piper Perabo - 01/08/2009


Piper Perabo has shoulder touching hair in textured choppy ends possibly done with a razor. A simple side divide is the beginning direction of the haircut that smoothes down into a glossy straight design while framing her face. A few thin darker threads of hair have been woven in her hair to give back a little bit of opposition to her otherwise light blonde hair. There is a knitted dark navy black scarf wrapped around her neck that goes quite well with the pea coat she is wearing. Trendy and oh so in vogue!

Piper's make up appears to be all translucent, all natural and "barely there." If anyone has gone "green" it has to be Piper! How many of us would look this good with such little make up? I shudder to think about it, because some of us need a little bit of help along the way.