Chelsea Staub & Natasha Henstridge
Chelsea Staub - 08/06/2009


Chelsea Staub has the traditional foiled blonde hair that is developed with the lighter brown color in her long layered hairstyle. There is a heavy zigzag high part that brings both sides of the top over into a pouf. The heavier side of her thick hair rides down one part of the eye and flips up along the side. The other side blends in easily with the rest of the hair. The attractive threads of hair fall into a mixed gathering of waves and curls while tumbling around her shoulders.

We can see that Chelsea keeps her eyebrows tweezed thin and uses a light stroke of pencil to blend in where needed. There is smoky brown shadow that connects within her eyes through the eyeliner, lashes and mascara. Her makeup is topped with a faint light blush and a pastel pink lip tint that shows off her cute button chin.

She is wearing a low v-necked silk taupe color dress with a yet longer thick gold plated necklace.

Natasha Henstridge - 08/08/2009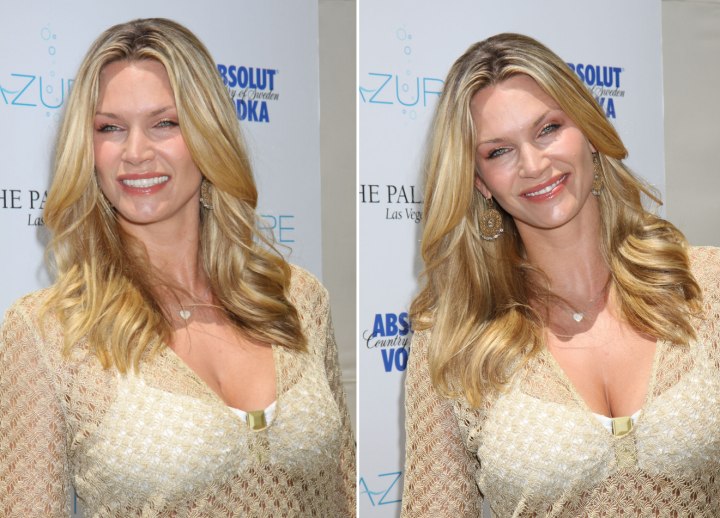 Click to enlarge

With a natural ash blonde color, Natasha Henstridge keeps the flow of her long smooth layered hair beginning from the middle to allow both of her sides to stream down and cuff around the sides of her face. The rest of her hair lays in a thick mass around the shoulders. Her natural color has been lightened to be combined with a darker and warmer weave of blonde exhibiting a lively combination of the tones.

Natasha's fair skin is respectful of the sun rays and we can see the pink tones of her skin that come through her natural makeup. She keeps her eyebrows tweezed with perhaps a slight brush of pencil added for epth. There is a shimmering beige/pink eye shadow that covers the inner/middle section of her eyes and then a light smoky hue is blended in the outer eye. Eyeliner, lashes and mascara are surrounding her beautiful light blue eyes. Her lips are set with a neutral lip tone.

The light ivory beige knitted dress promotes a homespun wholesomeness to Natasha's image.