Selena Gomez & Ashley Greene
Selena Gomez - 06/12/2009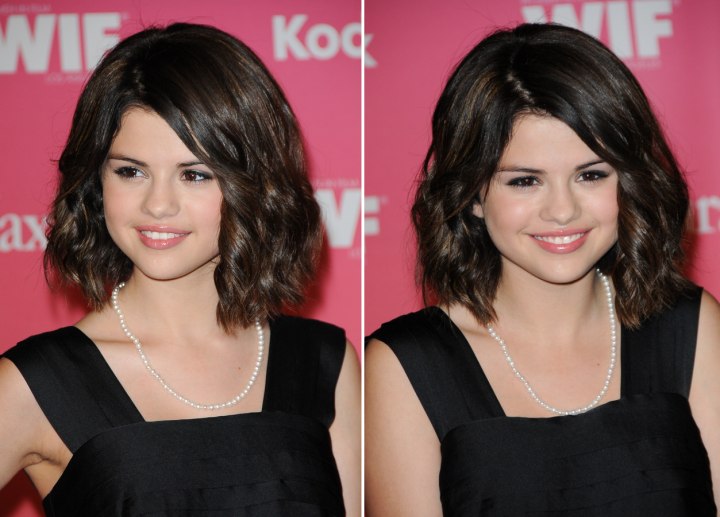 Little Selena Gomez has very heavy thick hair clipped into a bob and styled into spiral urls. There is a sketchy zigzag part that brings the top into a heavier bent to be developed into the spirals with the sides. Her rich brown hair extends a sweet frame for her brown eyes and we can also see a few streaks of blonde and caramels running throughout her hairstyle. Tip: When you decide you want coils or spirals, use end papers on the ends of your hair when you wrap your hair with conventional spiral rollers, in this way; you will avoid any fish hook ends and your spirals will be smooth.

I can easily picture our teenage celebrity with all of her hair back and away from her face and styled into a french twist in the back with a small round C-curl in the front for individuality. The C stands for class!

Selena has a peachy crème complexion with natural brows, light and smoky shadow, eye liner, possible lashes and mascara, light blush and baby pink lip color. Her attractive black dress is stunning with the large wide shoulder straps and square cut neckline. The graceful pearl necklace is a smart accessory with the dress.

Ashley Greene 06/11/2009


Ashley Greene is proof that bobs are still in vogue! The smooth edges that stand about halfway on her neck extend a little bit of under tilt to encourage the round volume we see that are on the sides. Beginning with the semi circle part on the top, the heavy hair in the front is pulled over into a straight form to lie against her head and under her hair as if a large wide hairband along the sides. The rest of the hair has been blown by a large round brush to execute the smoothness and the round volume that is coveted for today. This particular hairstyle can be neat and sexy at the same time. Tip: If you happen to be shopping for large styling brushes, some prefer the Chi ceramic thermo brushes that have tiny holes to allow the air from the blow dryer to go through the brush and dry quicker and another asset is that it is supposed to eliminate frizz at the same time. For those of you who are greener minded, there are natural boar bristles that will help add volume to your hair and restore the needed luster.

Ashley has a light touch to her make up with lovely arched blended brows, barest of shadow, eyeliner, mascara, faintest addition of blush and a neutral pink shade of lip color.