Anna Friel & Hayden Panettiere
Hayden Panettiere - 05/30/2009


Hayden Panettiere's smile lightens up her gorgeous blue eyes for the camera. In the true sense of the word, Hayden is a natural medium blonde. Her lighter and darker stripes of hair harmonize her authentic charm and the center part introduces the offerings of the willowy layered coils that spill down upon her shoulders. Tip: if you wear your hair around the same length as Hayden and are having trouble coiling your hair, section up your hair from the center part. In other words, make your part, then from the back of the part bring your comb down to the side and fasten it with a clip. Section off your back for three work areas: the crown, the center and the lower back. Always begin coiling from the bottom working along the row and only then work your way upward until you are finished. Spritz gloss for sheen.

Hayden is wearing blush/bronzing, light shadow on the lower eye lid blended with a darker base, perfected brows, eyeliner, lashes and mascara and neutral flesh colored lip color. The white delicate dress Hayden is wearing definitely puts an aura of sweetness in the air with her peachy pearl earrings. Hayden is one of those girls that could probably put on an old burlap dress and look great. I would put just a little bit more sophistication in her presentation by styling her hair into an upswing and I can see her in a deep rich teal color. Can you imagine her in shorter hair, maybe not quite as short as Halle's, but along those lines? The cameras sure would be popping.

Anna Friel - 05/30/2009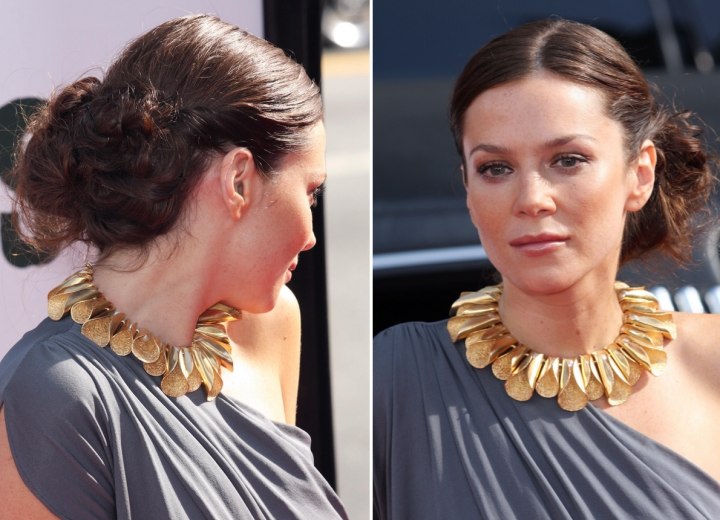 (Click to enlarge)

Anna Friel has thick long hair and if you have this in common with Anna; there are various ways you can put it up, such as the massive knotty effect we can see in the picture. After washing and drying your hair, part it where you desire and then take your comb down from the end of the part on the top sectioning off the top and sides together. Take the back of the hair up and double it and fasten a band around the base while pulling out odd pieces of hair. If you will notice the hairstyle is over to the side in the back, make sure you bring it over a little bit. Now take one of your sides and twist along the edges around the sides and fasten with a pin next to the base of the band. Do the same thing on the other side. This would look best if you first roll your hair to have the winding messy curls that are disheveled in the back.

Anna has a lot of freckles and uses a good amount of bronzing to promote her genuine beauty. Her brows are very natural and there are small amounts of dark shadow in the outer areas to concentrate on bringing her eyes upward, mascara, light subtle eyeliner on the bottom and light neutral lip color.

On a scale of 1-5 with number 5 being the best, I'd say her grey dress could maybe stretch to be a 2. There are other shades of color that would look better on her, such as various shades of green, especially a jade or sage green and that would go even better with the gold necklace she is wearing. I've never seen gold worn with grey before, but then; anything goes for today.