Ciara & Melissa George
Ciara - 05/07/2009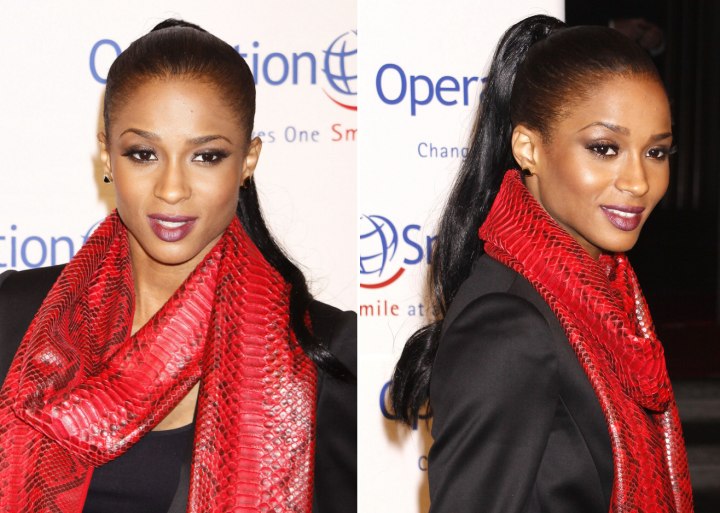 Ciara brings an exotic touch to the high ponytail. All her hair is smoothly brushed tightly back and placed in a band in the lower center of her crown. Thick long pieces of hair have been wrapped around the band in a width of about 4 cm or 1.5 inches. There is a good possibility that Ciara's ponytail might be an added hairpiece. Use hairspray and gloss for shine.

Ciara has the perfect oval framed face and wears her brows neatly tweezed, attractive golden brown shadow top and bottom, eyeliner top and bottom, lashes and mascara, bronze/blush and a muted magenta lip color. Her large red snake skin scarf gives her that splash of color needed to bring out all the warm tones she likes and this was a good idea next to the black outfit she is wearing.

Melissa George - 05/08/2009


Melissa George is wearing her hair with the classic side part to style her long top over the side of her face. If the temple area were to be moved over her eye in a wave, she would resemble one of the sex pots of the forties, Veronica Lake. In fact, Veronica's forehead was usually seen, as the hair would go flatly over on the top and the wave was brought out on the upper side along the temple area. Melissa has her hair coiled under similar to a pageboy. The other side has been wrapped around her ear. There are a few thin threads of brown and platinum that construct her attractive hair color.

Melissa has that beautiful peaches and crème skin color and is wearing her make up in a light application with naturally thick brows that have been customized, light smoky shadow, light eyeliner, mascara and orange/red lip color.