Arianne Zucker & Adrienne Bailon
Arianne Zucker - 05/05/2009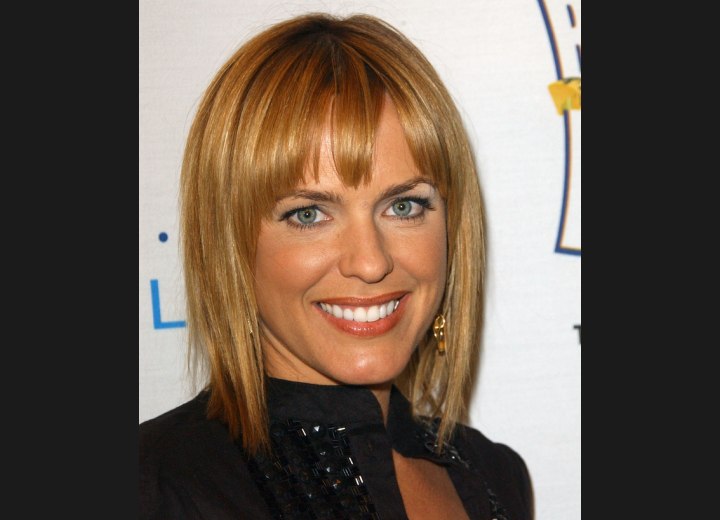 Click to enlarge

First impressions, spring up an array of golden lights on Arianne Zucker. Every small slice of golden brown, bits of golden sand streaks, golden caramel and all the other tones that have evolved into her chamber of colors is what makes us focus on the excitement of her face and bright blue eyes and alluring smile. It's always the color folks. Her color would not be as striking if it weren't for her engaging bob. The bangs fall into a choppy semi half frame that piece over her temples and cuts the severity of the straightness from the bob and lend a softer image to the bluntness of the haircut. Tip: hair color can be dynamic, but unless you first get your hair shaped into that flattering cut, you won't look your best.

Arianne's makeup is a blended bronzing/blush, natural thick brows, lashes, mascara, light blue eye shadow, blue inner liner on the bottom and light tawny lip tint. Her overall look flows well with the black she has on and the gold earrings she is wearing. I would only change one thing about Adrianne if given the chance and that is her light blue eye shadow and liner. Many times women apply the blue to get the blue in their eyes to stand out a little bit more and it doesn't work. First of all, she has all of this warmth in her face and in her hair and then, all of a sudden, we see the icy light blue. I would continue to go with the warmth, but break it gently with medium green eyeliner on the top and a subtle shade of green on the lid. Use a little bit of warm smoky toast on the crease and blend well. All of these shades will bring out the blue in her eyes.

Adrienne Bailon - 05/07/2009


Imagine a rich dark brown head of hair that brushes the front of her iridescent hot pink gown. How dazzling can one person be? As Adrienne Bailon poses, we can observe her blunt cut bangs coming down over her brows and snipped ends. She looks like a young Cher, as in the Sonny & Cher days. Makes me want to sing, "If I could turn back time, and find a waaay." Adrienne's long hair is styled silky straight and her finishing touches include smoothing serum and gloss. One thought is to look around at the different smoothing serums on the web and discover which one is best for you. One such product is from Lanza and an anti-aging Neem Plant Silk Serum. I like the anti-aging factor and they claim the product will restore your hair back to your former days of youth and shine. Sounds good to me! The actual Neem Plant has been known to be a "healer of all ailments" according to India.

Adrienne can well afford to wear her eyes with deep browns, black eyeliners, lush lashes and mascara, bronzing/blush, a little lip liner and flesh colored lip tint. Her eye popping hot pink dress turns heads with the gathered top and large sash that falls over the center.