April Scott & Perry Reeves
Transformers Los Angeles Movie Premiere - 06/27/2007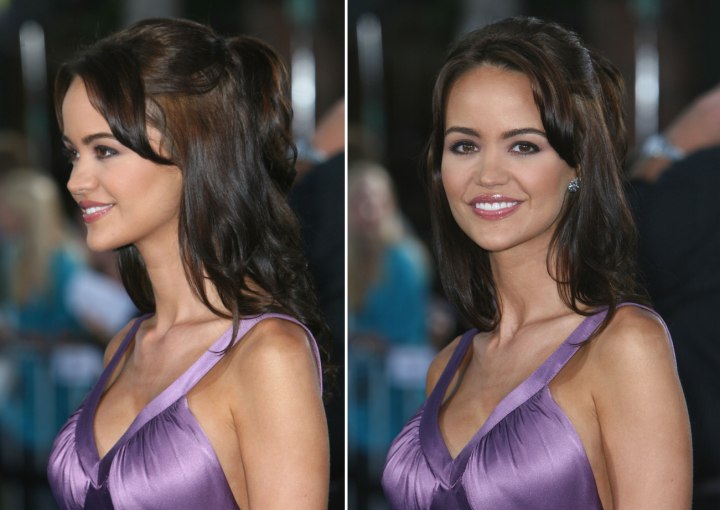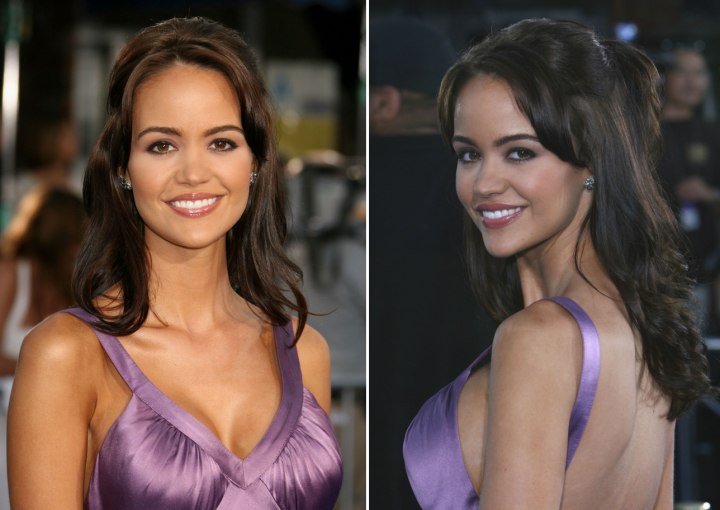 (Click to enlarge)

Celebrity April Scott was once named in People magazine as one of 100 of the most beautiful people. What a cross for April to bear! But, someone has to do it. She is wearing her dark brunette hair in long layers with the top area, pulled back and placed in a ponytail. This is a most unusual hairstyle to wear with an evening gown. Her lavender gown looks like a shiny silk and custom made for her.

Just for fun, let's do a little visualization: I see April's hair brushed up in the back of her crown, only set in an off crown area instead. Take the hair and place it up into a ornamental clasp. Now, twist different sections of what is left from the clasp and pin them under. Leave enough to fan out and spray with a good stiff spray. The top should be puffed up with back brushing a little bit. Brush it back with the exception of tweaking a few thin sections to lay lightly upon her forehead. Place smoky topaz earrings and matching necklace and she is set to rock and roll!



Perrey Reeves' hairstyle has an off centered part while her hair hangs smoothly down and flips up on her shoulders. I have seen our celebrity with her hair up and she looks knock down drag out great! Picture this if you can, from her part, let's brush all of her hair over to one side and fasten with a hair clasp. Now, we lift up a few strands from underneath to allow to hang down, over the hair we've just pinned up. There is a small strand in front and another one along one of the sides. Meanwhile, we have her pouf in the crown and a shiny effect of hair that has been wrapped around her head. So totally different and so unique! Perry, this is so you!