Miranda Kerr & Nicole Gale Andersen
Miranda Kerr - 03/10/2009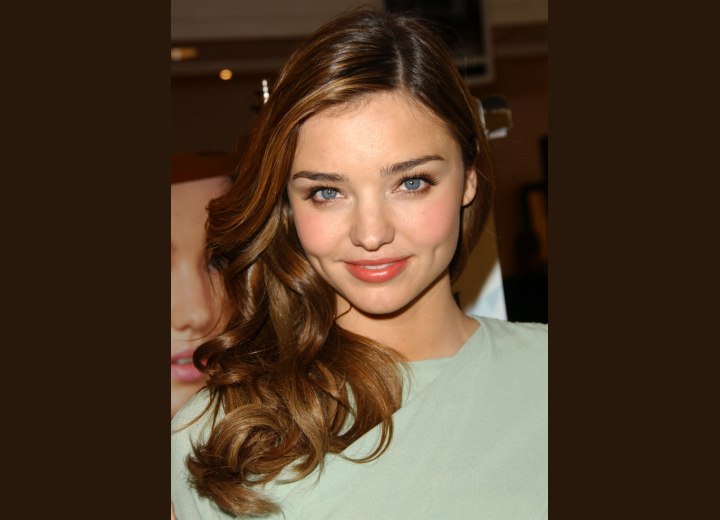 Click to enlarge

Miranda Kerr has leveled up her medium colored brown hair into a golden caramel color with strips of blonde and darker brown. There is a super straight part delegating her hair going over to one side and lying in curls over her shoulder. Use your coiling iron to set your curls in perfect place and remember to always begin on the bottom of your head working your way upward section by section.

Miranda is wearing a very feminine color of pastel light blue that we don't see very often. Notice how the pale blue brings out the blue in her eyes, because of the high neckline. She is also wearing transparent make-up with barely hints of blush, eyeliner, lashes, mascara, smoky shadow, great brows and a rose coral lip color. Her eyes are quite beautiful, but set just a little bit far apart. Tip: When eyes are a bit far apart, take your black eyeliner and line the inner sections of your eyes. You will notice how this draws them closer immediately.

Nicole Gale Anderson - 03/12/2009


Nicole Gale Anderson carries the high school girl look with the small side section and the long hair combed smoothly over to the one side. The sides have been designed by a curling iron to be curled away from the face in long curls. A timely spritz of gloss can be used for sheen or try some olive oil to tame your party cuticles down a bit. Everything is smooth in this coif and there are plenty of products in the market for you to experiment with.

Fire engine red with a touch of coral is a great color for Ms. Anderson. She is wearing light make-up with subtle shadow, eyeliner, lashes, mascara, hint of blush, barely penciled in brows and a neutral lip color.