Sarah Shahi & Eva Marcille
Sarah Shahi - 02/06/2009


Sarah Shahi has a center part, but broken up with a small section in the front pulled over to join the rest of the hair on the side. The sides are textured into angles and styled into a thick straight structure that touches her shoulders. Her natural color tends to be a dark brown with various thin gold stripes placed constructively throughout her hair. Straightening spritz, spray, smoothing serum are all useful products when desiring to achieve the uniformity of these candid lines.

The neutrality that bronzing brings when blending is amazing and Sarah is a prime example. Her eyeliner begins about the top of her brown eye and is drawn completely over to the end with the slightest hint of pencil on the lower end as well. There is mascara, few penciled strokes in her brows, a warm neutral shadow, blush/bronze on the cheeks, and translucent lip tint. Good blending leads to a good neutral natural appearance.

Eva Marcille - 02/07/2009


Let's get really excited, waves are making a dynamic come back! If your hairstylist doesn't know how to do them, ask her to attend a class to learn and be among the first to lead the way. Waves are feminine and soften a face. With Eva Marcille, there is a small quick part that allows for the large c-curl that is connected to the wave and centers onto her forehead, while the wave itself lies over her temple.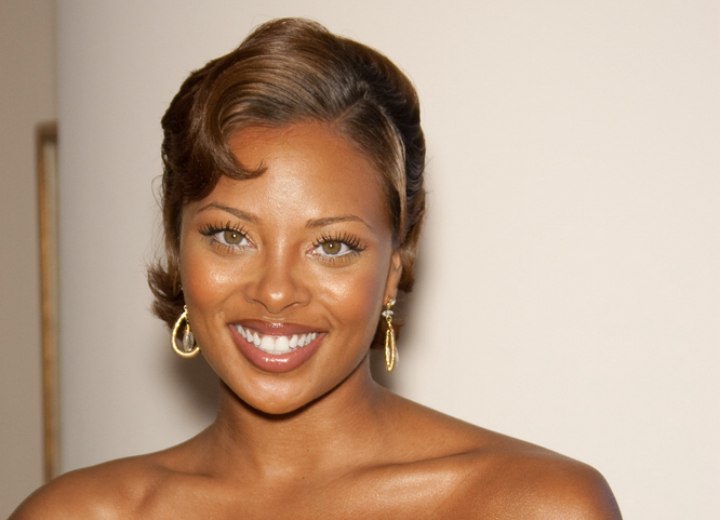 There are fingerwaves on the sides of her short hair that lie close to her head and above her ears with another curl winding over her ears and waves across the back with the bottom we can see flipping up. There is waving lotion you can purchase to try fingerwaves for yourself. Use a wide toothed comb as you go.

Eva's makeup has plenty of bronzing that warms her skin color, subtle brown shadows, light eyeliner, lashes and mascara, light bottom liner, blush/bronze, lip liner and a neutral lip tint. The only thing I would change would be to erase the lip liner. Tip: think twice before you use lip liner, because it shows off your lips too much. Sometimes, this is the first thing people will look at, if you are wearing the liner. Better to use a lip brush and then blend it in with the rest of your color.