Shanna Moakler & Debra Messing
Shanna Moakler - 01/23/2009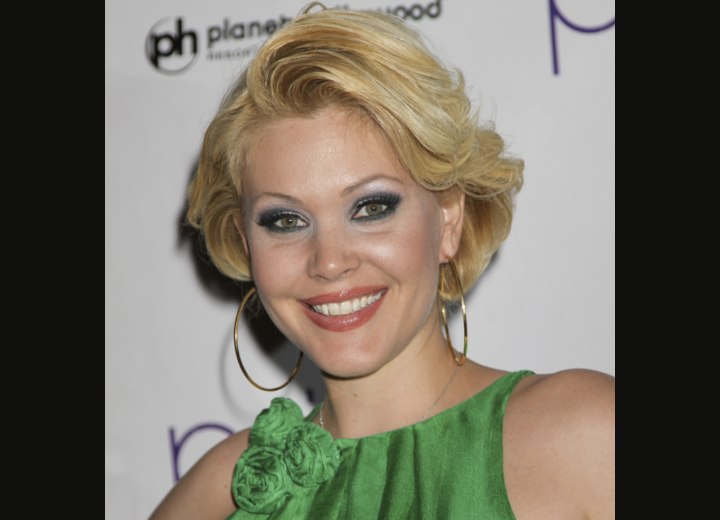 Click to enlarge

Shanna Moakler is wearing her hair in a short layered crop that rests midway upon her neckline. The top is the longest section of the haircut to achieve the easy high rise that goes up and dips into the wave upon her temple. The sides can blouse out like the one side or be combed in back of the ear as pictured. Another way Shanna can wear her hair is flipped. Just as we see it under, it would flip upward. Her haircut is a delightful length that looks neat and sexy at the same time. Use conventional rollers into the direction of your style. She is wearing warm beige blonde that compliments her green dress. The green also does a good job in bringing out her eyes.

Her makeup has heavy dark and light smoky shadows that are also smudged along the lower eye, eyeliner on the top, light brows, barely a touch of pink on her cheeks and a neutral lip tint. Her earrings are bigger than life loops that suit her hairstyle, face and outfit. Her outstanding haircut and award winning smile makes her a top pick.

Debra Messing - 01/24/2009


Debra Messing keeps her hair tinted a coppery red that brings out the pink tones of her skin. There are times when she wears her hair in an upswing with rivals of curls messed about her head or down with an array of coils and curls. In the photo we can see how her long hair is center parted and styled straight. I like Ms Messing with the curls best, they make her look livelier. Interestingly, Debra's eyes sometimes appear to be brown or as pictured more of a hazel color. This may have to do with the tone of her hair at the time or the color of dress.

Makeup is simply applied with light eyeliner, thin brows, mascara, bits of warm blush and rose/coral lip tint. Her dark dress is a practical pick for the color of her hair.